View all posts
Red Bluff Rotary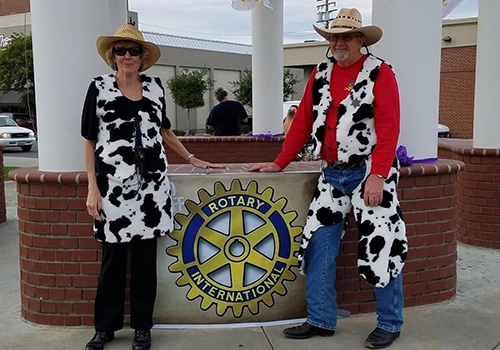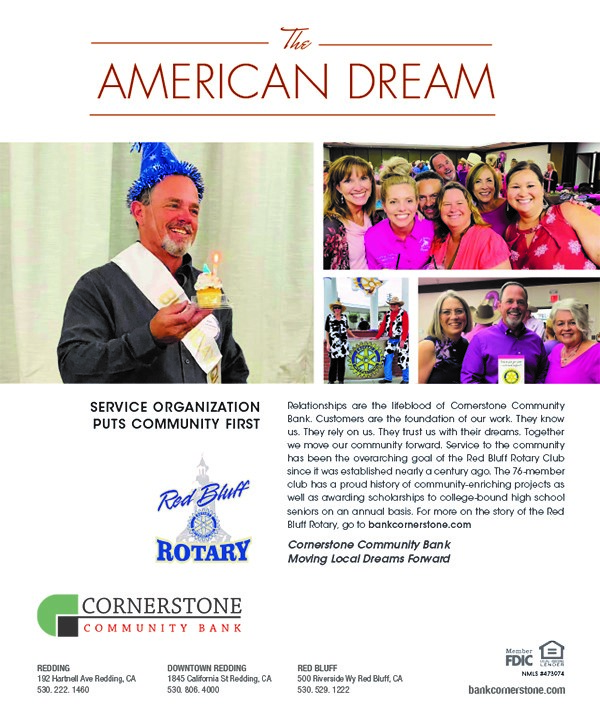 To be reminded of Red Bluff Rotary's impact on the community, one need only visit the Cone & Kimball Plaza and admire the 75-foot-tall clock tower. Rotarians were the driving force in securing the property and erecting what is now the city's signature landmark.
The tower is just one of the more visible contributions from Red Bluff Rotary, said Vicki Stroud, the club's president. Another sparkling gift from the service club was the recent Fourth of July fireworks display, which was back bigger than ever after a COVID-19 hiatus thanks to a project led by Rotarian Jennifer Zirkle.
There's plenty of other Red Bluff Rotary projects that are maybe not quite as visible but just as significant, and that's one of the reasons Stroud was happy to join the 97-year-old organization. "There are great people involved," she said, "and the weekly programs are interesting and keep us informed in the community. It seems like we constantly have events going on. We're a pretty active club, actually."
A case in point was the recent Red, White & Booze fundraiser hosted by the club to benefit the Red Rock statue project, a $200,000 effort to memorialize Red Rock, the legendary bucking bull, and Lane Frost, the cowboy who snapped the bull's unbeaten streak, with a statue in front of the Red Bluff Round-Up Museum.
Stroud says the club focuses its community-enrichment efforts on projects that help children and seniors. Thanks to Red Bluff Rotary, every third-grader in Tehama County receives a dictionary. "It's pretty neat. It's an inch and a half thick with pictures. A lot of kids don't have access to the Internet," she said.
The club recognizes a student of the month selected from Red Bluff, Los Molinos and Salisbury high schools. In addition, in June it awarded 15 $1,000 scholarships to college-bound high school seniors.
Stroud, who is also a business development officer at Cornerstone Community Bank, said a Rotary-hosted dinner during the Red Bluff Round-Up raised $10,000 for breast cancer awareness, prevention and treatment as part of the Tough Enough to Wear Pink campaign.
Annual events include a pancake breakfast for the Boy Scouts, organizing a lunch for the Special Olympics, handing out Halloween treats at the Cone & Kimball Plaza during Downtown Treat Street and helping to provide Christmas gifts for underprivileged children.
"We have a great group of volunteers," said Stroud, a third generation Red Bluff resident. "Everybody steps up to the plate."