View all posts
Redding Trail Alliance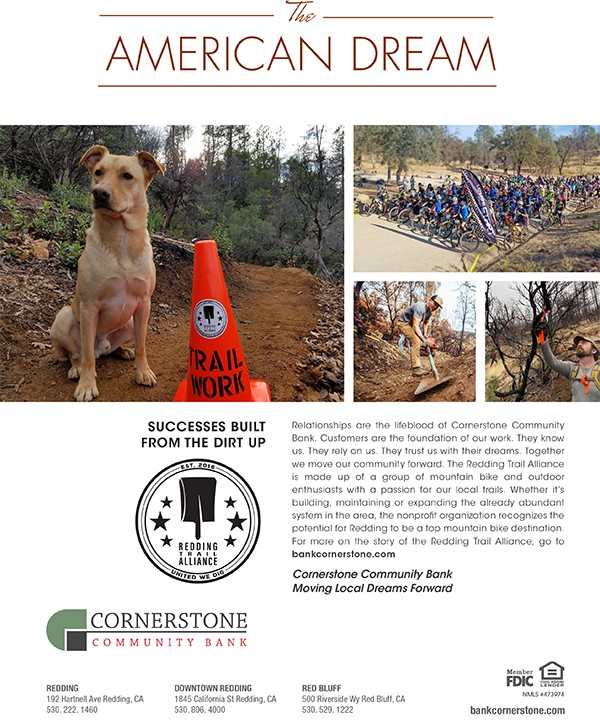 Redding was already on the map as a favorite for mountain bike riders when the Redding Trail Alliance was formed in 2016.
These days, it's a mecca.
"We love our home and we love riding here," says Nathan Knudsen, the Alliance's executive director, "but we saw the potential for more progressive trails." Back then, advanced-level riders seeking top-flight thrills would travel to other areas. Now those riders are flocking to Redding.
The draw? New trails in the Swasey Recreation Area like The Enticer, a 1-mile collection of banked curves and jumps that allows riders the chance to increase their skills and test their limits. "We named it that because we felt it would entice people to come out and check out our trails. It's been a huge success. People from out of the area have stopped by after hearing about that particular trail," Nathan says.
The Snail Trail, a 1.6-mile "flow" trail that incorporates berms, rollers, jumps and other features to provide a blend of speed and rhythm has proven to be a big draw as well. "It's probably more popular than the Enticer but both are heavily used," Nathan says.
Nathan and a group of mountain bike enthusiasts were inspired to form the Redding Trail Alliance in 2016 after spending a season with Brian Sindt, an industrious member of the McConnell Foundation staff who has been working on North State trails for the past 17 years.
That experience showed how partnering with the Bureau of Land Management and mixing in support from the McConnell Foundation and enthusiasm from Alliance volunteers can add significantly to the trail scene.
A recent example of the Alliance's handiwork is the Caldwell Junior Bike Park, a popular attraction for pint-sized pedalers just south of the soccer field at Caldwell Park. "It's been so successful that the city has worked with us in securing a $1.5 million grant for designing and constructing a full-size bike park," Nathan says, adding that construction on that park is expected to begin next summer adjacent to the Sacramento River Trail on the east side of North Market Street.
Also in the near future: a pump track in Palo Cedro, 10 miles of new trail in the Weaver Basin system in Weaverville and nine more miles of trail in the Swasey Recreation Area.
"Redding is happening. It's awesome. We're stoked to be a small part of it," Nathan says. "The reason we are so successful is because land managers with the BLM and the Forest Service have been so wonderful in embracing our vision. And the enormous support from the McConnell Foundation — and now we're getting wonderful support from the community, including Cornerstone Community Bank."
For more on the Redding Trail Alliance, visit www.reddingtrailalliance.org