View all posts
Red Bluff Kiwanis Club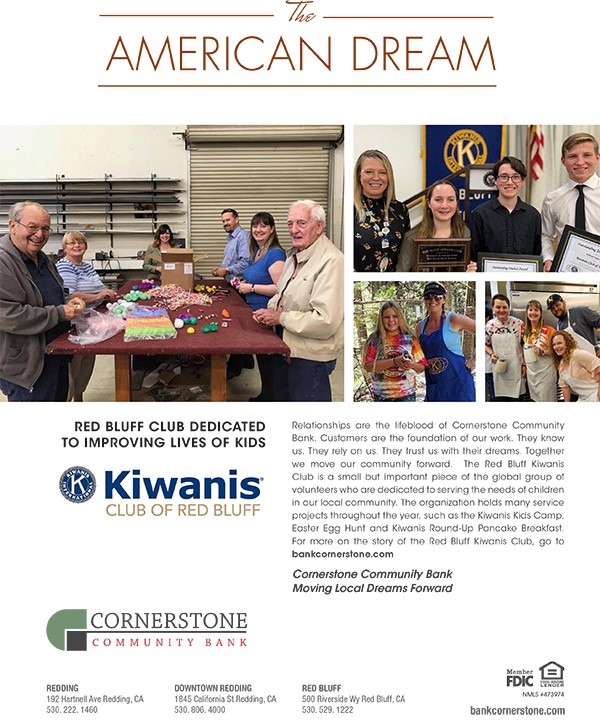 The Red Bluff Kiwanis Club is part of a global group of volunteers dedicated to changing the world, one child at a time.
"The goal of our club is to bring like-minded individuals together who have a vested interest in improving Red Bluff and our surrounding area," says Red Bluff Kiwanis Club Past President Tony Carbonell. "We concentrate on our youth and use fun, fellowship and the hard work of our many members to achieve the success that will last today and for many generations to come."
The club holds many service projects throughout the year. Perhaps the most highly anticipated activity is the Kiwanis Kids Camp, which has been a tradition for more than a half-century. Held at Camp Tehama near Mineral, the camp provides a fun, challenging outdoor experience to about 100 Red Bluff-area students. Through this adventurous camp, fourth- through sixth-graders learn about the environment and local history while fine-tuning their leadership skills through teambuilding activities.
Fishing, tubing, water balloon volleyball, woodworking, tie-dye, GPS navigation and archery and more are among the many activities offered during camp. A hike at Lassen Volcanic National Park is always a highlight. Meals, lodging and transportation are provided, and local high school students volunteer as camp counselors. Red Bluff Kiwanis raises funds for this beloved camp through its Round-Up Pancake Breakfast and other fundraisers.
"Many of the kids attending Kiwanis Camp would never have the opportunity to experience camping and some have never been away from home for a night," says Past President and Trustee Lisa Hansen. "We love seeing kids return year after year and watch as they come out of their shell. When they come back as camp counselors, it's amazing to see how their leadership skills have developed."
Adds Carbonell: "This camp gives kids the opportunity to broaden their horizons and try things outside their comfort zone. They learn confidence and leadership skills while creating lifelong friendships in the process."
Kiwanis also hosts the annual Easter Egg Hunt at Jackson Heights School, a children's carnival and Telephone Santa, where youngsters can call and speak to the jolly old elf himself at Christmastime.
They also honor local students for their academic efforts through their Student of the Quarter program, and they support the Red Bluff High School Key Club, which is an organization for high school students sponsored by Kiwanis to teach leadership and citizenship through service to others.
"The Kids Camp is our club's legacy," Hansen says. "We hope we can continue to provide these great experiences for the kids in Tehama County for the next 50 plus years."