View all posts
Roots Juice Bar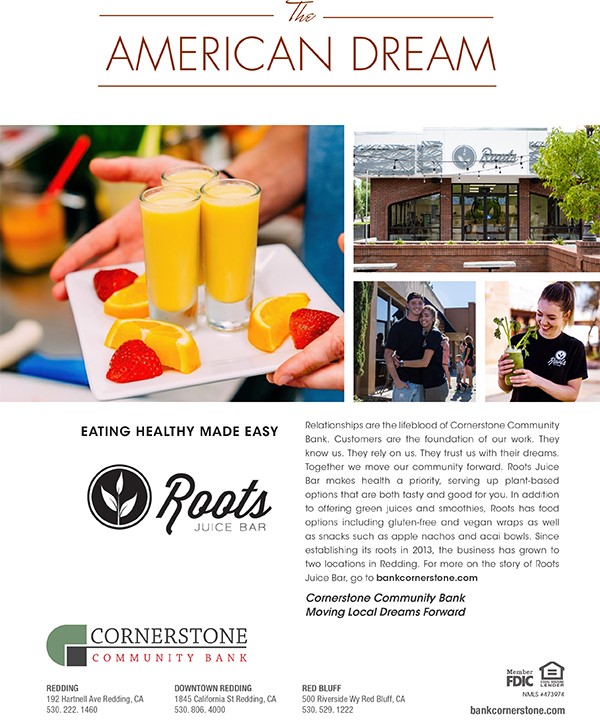 They call it "the Roots experience."
The moment you walk into Roots Juice Bar, Ricky Rothmann and Mariiah Zoll want you to know you're somewhere special. The first thing you'll notice is the fresh, clean aroma of ginger, lemon and healthy greens. Loud, fun music surrounds you. You'll see a colorful array of fresh fruits and veggies, and ultra-friendly, youthful staff is working away, all smiles and full of energy. "You're greeted with a conversation rather than a transaction," Zoll says. "You'll place your order and see the crew and the hustle that's behind what we're serving."
You'll get your order quickly – "we really value people's time," Zoll adds – and you can watch the staff craft your order from start to finish in the wide-open kitchen. "Our kitchen is very clean and we want to show it off," Rothmann says. Then you'll get your order, exactly the way you asked for it, with a cheerful "thank you" and a rewards card.
Rothmann, a Foothill High grad, and Zoll, a Shasta High grad, opened their first shop when they were 21. The idea grew wings – or roots, if you will – after they'd spent some time dazzling their friends, family and coworkers with their fresh juice creations. They then joined Redding's local farmers market, and after six months, buoyed by the support of their loyal customers, Ricky and Mariiah mustered the courage to make the leap to a permanent location. Today, Roots has two busy shops – one at 1360 Churn Creek Road, Suite B, and the other at 1950 Pine St. "We are like a lemonade stand turned entrepreneurs," Rothmann says with a laugh.
Their menu is packed with fresh, made-to-order items, and you can order online. If you want something to sip, choose from juice, smoothies, shots or kombucha. The acai bowls and wraps make a healthy, satisfying meal. If you're looking for an afternoon pick-me-up, check out the apple nachos. And while it's never fun to try to operate a business during a pandemic, this team has made it happen.
"It's really awesome that we've been able to say open," Zoll says, as COVID-19 restricted indoor dining for a good portion of the past year. "Our main goal has been to provide healthy food to our community during a time where health is really important."
They're also attentive to the earth's health, and have decreased the amount of plastic they're using, shifting to eco-friendly cups, lids and straws.
Of course, none of their success would be possible without a stellar team, and they're deeply grateful for their staff. "We don't lead the crew from the top down," Rothmann says. "We're all on the same level and we're there for each other. Nobody works for themselves at Roots. We work for each other. We're always listening and we're aware of what's going on in our teams' lives."
Zoll echoes those sentiments. "Respect from our team is something we try to earn," she says. "You show up for me and I'll show up for you. We have each other's backs. As we've grown, we've stepped into more of a CEO role, and we can't talk to every customer at both stores. We've entrusted that to our team."
They're thrilled that the North State has embraced them, they're honored to be providing customers with delicious, healthy, top-quality products, and they strive to bring their best to their customers every day. "We're making healthy easy and accessible," Rothmann says.
And it's about much more than juice.
"Yes, we have amazing products that are fresh and made to order, but what keeps people coming back is the relationships," Zoll says. "Juice is just a byproduct of what we do."