View all posts
Deserving Pets Rescue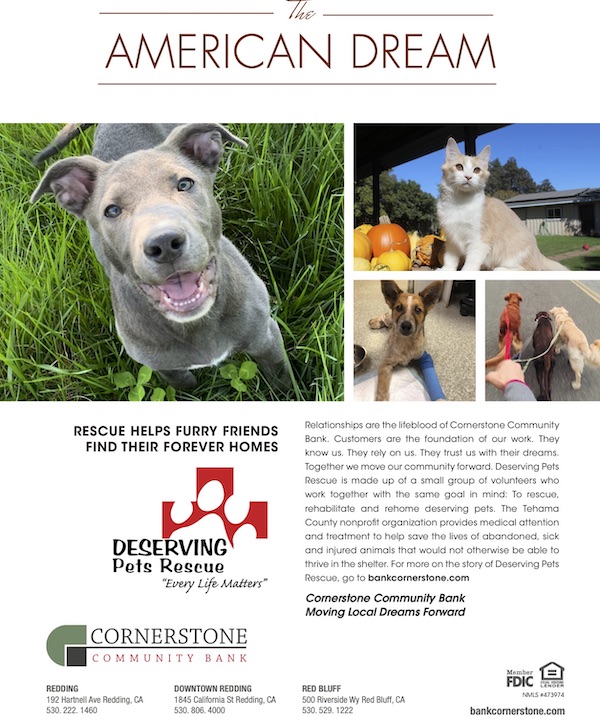 Everybody deserves a forever home, and when Deserving Pets rescues an animal, that's their promise – they won't ever end up back in a shelter.
The nonprofit organization's mission is to save the lives of the abandoned, injured and ill pets of Tehama County that wouldn't thrive in a shelter. Volunteers provide medical attention, treatment and TLC until the animals are rehabilitated, and then help them find their forever homes.
"Volunteering for this great organization is fulfilling for us because most of these animals were loved at one time in their lives and due to no fault of their own end up in a situation where they need medical intervention and time," said Cheryl Bush, a board member and occasional foster mom for Deserving Pets. "The shelter cannot always supply that. That is where we step in and invite them into our homes to recover from surgery or rehabilitate them to find a new, loving forever home. It feels wonderful to find that match and know they will be loved and cared for."
Bush is joined by a small but mighty crew that keeps the mission moving forward: Melanie Baumgartner, founder and foster mom; Jennifer Williams, foster mom; and Ana Rodriguez, board member and foster mom.
In 2020, Deserving Pets cared for 54 animals. Some need extensive medical attention, including surgery, and volunteers ensure that their four-legged friends get whatever it takes to get back on their paws again. And while most of their clients are dogs or cats, they've had their share of unique guests – take Snuggles, for example. She's a special-needs guinea pig who was taken in as a stray, and despite her limited mobility, some good nutrition and a whole lot of love brought out her sweet personality so she was adopted right away and now lives in Paradise.
Goodbye is the goal for foster pets, and 44 animals were matched with their forever homes in 2020. And when things don't work out quite right, they help get to the root of the problem, to help them stay in their forever homes.
This endeavor depends on support from the community. Their annual calendar fundraiser helps pay the bills, and calendars are available for $10 at Aquarium & Pets, Reynolds Feed and Valley Veterinary Clinic, all in Red Bluff. Visit www.deservingpetsrescue.com to learn more about how you can support their mission.
"Community support enables us to accomplish saving lives in the time of need and continue working toward being able to jump into action immediately to save lives," Bush said. "Community support truly does make the difference for us, and we are extremely grateful!"