View all posts
Papa's Cheesesteaks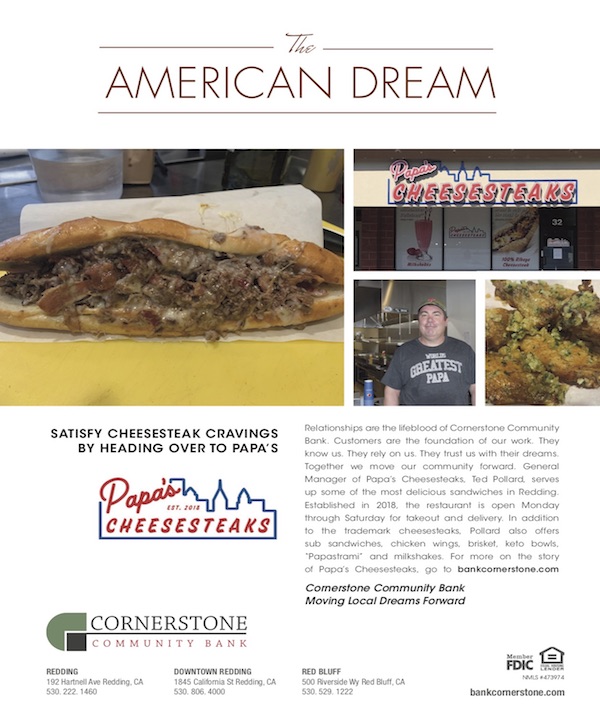 You don't have to travel to Philly to find yourself an authentic cheesesteak. When you visit Papa's Cheesesteaks, you won't find the average submarine sandwich with a couple of slices of lunchmeat hidden inside a roll. These are stuff-your-belly, change-your-life creations.
Established in 2018, the family-owned Papa's Cheesesteaks in the Cobblestone Shopping Center on Hartnell Avenue in Redding has developed a faithful following over the past few years.
Why do people love Papa's? "Because Redding has one of the best cheesesteaks around and you can make it your way, from our ribeye steaks to our own pastrami cured and smoked right here, and our brisket that is slow roasted for a juicy, melt-in-your-mouth experience," said Ted Pollard, general manager of Papa's Cheesesteaks. "And don't forget our Italian Sub. People also love the great customer service."
Papa's brings its A-game to customers every day. The heavy hitters are the cheesesteaks and "Papastrami," and selections include 100 percent U.S.D.A. Select ribeye, homemade pastrami, smoked chicken wings, quarter-pound hot dogs and Keto bowls, among many other items. People line up for the slow-cooked brisket, and their homemade onion rings are a new invention that has earned solid reviews. Pro tip: Check out the cheesesteak fries, which is made like a cheesesteak but with fries instead of a roll, topped with roasted garlic, fried onions and cheese.
"You don't get more authentic having a general manager who is from the Philadelphia Metro area and was slinging cheesesteaks as a young man on the Boardwalk," Pollard said. "The quality of the food and East Coast feel make visiting Papa's Cheesesteaks a unique and enjoyable experience. Remember, it's not a Philly Cheesesteak, it's a Redding Cheesesteak, made right here in the North State."
To satisfy your sweet tooth, Papa's Cheesesteaks also offers handcrafted milkshakes made with homemade ice cream, including dairy-free options.
Pollard enjoys doing business in the North State because of the people and the natural beauty.
"First off, the people are the best," Pollard said. "Without them we wouldn't have survived these tough times. With respect to the beauty of Shasta County, fuhgeddaboudit! Sunshine, mountains, fruit trees, the Sacramento River, and so much more make the North State a great place to live and do business. Opening Papa's Cheesesteaks in Redding is my American Dream come true."
Takeout and delivery are available through their website, papascheesesteaks.com, or you can order through the app by texting PAPASC to 33733.