View all posts
Gumm's Optical Shoppe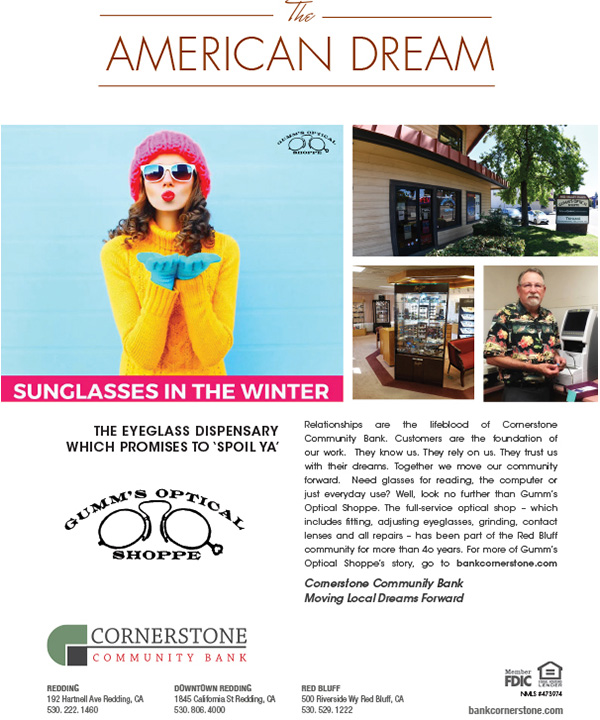 Life is beautiful, and the folks at Gumm's Optical want to make sure you don't miss a single moment.
Established in 1977 by optician John Gumm, this full-service optical shop sits on the corner of Main and Hickory Street in historic Red Bluff. He and fellow opticians Cory Rhodes and Rhonda Rogowski specialize in fitting, adjusting eyeglasses, contact lenses and repairs. All are certified by the American Board of Opticians.
John knows that small businesses are the backbone of a community. "I love Red Bluff and have dedicated my 42 years in business to help our community prosper through community service and by giving our customers superior service," he says.
Gumm's Optical fabricates top-quality frames and lenses in their own lab. They also offer eyeglass adjustments and professional cleaning. And, it's not just prescription eyewear that is their focus – they have a large selection of sunglasses and reading glasses to suit a wide variety of needs.
A man of adventure himself, John enjoys helping folks find the perfect glasses in which to enjoy the activities they love most. John grew up on a cattle ranch riding horses in Redding, but despite living hours away from the ocean, he was a high-seas sailor. He sailed the entire West Coast, and considers his biggest open-sea adventure to be a trek from Tahiti to Hawaii in a 47-foot sailboat.
Additionally, John enjoyed being President of the Red Bluff Rotary, the Red Bluff Tehama County Chamber of Commerce, the Downtown Red Bluff Business Association and Wilcox Oaks Golf Club. He also had the honor of being a founding member of the Cone and Kimball Committee along with a great group of members that rebuilt the "Heart of Red Bluff." John is also active in numerous community service organizations, and is a member of Vesper #84 Masonic Lodge and the current treasurer of the Tehama County Shrine Club.
After more than 42 years in business, Gumm's Optical is proud to have served multiple generations of customers who appreciate their stellar customer service. Along with adjustments and cleaning, the staff can also repair frames on site that very few place can do – so if you step on your bifocals or your child's glasses are the victim of a playground activity gone wrong, don't toss them out until you let Gumm's take a peek.
"We look forward to helping you with all your eyeglass needs," John says. "Let us spoil you!"
Call 530.527.2510 or visit www.gummsoptical.com for more on Gumm's Optical Shoppe.