View all posts
Bright's Engraving and Trophy / Escape Redding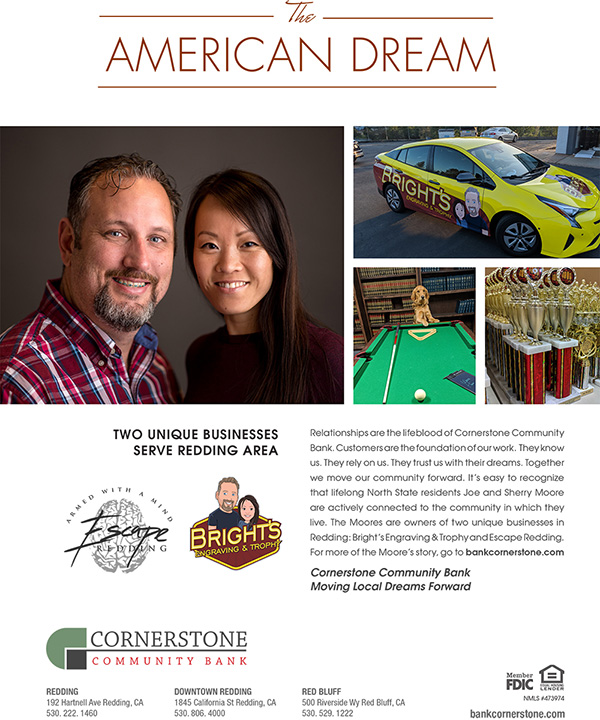 Need a trophy or a personalized award? Or perhaps you're looking for an exhilarating way to challenge a creative crew? Joe and Sherry Moore have you covered with their two unique businesses: Bright's Engraving and Trophy, and Escape Redding.
The Moores bought Bright's Engraving and Trophy early last year from founder Randy Bright, and they have set out to grow the business while maintaining the stellar reputation for customer service that Randy launched more than 20 years ago.
Bright's Engraving and Trophy at 3170 Bechelli Lane specializes in building trophies, engraving awards, creating name tags and much more. Sherry brings years of retail experience to the table as manager of store operations. Joe is a Navy veteran who has spent the last five years in the technology sector.
"As consumers, we know how important customer service is to others," says Joe. "As community members, it's important that we represent ourselves, our store and the Bright's Legacy with utmost attention to customer service."
Their other venture is Escape Redding at 2144 Hilltop Drive, which has become a go-to destination for parties and team-building opportunities. Escape rooms are soaring in popularity across the country, and here, guests are challenged to solve the hidden mysteries within themed game rooms. Escape Redding features the Gentlemen's Den and Prison Break challenges, with The King's Ransom coming very soon.
Each game is designed to last an hour, and team members solve puzzles, untangle riddles and piece together clues to make their escape.
"You know, they were closing just about a week after we bought it," says Joe. "We have two children, one being a teenager. In addition, we both grew up here, so we felt Redding needed to maintain as many entertainment options as possible. We bought Escape Redding because we wanted to provide that entertainment. It really is a great industry, and we're only seeing the beginning of the growth."
The Moores have lived in the North State for five years this time around, but Joe moved to Redding as a child, and Sherry was raised in Anderson. In their free time, they enjoy spending time with their two children, their extended family and their friends. And as much as time allows between the businesses, they enjoy exploring the North State.
"It really is about community," says Joe. "We love giving back, we love meeting new people and we love the other businesspeople we get to spend time with and learn from. But mostly, it's about the community."