View all posts
Dolling Insurance Agency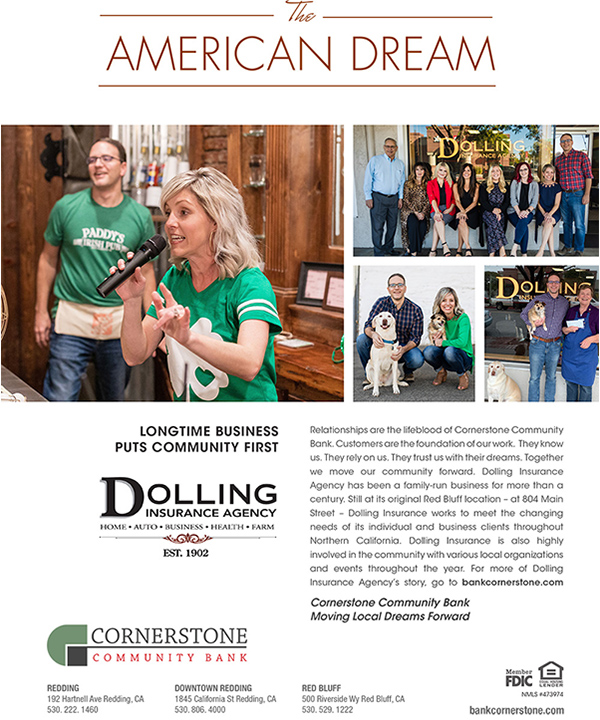 For more than a century, four generations of Dollings have been protecting North State residents from life's mishaps with the same level of caring and responsibility that they give their own family.
Dolling Insurance Agency was established in Red Bluff in 1889 as the M.R. Hook Agency and has operated under the Dolling name since the early 1940s. It's still at its original location at 804 Main Street, and it provides home, auto, business, health and farm insurance to clients all over Northern California. They also insure RVs, ATVs, motorcycles, boats and more. On the commercial side, they cover business owners, churches, truckers, restaurants - you name it.
Dolling Insurance prides itself on providing the best coverage at the best possible price. As an independent agency, they check on available policies with multiple companies, saving clients time and money.
"It's all about highly personalized service," shared fourth-generation owner Travis Dolling.
The company enjoys a rich family history. Herman Dolling's father-in-law began the legacy before Herman stepped in to run the agency prior to enlisting in World War II. When he was in Europe, his wife, Eleanor Champlin Dolling, kept the business going. Their son, Tod Dolling, became owner of the company in the early 1970s and held that post for 40 years before handing over the reins to his son, Travis. Tod Dolling remained the company's Medicare insurance expert and was a champion of the Red Bluff community until his passing in December 2019.
"My father was a staple in the office and our community," said Travis. "We will follow in his footsteps by servicing our family legacy with a strong focus on community."
Travis, a graduate of Red Bluff High School and the University of Oregon, has maintained his family's standard of community service. He's part of the Downtown Red Bluff Business Association Board of Directors, is an active Elk and Rotary member and assists with numerous local events.
"Dolling Insurance is so much more than a business office," offered Travis. "We strive to be a positive reflection of the community that we love."