View all posts
Tehama County CattleWomen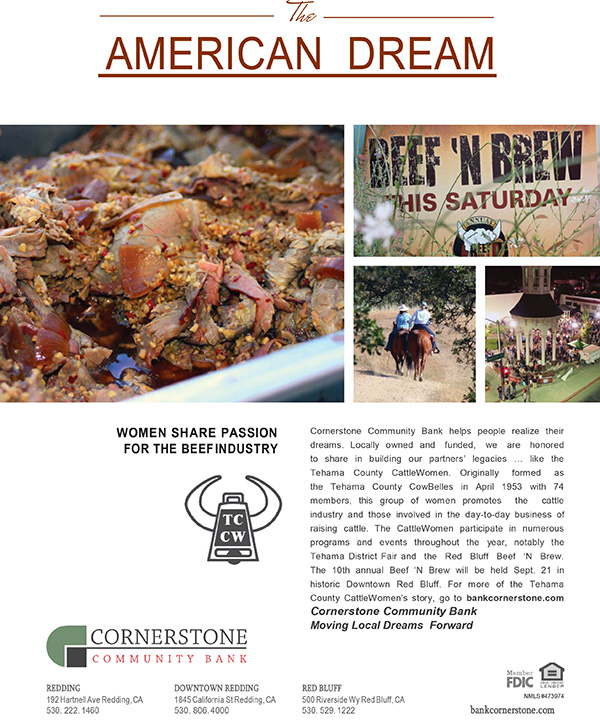 The cattle industry plays a vital role in the North State, and it's the Tehama County CattleWomen's honor to support it, promote it and share the enthusiasm with the next generation.
Originally formed as the Tehama County CowBelles in April 1953 with 74 members, Tehama County CattleWomen promotes youth in agriculture, agriculture education, safety and beef promotion. The CattleWomen participate in numerous programs and events throughout the year, notably the Winter Dinner Scholarship Fundraiser in conjunction with the Tehama County Cattlemen, the annual fashion show and the upcoming Red Bluff Beef 'N Brew.
The CattleWomen are affiliated with the Tehama County Cattlemen's Association and they sponsor the Beef Ambassador Program, where young agriculture leaders in high school participate in teaching youth about the journey of beef in the classroom, along with food safety and nutritional value. The Beef Ambassadors also travel and educate consumers about the value of beef, and stress the importance of good stewardship of the land.
Activities include Ag Education Day, fashion shows, fair booths, legislation advocacy, farm days and much more. The funds they raise pay for six scholarships per year, beef promotion and the Beef Ambassador program.
"Investing in our youth with scholarships that provide them with an education in agriculture is very important to our businesses," says Tehama County CattleWomen Spokesperson Cathy Tobin. "The six scholarships that we give out each year enable the cattle producers to have advocates that will take on the tasks of providing beef and informing future generations of the importance of cattle in our world today. Each year we are able to give out $10,000 to $12,000 in scholarships because of the generosity of Tehama County and all of those who attend the Winter Dinner Scholarship Fundraiser and Red Bluff's Annual Beef 'N Brew."
At the forefront of the CattleWomen's minds right now is the 10 th Annual Red Bluff Beef 'N Brew, slated for Sept. 21 from 5-10 p.m. in downtown Red Bluff. This event is a partnership between Tehama County CattleWomen and the Downtown Red Bluff Business Association, and it's designed to promote downtown businesses and the local beef industry. Attendees can stroll through historic downtown, sampling craft beers and beef appetizers. Downtown businesses showcase what they have to offer, and the Tehama County CattleWomen work with businesses, caterers and restaurants to provide about a ton of beef to be sampled that evening.
The evening ends with a tri-tip wrap by Vic Woolery and crew, a craft brew from Sierra Nevada Brewing Co. and music by local bands from 7 to 10 p.m. in Cone-Kimball Plaza.
"Red Bluff's annual Beef 'N Brew has turned out to be one of the most popular events to be held in Tehama County," Tobin says. "We hear every year from attendees that they saw someone they haven't seen in years and got to catch up with the goings on with each other. Others plan class reunions, parts of their honeymoons or family get togethers around our event. The event brings people from all over California and even out of state to Red Bluff."
For more information, visit www.tehamacountycattlewomen.org.