View all posts
Theory Collaborative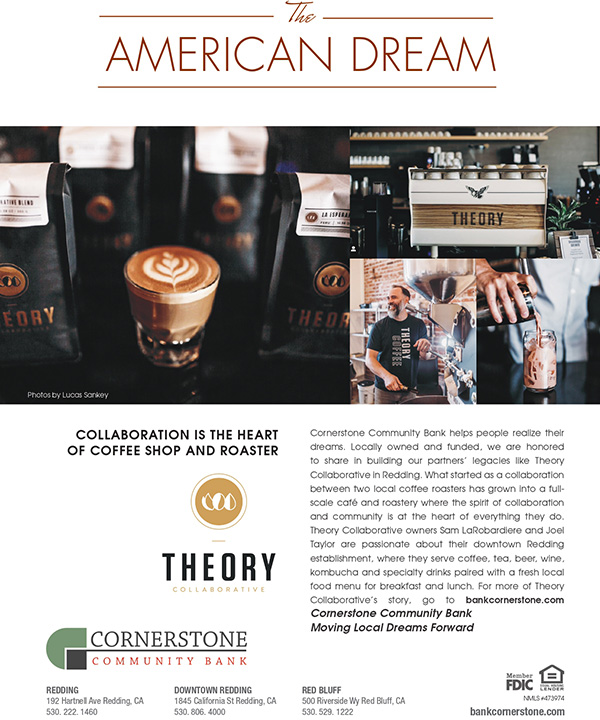 Collaboration and community are at the heart of Theory Collaborative, which started as a pop-up shop and has evolved into a full-scale café and roastery.
Located in a historic two-story brick building on California Street in downtown Redding, Theory Collaborative is more than just a coffee shop. They also offer food, craft beer and wine in a modern industrial atmosphere. An enclosed patio in back is a lovely place to sip a carefully crafted beverage on a warm day. Visitors can even watch coffee beans being roasted — and these are no ordinary beans. Theory won a gold medal for its Ethiopia Keramo at the 2018 Golden Bean North America Coffee Roasting competition, hailed as the North America's largest roasting competition.
Theory serves coffee, tea, beer, wine, kombucha and specialty drinks, which easily pair with a fresh, local food menu for breakfast and lunch.
"Our goal is to offer you an elevated coffee experience," says owner Sam LaRobardiere. "We do that by sourcing only the very best coffees in the world and roasting them to perfection. Our baristas go the extra mile to make sure that your drinks are crafted with excellence and cheerfully delivered to you."
Every step in the coffee-crafting process builds relationships, the proprietor explains.
"Business is all about relationships," LaRobardiere says. "We have intentionally been building relationships in Redding since moving here seven years ago. I think that is one of the reasons that Theory is working so well. When you come to Theory for the first time, it is not uncommon to feel a sense of belonging in our cafe. That is very intentional. We want you to feel like you're at home or with family while you are in our care."
Originally from Michigan, LaRobardiere moved to Redding and began roasting Scout Coffee on a very small scale, selling coffee at the farmers' market and to a few other local businesses, including Enjoy the Store. Shortly thereafter, Sam and former business partner Jason Miller partnered with Joel Taylor to open Theory Collaborative. The cafe got off to a successful start largely due to the community that had been built during the pop-up days.
"I love doing business in Redding. The people of Redding are supportive, which is super helpful when taking the risk to open a brick and mortar," LaRobardiere says. "I call Redding the largest small town that I've ever lived in. For a town of almost 100,000 people, it still functions off of the classic principles of a small town. Community, trust, quality and consistency. If you can keep all of those plates spinning at once, you can likely operate a successful business in Redding."
Theory also offers their conference room to others who want to mind-meld. Because it's all about community — and community is better when it's enjoyed over a perfectly brewed cup of coffee.
To find out more about Theory Collaborative, visit their website at www.theorycollaborative.com or find them on Instagram or Facebook @theorycollaborative.