View all posts
Crown Cleaners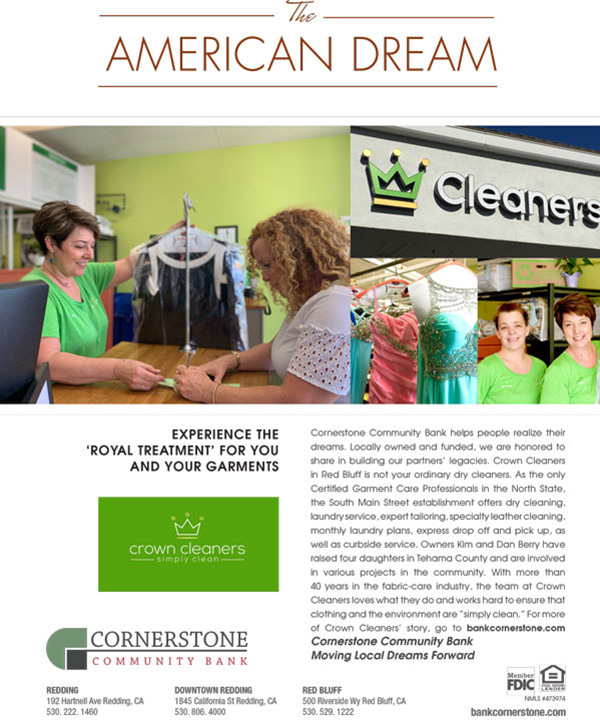 Your clothes deserve the royal treatment, and Crown Cleaners stands ready to treat them to exactly that.
The Red Bluff business boasts the extensive training and experience needed to care for everything from your wedding gown to your treasured family quilts.
"We're not your ordinary dry cleaner. Every garment, every piece that comes through our shop receives what we call the Royal Treatment," says Crown Cleaners Owner Kim Berry. "We want every piece to be as perfect as possible. It's really important to us."
Kim is a Certified Garment Care Professional and graduate of the Advanced School of Dry-Cleaning Technology, and she has nearly 30 years of experience in the fabric-care industry. She's a certified dry cleaner, a certified wet-cleaner and a certified environmental cleaner – and the nearest cleaner with this level of certification is in Napa, she says.
Kim owns the business with her husband, Dan. Their daughter, Annette, is also a certified dry cleaner with 18 years in the industry, who works in the shop and is known for her customer service and passion to get things perfectly clean.
The Berrys have invested in a state-of-the-art dry cleaning machine that produces crystal-clear solvent for every load of clothes cleaned. That means that whites always turn out white, and colors turn out bright. "The biggest complaint you hear about dry cleaners is the 'every shade of gray' problem," Kim says. "This is caused by solvent that has not been purified correctly. We do not have that issue, ever."
She is also an expert silk presser, specializing in wedding dresses and fine fabrics, and she has an extensive understanding of fabric construction and characteristics.
Tired of that never-ending mountain of laundry? Crown Cleaners also offers a monthly laundry service — it's almost like having a laundry fairy.
Kim started out working at the counter in 1990 and she learned how to do everything in the shop. "One of my favorite things is customer service," she says. "I love educating our customers and providing the highest quality experience possible. And our prices are very reasonable — you don't have to break the bank to have quality dry cleaning."
The best part of her job?
"It has to be the personal interaction with our customers," Kim says. "In the dry-cleaning industry, we have the opportunity to share some of life's most exciting and important events like weddings, birthdays, job interviews, vacations to other countries and so much more. There's no greater joy than restoring a family heirloom to its original glory or seeing the joy on a customer's face when we got the stain out of their favorite dress that can't be replaced."
Crown Cleaners is open from 7:30 a.m. to 6 p.m. Monday through Friday. Find them at 945 Main St. in Red Bluff and at www.crowncleanersrb.com.