View all posts
Jindra's Auto Service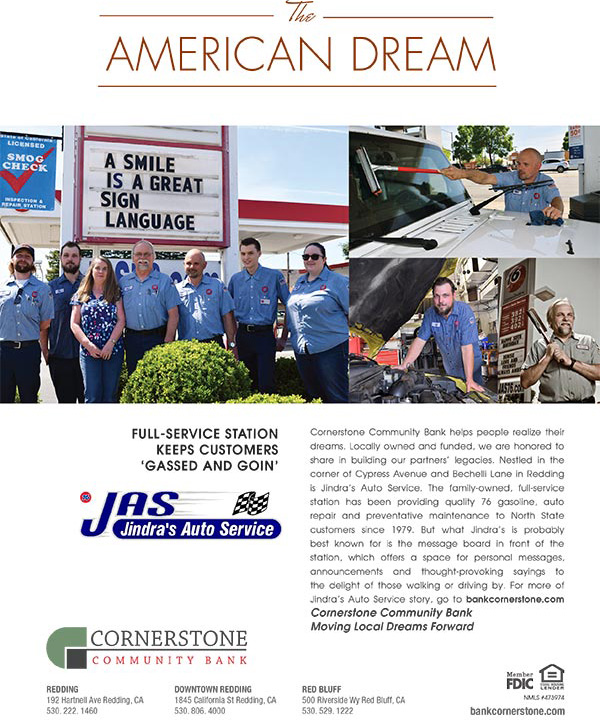 Is a birthday really a birthday if it's not celebrated on "The Sign"? This iconic eye-catcher in front of Jindra's Auto Service has shared personal messages, announcements and thought-provoking sayings since 1980.
The real magic, however, happens when you drive into Jindra's. The auto repair center and gas station on the corner of Bechelli Lane and Cypress Avenue in Redding is known for its impeccable customer service. You won't pump your own gas here - their staff zips out to fill you up, clean your windshield and send you off with a smile.
"It goes back to day one, when my father was still around. He was the driving force in what started the whole thing," says owner Rick Jindra."He was old school, a World War II vet, and he worked in the corporate world for many years. It's a culture of days gone by that we're keeping alive."
If you need more than a fill-up, Jindra's certified technicians do general repair, lube and smog testing for foreign and domestic cars and trucks. Their high-tech diagnostic equipment ensures their customers' vehicles are serviced correctly the first time, and their work is guaranteed.
"The core of our philosophy for our service and repairs is that we want to keep vehicles safe, and to make their lives last as long as possible so people get the best value out of them," Jindra says.
Other specialty services Jindra's provides include:
Smog inspection/certification
Air conditioning service and repair
Uber safety inspection
30/60/90K maintenance services
Brake service
Timing belt service
Today, they're serving a third generation of customers. 'Just today, one of the children of a long-time customer came in, and he's a 40-year-old man now," Jindra says. 'Redding still has that small-town atmosphere, even though when we started, the population was less than half of what it is now. We've raised our four boys here, and we've taken pride in being part of the Redding community."