View all posts
Riverfront Playhouse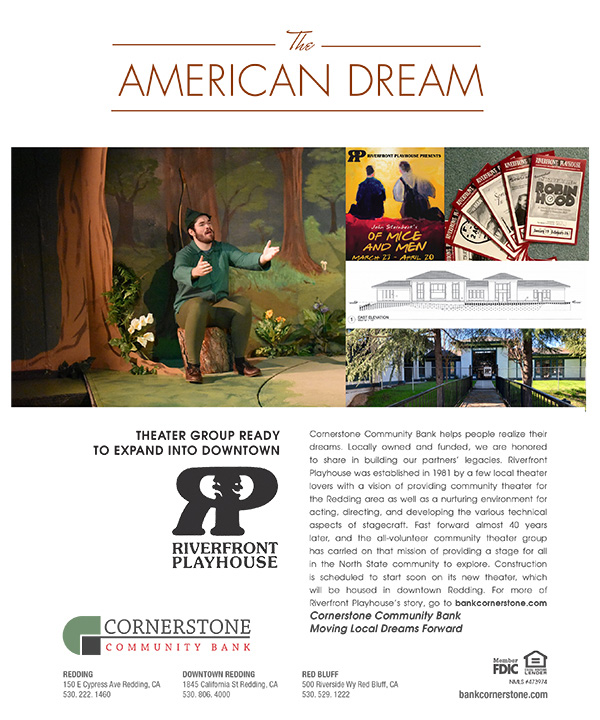 Generations of actors have developed their acting chops on the humble Riverfront Playhouse stage. Today, the volunteers behind this nonprofit are thrilled to finally have the go-ahead to expand the facility for many generations to come.
Cornerstone Community Bank has provided a $1 million loan so the playhouse can renovate its downtown Redding property into a bigger, more modern theater. The site at 1950 California St. will be home to a 152-seat venue, including a main theater, art gallery exhibit space, a green room, an events room, a concession stand and an area for set construction. A small black-box theater will provide opportunities for open mic nights, poetry readings and other productions.
"Live theatre allows the audience to experience the presentation of story-telling up close and personal," said Darryll Alvey, president of Riverfront's board of directors. "From the most seasoned actor to the costumer, from the set builders to the ticket-takers, from sound and lighting technicians to concession-stand attendants – they are dedicated to bringing a meaningful and entertaining story to the stage."
Riverfront, a nonprofit organization, bought the downtown building three years ago, and has been raising funds for a new theater for much longer than that. Now that the loan has been secured, renovation of the 11,500-square-foot building should begin this spring. Local contractor Don Ajamian Construction will do the work, using plans by Redding's Trilogy Architecture.
The venue will be available for rent when Riverfront isn't using the space. The nonprofit will continue its capital campaign, which includes donor-naming opportunities, a buy-a-brick project and seat sponsorships.
Riverfront was created by a troupe of local theater lovers in 1981, and it's operated out of its current facility at 1620 E. Cypress Ave. since then. They're the region's longest continually operating, all-volunteer community theater, and many volunteers have been involved since the very beginning. Every facet of the operation is run by volunteers, from the board of director to the set-building crews to the actors.
"The family of more than 200 volunteers at Riverfront share their love of theatre with you every time the lights go up, the curtain rises and actors speak," Alvey said. "The applause and expression of gratitude is their reward. It is intoxicating and addicting after a job well done. I'm extremely proud to be part of this organization."
John Steinberg's "Of Mice And Men" is featured now at the playhouse, with "The Complete Works of Shakespeare" opening in May.