View all posts
Wilcox Oaks Golf Club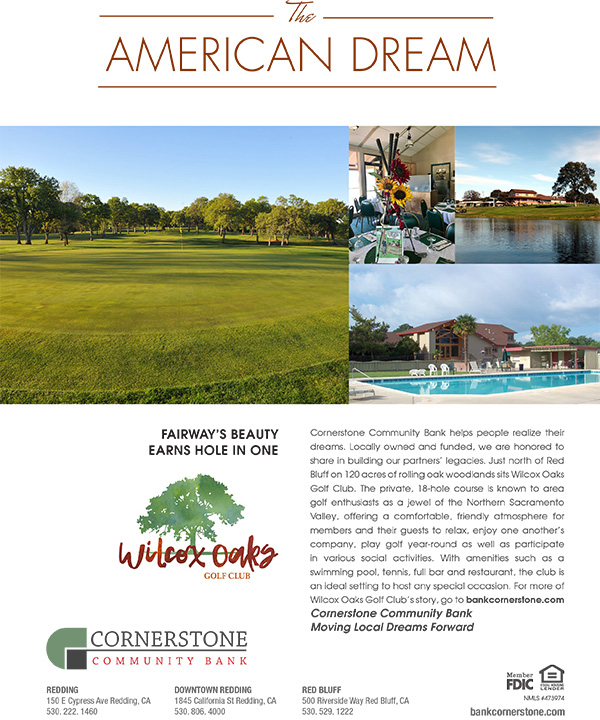 There's no need to travel a great distance to spend a beautiful day on the links. Just north of Red Bluff on 120 acres of gently rolling oak woodlands, Wilcox Oaks Golf Club is one of the jewels of the Northern Sacramento Valley, offering a challenge to golfers and a welcome respite from daily life.
Back in the early 1920s, Grant Wilcox and other golf enthusiasts began playing on un-watered fairways and sand greens on a course referred to as "the sticker patch." The land was generously gifted to the club after Wilcox's death in 1957, the first well was dug, and irrigation for the first nine holes followed. Wilcox Oaks Golf Club was incorporated in 1958, and the full 18-hole layout was completed 20 years later. Improvements continue to this day, but the goal of the club has never changed — to be one of the best golfing and recreational values in the Shasta Cascade Wonderland.
"We serve the golfers of Tehama County, their guests as well as visitors passing through with the best golfing experience we can give them," says interim General Manager Kevin Brunnemer. "We have a membership level to fit most everyone's budget: single, family, corporate, 90-day trial memberships and 'member for a day' plan."
The private club enjoys a diverse membership and it's a place where golfers can relax, enjoy each other's company, play a few rounds and participate in various social activities. Year-round play includes everything from casual couples' scrambles to a Pro Am tournament each spring. Events are available for people of all ages, and the pro shop stands ready to equip golfers with any equipment or attire they might need.
Wilcox Oaks has also become a popular venue for special occasions, including weddings, reunions and holiday parties. They have a pool, tennis courts, full bar and restaurant (The Oaks Bar and Grill) that seats 120.
"We also have a full list of social events scheduled for the coming year — Thursday night football, a raffle extravaganza, a crab feed, murder mystery dinner, bingo and Monte Carlo night, to name but a few," Brunnemer says. "If you're not at Wilcox, you're missing out!"