View all posts
Hokema's Appliance, Sewing and Vacuum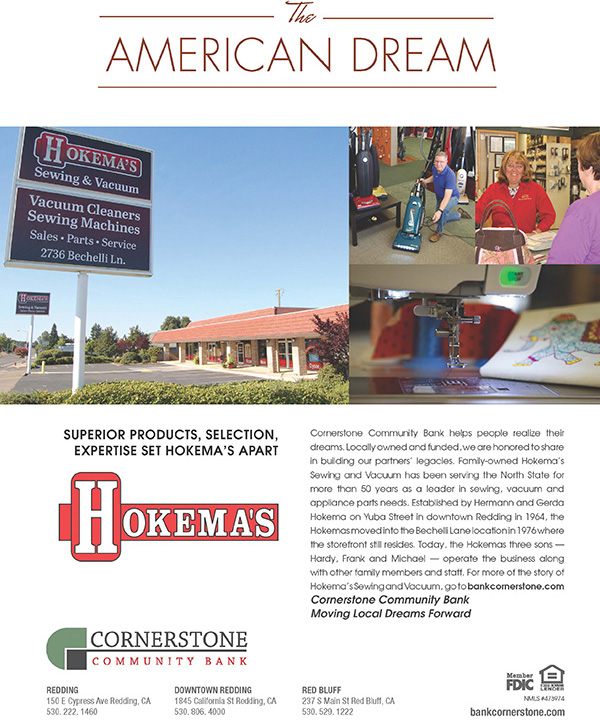 Legend had it that if Hermann Hokema couldn't fix something, it couldn't be fixed. For more than 50 years, that knowledge and commitment to customer satisfaction has made Hokema's Appliance, Sewing and Vacuum the local industry leader.
In the past half-century, Hokema's staff have set themselves apart as friendly, trustworthy and knowledgeable. They don't just sell you a product — they help you learn how to use it. And if something goes wrong, they'll make it right.
The shop's technicians are factory trained, and they go to trainings several times a year when new innovations come out. "You can buy a vacuum or sewing machine anywhere online, but we have the know-how of how to work it and what it does," explains Michael Hokema, one of the Hokemas' three sons. "Most sewing machines have a plastic frame on the inside, but ours have metal frames. Our vacuums have metal brush rolls, not plastic. We sell quality products — value counts."
The Hokemas found themselves in the North State mostly by chance. The late Hermann was drafted to the German army during the war, and then moved to Canada on a work visa. "When his visa expired, he made it to British Columbia and found another German fella who had some work going on," Michael said. "He said, 'If you can get yourself working on electricity and appliances, I have a job for you.' So Dad went to correspondence school and became an electrician, and his friend said, 'Come on down — I have a lead on a job in this place called Redding, California.'"
Meanwhile, Hermann was introduced to Gerda, who had come to America to work as a nanny in Grand Rapids, Mich. They quickly fell in love and were married in 1961 at First Baptist Church on Eureka Way. After a few years of doing mobile repair and putting more wear and tear on his vehicle than he liked, the Hokemas decided to open a storefront. They set up shop in 1964 on Yuba Street in downtown Redding, and moved to their current location on Bechelli Lane in 1976, remodeling a few times before taking over the whole building in 2002.
As the Hokemas' sons Hardy, Frank and Michael grew older, their parents reminded them, "Your last name is associated with this store, so you will behave." And the rule still holds true, as all three sons run the store today. Every day, a customer comes into the store and says their mother or grandmother has shopped there. Customers have moved out of town — even out of the country — and call Hokema's to order parts. "I've sold pieces to people in Canada, the East Coast, Ecuador," Michael says.
A family business is special — the owners live, work and play in this community. "We've got pretty deep roots here," Michael says. "Former mayors have lived across the street from us. We've gone to school with the sheriff's son. Everybody knows each other."
Providing customers with exceptional service is one of the ways they give back. Hokema's also offers numerous classes to improve people's skills and allow them to showcase their creativity. An array of children's classes, creative classes and mastery classes are offered, as well as "new owner" classes, so people can learn their new machines with confidence.
"We're proud to have the opportunity to be a part of this great community," Michael says.