View all posts
Cornerstone Community Bank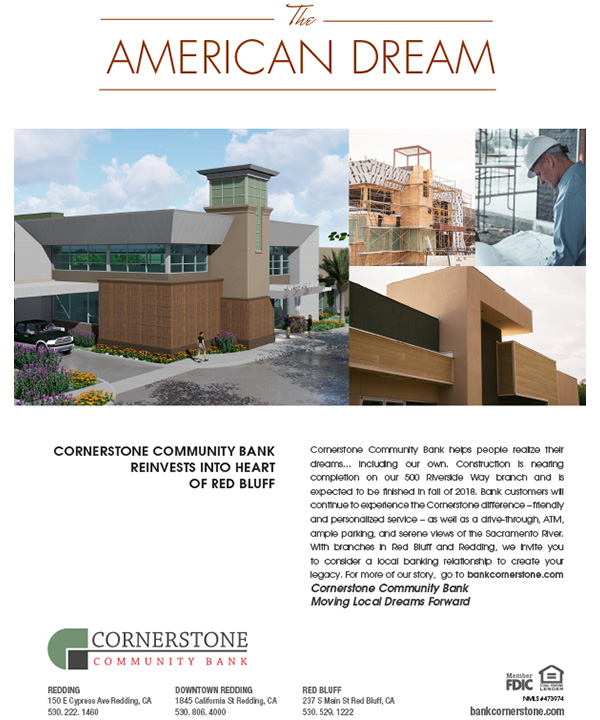 Cornerstone Community Bank's first actual cornerstone was set in Red Bluff, so it's only natural that its founders are committed to reinvesting into the heart of the town. This fall, a beautifully crafted building will become Cornerstone's newest home.
"Red Bluff holds a big piece of our hearts," President and CEO Jeff Finck says. "We wanted to do something that would truly benefit the town all the way around. Whether you're coming north, east, west or south into town … we'll be right there in the middle."
The new location at 500 Riverside Way will be a full-service branch, including a drive-through window, an ATM, plenty of parking and a nicely appointed board room complete with views of the Sacramento River. One thing won't change, however, is Team Cornerstone's focus on customer service, affectionately referred to within bank branches as inviting North State residents to come experience the Cornerstone difference.
"If you want a super-charged banking experience, use a community bank. We go the extra mile to meet our customers' needs," Finck says.
The first Cornerstone Community Bank opened in Red Bluff in the mid-2000s, and while the economic downturn temporarily tapped the brakes on the founders' plans for expansion, they've added two branches in Redding since then, including one downtown on California Street. The Bank plans to relocate the Cypress Avenue Branch to the former Kragen Auto Parts building on the corner of Hartnell and Parkview in 2019.
Construction on the 15,000-square-foot building in Red Bluff (most recently the Riverside Bar and Grill) will be completed this fall. Half will be used by the Bank, and the other half will be leased out. The Bank's relocation from leased space into its own building further strengthens its anchor in the community.
"Instead of seeing a dilapidated building when you cross the river into town, this will be one of the first architectural buildings you'll see," Finck says. "It's an excellent way to showcase the town."
Indeed, Cornerstone Community Bank helps people move their local dreams forward — including their own.