View all posts
Guiton's Pool Center, Inc.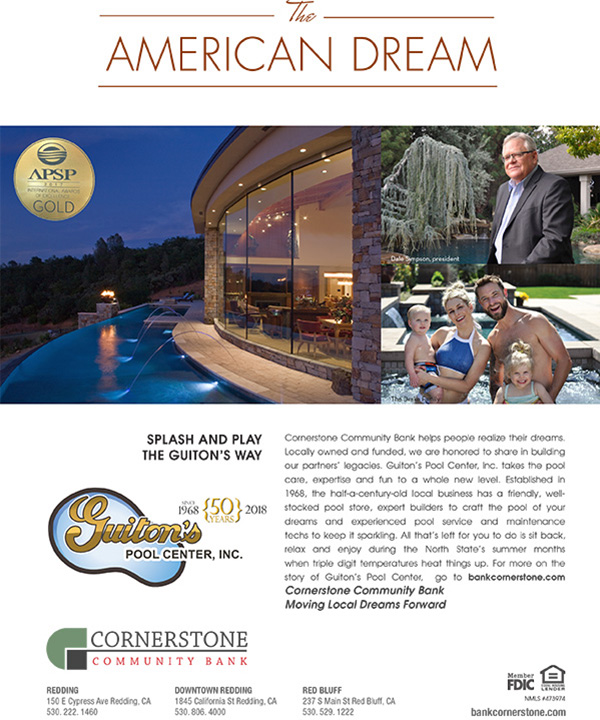 Imagine floating in crystal-blue water on what seems like the edge of the earth, gazing out at a panoramic landscape featuring snow-capped mountains, meandering rivers and lush forests.
While this could be a scene from a posh European bed-and-breakfast, it can also be a 30-second walk from your own back door.
Guiton's Pool Center has been bringing people's dreams to life for a half-century with their imaginative pool construction, service and maintenance. Their expert builders have a knack for helping people craft perfect, personalized pools that fit their wishes, needs and budgets.
Dale Simpson, president and CEO of Guiton's, began his career in 1975 under the mentorship of company founder Richard Guiton. He rose through the ranks to become sales manager, business manager and partner before buying the company in 2008. Under his leadership, Guiton's has been named "Best Pool Company in the North State" by the Record Searchlight for many years.
Says Simpson, "Pools can bring so much fun and relaxation into your life — at Guiton's, we want to make the whole process of building and owning a pool simple, fun and chock full of great family memories."
Simpson is the son-in-law of the late Richard Guiton, who was a pool decking and concrete contractor in Southern California before moving to Redding in 1967. Guiton installed a few pools a year until hiring a salesperson in 1972, when that number jumped to 50 or 60 pools annually. Years later, he opened a retail location, then added a service department.
Today, thousands of pools in the North State carry the Guiton's seal, and many more are carefully cleaned and maintained by the Guiton's crew, so customers needn't do anything besides retreat to their backyards and enjoy their own personal oasis.
Though Richard Guiton passed away in 2015, his legacy of generosity, customer service and caring for his employees lives on.
"We've been a family business for 50 years — some of our customers have been with us for that whole time," Simpson explains. "That's what we want — for people to experience caring, personalized service and enjoy their pool and enjoy interacting with everyone here. We make a commitment to everyone who comes through our doors: You're going to get the best. The best educated pool care advice; the best personalized service; the best pool we can build you. It's a promise we make — from our family, to yours."