View all posts
Lariat Bowl & Bowling Greens Miniature Golf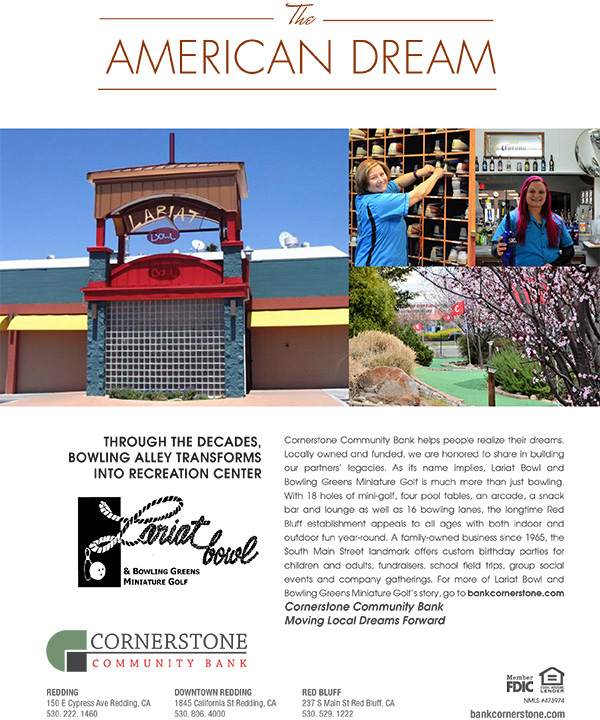 There are few places where grandparents, parents, teenagers and toddlers can enjoy fun, clean recreation together. Fortunately for the North State, Lariat Bowl, established in 1958, is one of those places.
Lariat Bowl at 365 S. Main St. in Red Bluff offers bowling, miniature golf, pool, laser light shows, an arcade and more. "We have 2-year-olds and we have 92-year-olds and everything in between," says Lariat Bowl owner Susan McFadyen. "It's a lot of fun - it's a place for the whole family to go."
Leagues and tournaments keep the bowling alley hopping, but there is plenty of room for those who just want to come in and play a few games. The Family Value Doubles Bowling Club is offered on Sunday nights, where an adult and child can bowl together. "With other sports, unless the parent is a coach, they are up in the stands. But everyone gets to bowl," McFadyen says. "No child sits on the bench."
Groups of developmentally disabled adults come and bowl every week, and the elementary and high schools bring their adaptive physical education classes to Lariat Bowl several times a year. School groups, church groups, local businesses and sports teams come in for parties and team-building events.
"Folks have said, 'We go to a restaurant and all we do is sit around and talk.' With bowling, you have some competition and some fun," McFadyen says. And afterwards, the adults can enjoy a cold adult beverage in the bar while kids spend a handful of quarters in the arcade.
The venue hosts and donates to an assortment of community events, including the Antelope-Berrendos School mother-son bowling event. It also sponsors benefits for groups like Providing Essentials for Tehama Shelter (PETS), giving a portion of proceeds back to the organization.
Tehama County is a wonderful place to live, work and play, McFadyen says. "There's always something going on, and there's always something in the community to get involved with," she says. "People go out of their way to help each other out."
Gene Penne, McFadyen's father, purchased Lariat Bowl in the 1960s and was involved in the community through schools, churches, businesses, civic organizations and local government. As Lariat Bowl comes into its 60th year in business, the tradition continues with a refreshed, clean facility providing "year-round family fun!"