View all posts
Frozen Gourmet, Inc.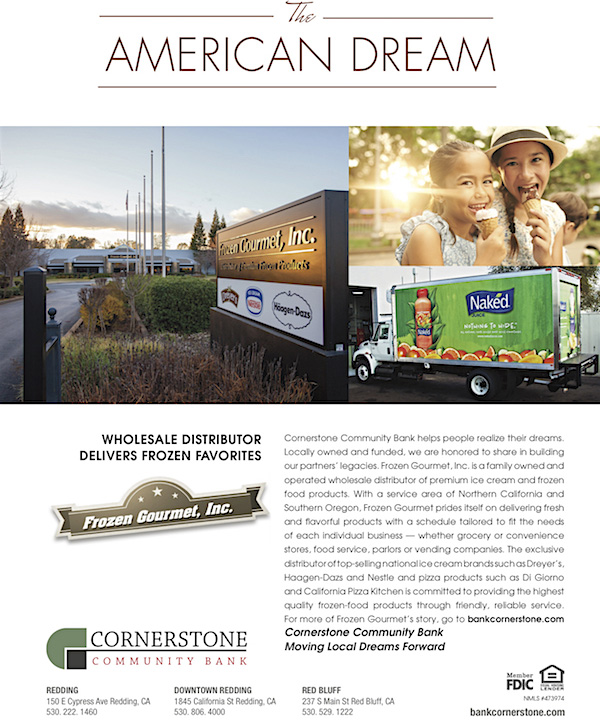 You probably never realized it, but if you love ice cream and pizza, you probably owe Frozen Gourmet a debt of thanks. They're the ones who make sure your grocery store, your favorite convenience store and vending machines always have the treats that you crave.
The family-owned and -operated wholesale distributor of premium ice cream, frozen food and healthy drinks was founded by a Redding family who prides itself on providing friendly, reliable service from Southern Oregon all the way down to Yuba City.
Bill and Daphne Kohn founded Frozen Gourmet in 1979 when they moved from the Bay Area back to Bill's hometown of Redding. They worked out of their house, rented a freezer in Red Bluff, had one truck and did everything themselves, from sales and delivery to bookkeeping. Over the years, Frozen Gourmet grew steadily, adding employees, leasing space on Airport Road and installing their own freezer.
Today, they're the exclusive supplier for top-selling national ice cream brands, including Dreyer's, Haagen-Dazs and Nestle, along with pizza products such as Di Giorno and California Pizza Kitchen. Their new line of healthy drinks include Naked Juice, Kevita and Chameleon Cold Brew. The Redding warehouse uses 12 trucks to deliver to stores and restaurants from Yuba City to the Oregon border. That's where the Medford warehouse picks up, and its 10 trucks service Southern Oregon.
And it's still a family business in every sense of the word. Nikki Rayl was a baby who was usually perched on her mom's hip when her parents founded the company, and today she runs the administrative side of the business. Her brother, Rob, leads the company's operations. Frozen Gourmet now has about 60 full-time and 40 part-time employees, all of whom are dedicated to providing the best service possible.