View all posts
Meme's on Main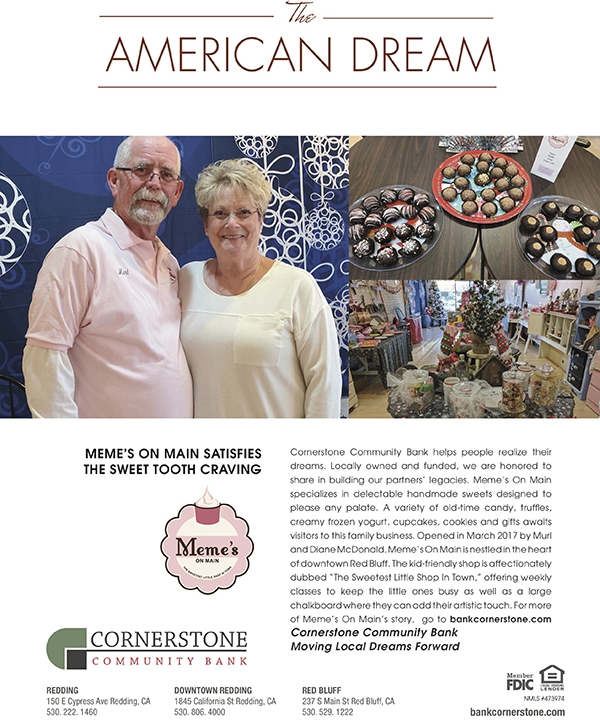 Every child who envied the fresh-baked cookies in Diane McDonald's children's lunchboxes back in the day is in luck. Today, you can buy as many as you'd like at Meme's on Main Street in the heart of historic downtown Red Bluff.
Diane and Murl McDonald opened Meme's in March 2017, and the family business specializes in catering to your sweet tooth. "We'd always kicked around having a cupcake and cookie shop, and I've always loved to bake," explains Diane, who baked cookies daily while her children were growing up. "Then one opened on North Main, and I thought, 'Oh no, there goes my idea.' Then that one closed, and there was an empty building right on Main Street, and I thought, maybe this is a sign. We came and talked to them, and within a week everything was rolling."
Meme's features cupcakes and cookies, as well as truffles, fudge and rocky road — decadent treats for the chocoholic. Frozen yogurt in an array of flavors helps cool you off on hot summer days. Special order cupcakes and cookies are a fun indulgence for a special occasion.
Diane does all the baking. "We made pies for Christmas and Thanksgiving — apple and pumpkin — and the cookies and the cupcakes go crazy. There's no other place in town that does homemade," she says.
She also makes the fudge and rocky road — but not the truffles. "I do not have the patience to do that," she says with a laugh.
In the beginning, the shop didn't offer cupcakes — just yogurt, truffles and old-fashioned candy. "I had a girl come and paint on my windows. She painted a yogurt cup, and I had so many people come and say, 'You have cupcakes? There's a cupcake on your window!' I told them that it was a yogurt cup — but we went ahead and bit the bullet and bought the oven, and it's just taken off from there."
A new sitting area is a lovely refuge for sipping tea with a friend. Meme's serves artisan teas including lemon ginger, cranberry blood orange, English breakfast, chai spice, chamomile lavender mint and hibiscus ginger orange. The dainty space is appointed with flowers and ceramic tea pots.
The shop also offers children's classes every month or so, where youngsters can try their hand at selected art projects. They'll be decorating Valentine's Day cookies during the next class on Feb. 10. A chalkboard on the wall attracts the creativity of kids and kids at heart.
"I love when people come in here and are satisfied and pleased with what I've done," says Diane, a retired office manager who has lived in Tehama County for more than 60 years. "I really enjoy the people."
Meme's is located at 643 Main St., and is open from 10 a.m. to 5 p.m. Tuesday through Saturday. Call 727-9800 for more information.