View all posts
Poor And The Homeless Tehama County Coalition (PATH)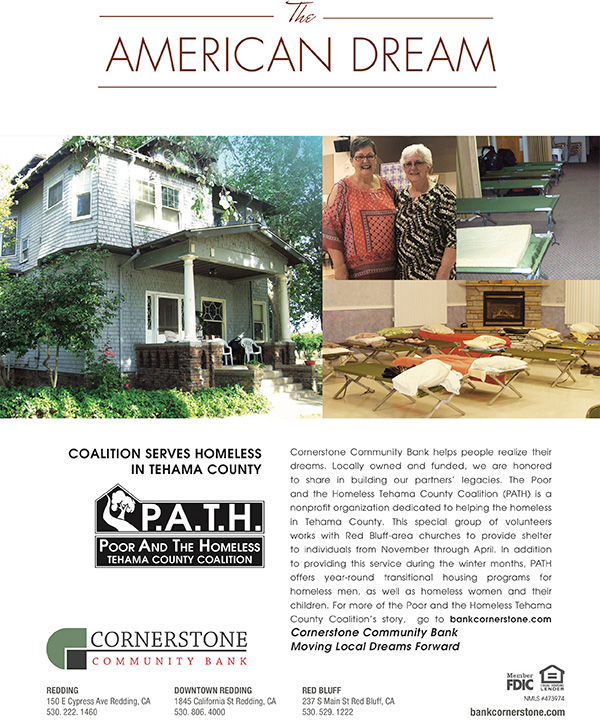 A single candle flickers in the darkness. From this tiny flame, many more candles can be lit, yet the life of that single candle is never shortened.
Ordinary people are doing extraordinary work through the Poor and the Homeless (PATH), a nonprofit that provides shelter and nourishment (both physical and spiritual) to those who need it most in Tehama County.
Like most world-changing work, PATH started with the simplest of actions. In 1999, Allene Dering joined a prayer group at a Red Bluff church. One Sunday, the pastor announced that a meeting would be held after the service to explore what could be done to help the homeless. Dering felt called to attend the meeting.
"We were praying for guidance for God's will for us individually and God's will for the church," she explains. "When I lived in Napa, they wanted to do something about the homeless, and I was the loudest one against it. I didn't know homeless people at the time. All I thought was, 'I've got to go to that meeting.' It was God's will for me to do that. God changed my heart."
She's been PATH's leader ever since.
PATH's initial mission was to shelter the homeless. Three pastors were part of the original group – Tim Soule, Wallace Anderson and Susan Plucker — and several churches allowed PATH to use their facilities. They formed a grassroots group called The Homeless Coalition and became a nonprofit in 2000.
Today, PATH is governed by a 12-member board of directors, representing the faith community, business community, local government and the target group. It operates the only winter emergency homeless shelter in Red Bluff, which is open Nov. 1 through April 30 each year and rotates through local churches. Dinner is provided to those who spend the night. Use of alcohol and illegal drugs is prohibited.
In addition, PATH also operates the Sale House, a sober living transitional home for homeless women and their children. The two-year program is designed to help women become self-sufficient and secure permanent housing. A case manager helps clients set and achieve their goals.
Homeless men can participate in Pathways, which is also a two-year sober transitional living program with a case manager who helps participants achieve self-sufficiency. The men are available to volunteer at community events.
PATH also has a new grant-funded Housing First program, where they house people regardless of their circumstances, then work intensively with them for six to eight months to help them change the behavior that has been keeping them out of permanent housing.
"We're getting people off the streets and getting them into housing," Dering says. "Twenty percent of people who have come to the shelter have been able to get into housing before their time in the shelter is over."
Most homeless people have income, Dering says, but it's such a small amount that they can't live on it and save money at the same time. People can stay at the shelter for up to six months, which gives them the opportunity to build up enough savings for their first month's rent and a deposit.
"Homeless people are people just like anybody else," Dering says. "I've met some really wonderful people among the homeless. It's like any other prejudice — one person of a different color treats you badly, so you think they're all that way. Just because one homeless person did something you thought was horrible doesn't mean they're all that way."
The community can support PATH in many ways, including joining the tax-deductible "dollar a month club," donating toiletries or food, volunteering to teach a life-skills class, helping in the emergency shelter, or donating stock or memorial funds to PATH's endowment fund. For more information, visit www.redbluffpath.org.