View all posts
5th Annual CASA Superhero Run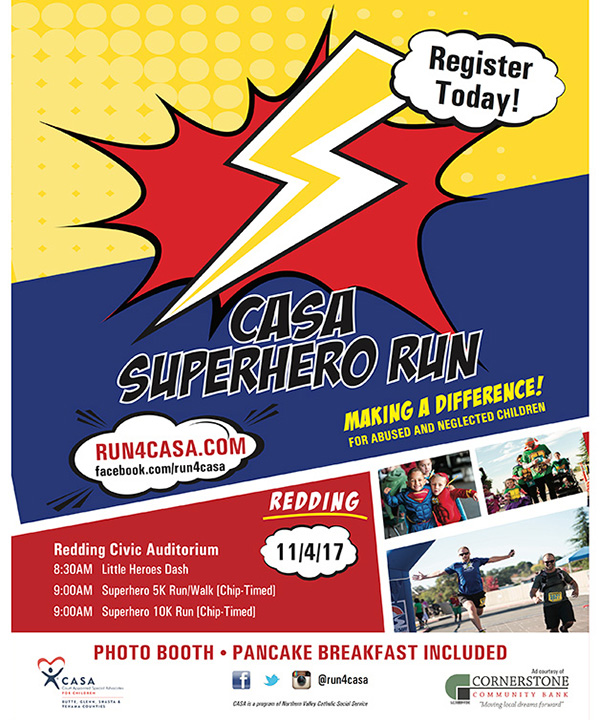 Real superheroes don't always wear capes.
Take, for instance, Court Appointed Special Advocates (CASA). These volunteers serve as the voices for children in the foster care and judicial systems, advocating for their needs with the goal of placing every abused or neglected child in a healthy, safe permanent home.
Northern Valley Catholic Social Service operates this program in Butte, Glenn, Shasta and Tehama counties, and since the program began in Butte County in 2001, it has trained 362 advocates who have served 728 children.
While this number is certainly impressive, the current number of advocates are only able to serve about 8 percent of children who could benefit from these services.
So who makes a great CASA volunteer? Perhaps you would! Advocates come from all walks of life, and are citizens in our community who want to make a difference in the world. They are 21 years or older, and they go through a 40-hour training class before they're sworn in as officers of the court.
Upon being assigned to a case, they are asked to meet with their child once a week for at least an hour. They represent that child's interests and thoughts through a court report that is filed before each court hearing (about every six months). Their job includes researching and gathering information, monitoring and advocating for progress on the child's case plan, submitting written reports to the court and advocating for the child in court and in meetings. Volunteers are well supported by NVCSS staff and fellow CASA volunteers.
"I wanted to show my own two girls that they have a mother who does something about a problem and doesn't just talk about it," said Corrie Miller, a CASA volunteer since 2014. "I can't help all the children, but I can make a difference one child at a time. The ripple effect from that is more than I can imagine."
Those who are unable to serve as volunteers can still lend a hand to this noble effort. The CASA Superhero Run is Nov. 4 at the Redding Civic Auditorium, and all proceeds benefit the CASA program. Little Heroes Dash for ages 10 and under starts at 8:30 a.m. (a cape is included), and the chip-timed 5K Run/Walk and 10K begin at 9 a.m. A pancake breakfast is included for each registered participant. Learn more at www.run4casa.com.
To learn more about the CASA program, visit www.nvcss.org/casa or call 844-25-4CASA.