View all posts
Tehama District Junior Livestock Committee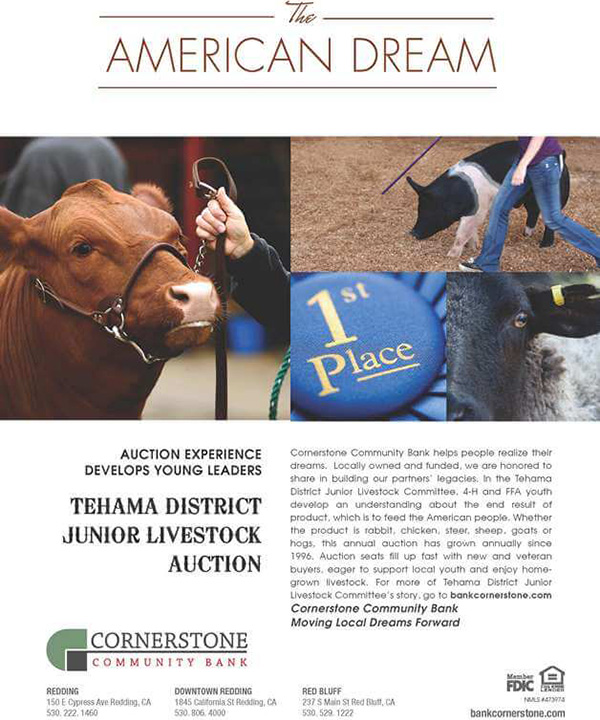 Give kids a purpose, and you might be surprised at what they can achieve.
That's one of the driving forces behind the Tehama District Junior Livestock Committee. Through this nonprofit organization, 4-H and Future Farmers of America youth develop an understanding about the end result of livestock, which is to feed the American people. Since 1996, hundreds of youth have raised rabbits, chickens, steer, sheep, goats, hogs and more. Auction seats always fill up fast with new and veteran buyers who are eager to support youth in our community and enjoy homegrown livestock.
"4-H and FFA are just amazing," says Mike Collins, the committee's president. "They build character."
Raising livestock requires a significant commitment of time and energy, Collins says. When you're raising an animal, you're not sleeping in late on lazy summer mornings or taking long vacations away — you're committed to the creature in your care, whatever challenges may arise. "They're responsible for it," he says. "Most parents say, 'This is your animal — get it ready for fair."'
Marketing is also a huge piece of the puzzle. "They have to get someone to purchase the animal," Collins explains. This involves writing letters and having confident, intelligent conversations with potential buyers to ensure top dollar for their animal. "It really brings kids out of their shell."
Some animals require a relatively short time commitment — small animals like rabbits need to be in the child's care at least 30 days before the fair, and hogs and goats are with the youth for at least 60 days. Beef has to be in the child's care for at least 120 days, though most young farmers are buying their steers now for the 2018 fair. And it's a competitive field — the Tehama District Fair featured 380 livestock this year alone.
Collins and his wife, Teri, have been involved with the livestock committee since about 1982, when their daughter was 6. "Now we're on our third generation," says Collins, who has been on the committee since 1992.
And in their view, the investment — while exhausting at times — is well worth the reward.
"If you keep these kids busy, odds are, they're going to turn out pretty good," Collins says.