View all posts
Caliber Office Furniture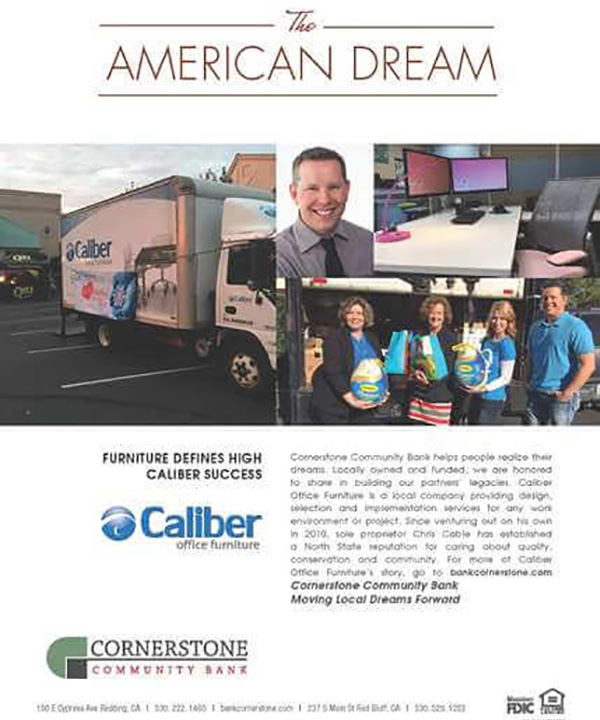 Caliber — it's defined as a degree of moral quality, or a degree of excellence or importance. For Chris Cable, the name he selected for his business sets the tone for the level of customer service he delivers to his customers.
The owner of Caliber Office Furniture has accumulated more than 20 years of experience in the office furniture industry, and he and his team are experts at helping people find the perfect, affordable solutions to their office needs.
Cable attended high school in San Diego County and moved to Redding in 1992 to attend Simpson University. He began working as a furniture installer in 1995 and went to school at night, earning a bachelor's degree in business administration. He moved up the ladder to sales, project management and lead installer, becoming a well-rounded expert in every facet of the industry. Unfortunately, in 2010, the company where he was working downsized. Cable seized this opportunity to take a leap of faith and branch out on his own, and he launched Caliber Office Furniture in April 2010.
"I created it from the ground up," Cable said. "All I had was a desk – I was renting a corner office in a construction company's office. My warehouse was a 10x10-foot storage unit. We've grown by leaps and bounds. We truly are a little success story."
Caliber focuses intently on customer service, environmental consciousness and a sense of community. In his free time, he enjoys geocaching, kayaking and tending to the five-acre farm where he lives with his wife, Cassie, and their two children.
"We treat people above and beyond with our customer service," Cable said. "Honestly, when we show with brand-new office furniture, they get the feeling like its Christmas Day, and we love it. I stop by to check on them later, which is a little bit of a personal touch. That's the service they expect by buying local, rather than ordering furniture online and having it just end up on doorstep."