View all posts
Shasta County Grand Jurors' Association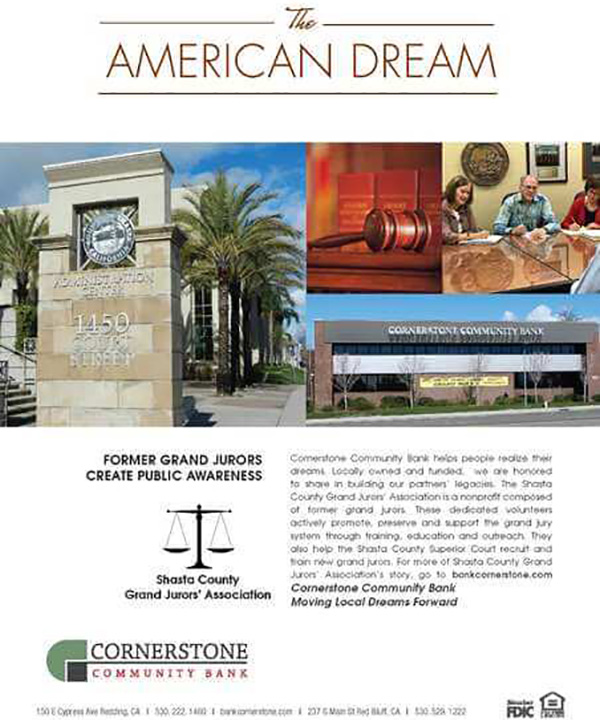 Holding governments accountable is a daunting task, but every year, 19 selfless souls step up to the plate and take on the title of grand juror — and a group of seasoned veterans is there to help guide the way.
Established in 2002, the nonprofit Shasta County Grand Jurors' Association is made up of former grand jurors who promote, preserve and support the grand jury system through training, education and outreach.
When Larry Johnson retired after more than 35 years as an attorney, he was looking for something to keep himself busy. His wife saw a banner soliciting grand jury members, which piqued his interest. He served on the 2012-13 grand jury, and then joined the Shasta County Grand Jurors' Association. He's now the chairman of their recruitment committee.
"We actually serve three functions," Johnson explains. "First, we assist the Superior Court in recruiting qualified applicants for grand jury service. Second, we assist the Shasta County Grand Jury in providing training to grand jurors on interview techniques, investigative techniques, things of that nature. Third, we've developed something of a social aspect to the grand jury."
Grand juries have 19 members. Up to 10 people can be reappointed to a second term, and the remaining members are selected by a random drawing after their applications are reviewed by Shasta County Superior Court judges. "The type of people who want to devote a whole year to this kind of work are usually people who have been leaders in whatever capacity, or they just want to do something for the community," Johnson says.
The time commitment varies widely, but typically averages 10-20 hours a week. It ramps up toward the end of the term, as members are wrapping up investigations, determining their findings and writing reports.
"People sometimes misunderstand the role of the grand jury," Johnson says. "You hear about grand juries and you probably think about criminal grand juries and indictments – that's a very, very rare function of grand juries nowadays. Ninety-nine percent of the time, what we do is civil grand jury work, where we are a watchdog over local government. We have the authority to look into our city governments, all departments of the county government and all special districts."
Special districts include water, cemetery and conservation districts, and the grand jury ensures that they are acting within the rules and regulations that govern them.
Each grand jury is free to decide what issues it will look into each year, and its reports on those investigations include a detailed factual statement about the issue or organization, as well as conclusions and recommendations.
"These are average citizens who devote their time to this," Johnson says. "It's exciting. I don't know many citizens who have the opportunity other than through a means like this to call before them the members of the government. If you want to talk to the Board of Supervisors, they're going to make time for you. So will the members of our city councils and the heads of special districts. They respect the grand jury, and it's a two-way street."
Though the grand jury can't make changes itself, they shine a light on problems or areas that need improvement, and heightening the public's awareness often leads to changes. Their work has led to some big improvements, including creation of the Redding Library and increases in per diem payments for volunteer firefighters, which helped entice more volunteers to take on this challenging job to protect public safety.
"Most of the time agencies are doing a really good job with what they've got," Johnson concludes. "Sometimes the public has a need to know that their elected officials are doing a really good job with the resources they have available."
Anyone who would like to learn more about serving on the grand jury can find more information and an application at: shastacountygrandjury.org. The new grand jury session begins June 26.