View all posts
Red Bluff Gold Exchange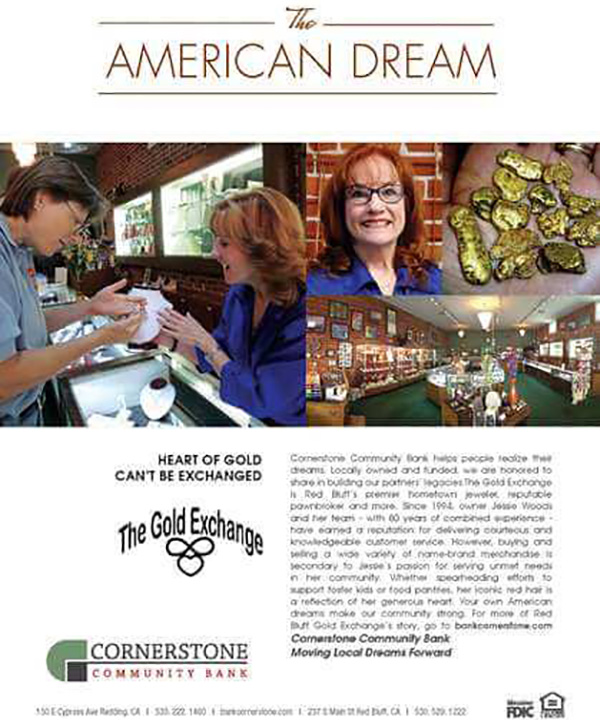 If your watch has stopped ticking, you're in need of a small loan or you just need a reminder that there's truly goodness in this world, Jessie Woods has you covered.
The Gold Exchange has been Red Bluff's premier jeweler, reputable pawnbroker and more since 1994. Woods and her team, who have nearly 80 years of combined experience, have earned a reputation for delivering courteous and knowledgeable customer service.
At the Gold Exchange on Walnut Street, Woods' staff loves helping people search for that perfect gift for a loved one. Their inventory includes a distinctive selection of diamond jewelry, a variety of chains, colored stone jewelry for every birth month, Citizen watches and fun sterling silver. The Gold Exchange also buys and sells an array of tools, games, movies, electronics, musical equipment, sporting goods, coins and more through its pawn shop.
In 2005, Jessie added a spiritual boutique called Angels Among Us, which offers a variety of metaphysical products from sage to drums and crystals. Master goldsmith Cary Freeman refurbishes the shop's estate jewelry and creates her own line of jewelry for the soul. Her signature piece is the bold, fun, liquid gold waterfall that many consider to be wearable art.
One of the most exciting parts of Woods' job is working with couples to select bridal jewelry. And once that ring is on her finger, Jessie – an ordained minister — can even perform the wedding ceremony.
However, buying and selling a wide variety of merchandise is secondary to Woods' passion for serving unmet needs in her community. Her iconic red hair reflects her generous heart — she's known for spearheading all sorts of philanthropic efforts, from supporting foster kids to seeking donations for food pantries.
Woods' motto in life is, "Together we can accomplish great things. By holding hands, we create miracles." This is reflective in her business and her love for her community.