We're so happy to have partnered with some of the most impactful businesses and organizations of our community through our American Dream program. Maybe you've heard of them - or maybe you're discovering something new about the place in which you live. Either way, take some time to get to know these local gems that make up the landscape of our community.
Redding Yamaha Sea-Doo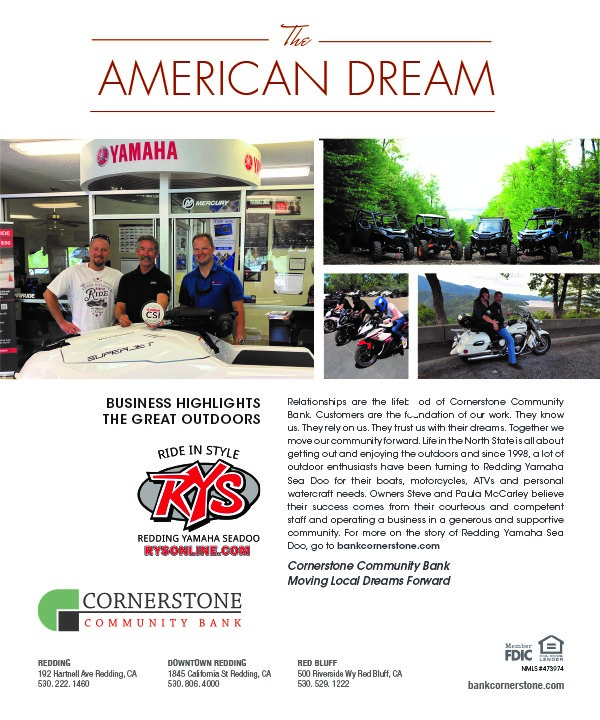 It's a good thing Steve McCarley and his wife, Paula, deal in all-terrain vehicles in addition to motorcycles, boats and personal watercraft. Their business, Redding Yamaha Sea-Doo, has certainly encountered its share of obstacles.
Through the various setbacks — the crippling Great Recession of 2008, a permanent ban of jet skis on Whiskeytown Lake, COVID-19 restrictions — the shop on Twin View Boulevard has survived and is now thriving.
McCarley said a lot of the credit goes to his employees and their dedication to customer service. In fact, Redding Yamaha Sea-Doo's motto is "Our people make the difference."
After opening the business in 1998, enthusiastic sales and a growing market prompted the McCarleys to expand and within a few years they had a separate boat dealership in Redding and outlets in Red Bluff and Woodland.
Profits began to dry up after the 2008 recession hit and by 2010, the business had scaled back to its current location. The McCarleys were not alone. Between 2008 and 2010, some 180 power sport dealerships went out of business in California.
At one point, it was Steve and Paula and one employee. Today, Redding Yamaha Sea-Doo has 21 employees on the payroll and offers sales, financing, service and parts for six brands, including Yamaha motorcycles and boats, MasterCraft ski boats, Ranger bass boats, Can-Am quads and side-by-sides and Sea-Doo personal watercraft.
"By the grace of God and hard work, we were able to put a key in the door every day. We were able to pay off all our debtors 100 percent and now it's getting better and better every year," McCauley said.
The McCarleys are thankful their homegrown business is a north state survivor and they're big on expressing their gratitude and giving back. In the aftermath of the 1999 Jones Valley Fire, Redding Yamaha Sea-Doo hosted a benefit motorcycle race that raised $20,000 for fire victims. Another two events raised more than $120,000 for the Red Cross.
Plans are underway for the seventh annual Iron Soldier ride to benefit Homeward Bound, a nonprofit that supports veterans in five north state counties. "We raised $31,000 last year. It's a really great event," McCarley said. More recently, the McCarleys hosted the first Back the Blue bass tournament on Shasta Lake in May that raised $10,000 for local law enforcement.
It's no surprise the Redding Chamber of Commerce named Redding Yamaha Sea-Doo the 2004 Virgil Covington Award winner for its history of important and lasting contributions to the community.
"It's been a great run and been a really a good business for us," McCarley said. "This community is pretty darn giving as far as loyalty and generosity."
Red Bluff Rotary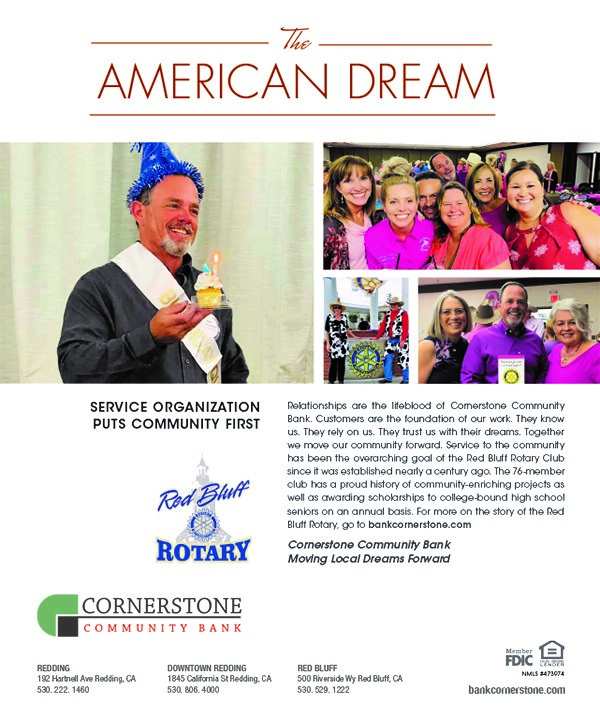 To be reminded of Red Bluff Rotary's impact on the community, one need only visit the Cone & Kimball Plaza and admire the 75-foot-tall clock tower. Rotarians were the driving force in securing the property and erecting what is now the city's signature landmark.
The tower is just one of the more visible contributions from Red Bluff Rotary, said Vicki Stroud, the club's president. Another sparkling gift from the service club was the recent Fourth of July fireworks display, which was back bigger than ever after a COVID-19 hiatus thanks to a project led by Rotarian Jennifer Zirkle.
There's plenty of other Red Bluff Rotary projects that are maybe not quite as visible but just as significant, and that's one of the reasons Stroud was happy to join the 97-year-old organization. "There are great people involved," she said, "and the weekly programs are interesting and keep us informed in the community. It seems like we constantly have events going on. We're a pretty active club, actually."
A case in point was the recent Red, White & Booze fundraiser hosted by the club to benefit the Red Rock statue project, a $200,000 effort to memorialize Red Rock, the legendary bucking bull, and Lane Frost, the cowboy who snapped the bull's unbeaten streak, with a statue in front of the Red Bluff Round-Up Museum.
Stroud says the club focuses its community-enrichment efforts on projects that help children and seniors. Thanks to Red Bluff Rotary, every third-grader in Tehama County receives a dictionary. "It's pretty neat. It's an inch and a half thick with pictures. A lot of kids don't have access to the Internet," she said.
The club recognizes a student of the month selected from Red Bluff, Los Molinos and Salisbury high schools. In addition, in June it awarded 15 $1,000 scholarships to college-bound high school seniors.
Stroud, who is also a business development officer at Cornerstone Community Bank, said a Rotary-hosted dinner during the Red Bluff Round-Up raised $10,000 for breast cancer awareness, prevention and treatment as part of the Tough Enough to Wear Pink campaign.
Annual events include a pancake breakfast for the Boy Scouts, organizing a lunch for the Special Olympics, handing out Halloween treats at the Cone & Kimball Plaza during Downtown Treat Street and helping to provide Christmas gifts for underprivileged children.
"We have a great group of volunteers," said Stroud, a third generation Red Bluff resident. "Everybody steps up to the plate."
The Flag Center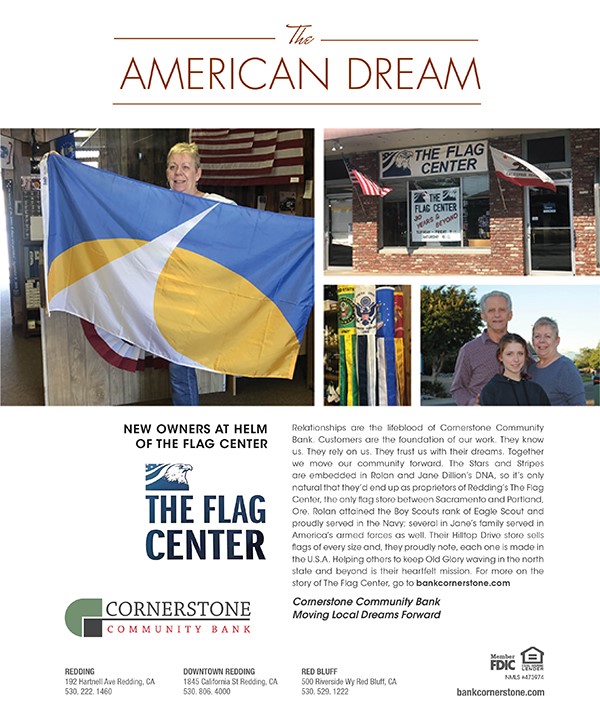 All it took was a February trip to The Flag Center to purchase a halyard to get Rolan Dillion's wheels turning. The business was for sale and, after consulting with his wife, Jane, a deal was struck.
"He came home excited and we talked about it," Jane recalls. The Hilltop Drive business changed hands on April 1 after Jane realized the store called to her husband's heart. It's not surprising since the Stars and Stripes are embedded in the couple's DNA.
As a youngster in the Boy Scouts, Rolan worked his way up to the rank of Eagle Scout and then served seven years in the Navy. Several in Jane's family served in America's armed forces as well. "It's very much in my blood," Jane says proudly.
The American flag is The Flag Center's biggest seller, typically in the 3x5-foot or 4x6-foot size. "After that, it's military flags and particularly the Marines. They outsell all the other branches combined. There are a lot of Marines around here," Rolan says.
"Our heart is military and scouting," Jane says, "and we want to help them do what they do. We want to be a service for our community." That passion was on full display over the Memorial Day weekend when The Flag Center provided 500 flags for remembrance services at the Veterans Memorial Grove on the Civic Auditorium lawn.
The Flag Center has you covered for the Stars and Stripes of every size, including desk sets, as well as international flags, United States state flags, Scottish clan banners, parade flags, sports team flags, nautical themes and the Olympics. The store is the only source for the new City of Redding flag and it's the only store dedicated to flags between Sacramento and Portland.
And, as Rolan and Jane proudly note, every flag is made in America.
The Dillions enjoy one-on-one in-store interactions and point out that it's easy to ask questions, find exactly the flag you're looking for and not have to wait for a delivery. That said, the couple said one of their first orders of business is improving the website that came along with the store and beefing up their online sales.
Helping others to keep Old Glory waving in the north state and beyond is their heartfelt mission. Check out the store at 2124 Hilltop Drive in Redding, call 530.221.4000 or visit www.the-flag-center.com for more information.
Prime Cinemas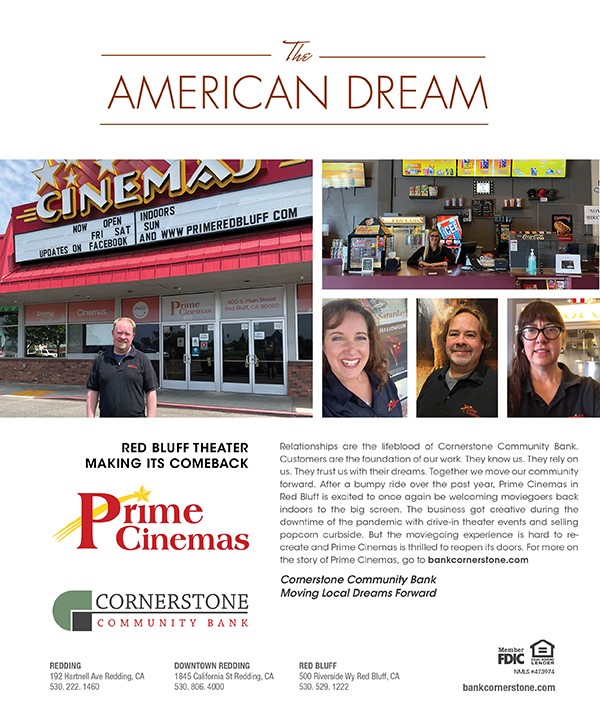 "It really comes down to the people you hire," says Brian Young, who owns Red Bluff's Prime Cinemas with his wife, Katherine, and two other partners, "and the way you want them to treat people who come in the door. We really put an emphasis on improving that experience, whether it's carrying customers' food to their seats for them or catering to requests."
It's that attitude that has made Prime Cinemas a welcome member of the Red Bluff community for the past 13 years, along with its longstanding history of supporting local nonprofits and giving hundreds of teenagers their first jobs.
Tehama County filmgoers are happy to return the favor. "Over the years we've received a lot of love and support from the community," Young says.
"A lot of regulars come into the theater and they look at us as extended family, and that's been nice. The Red Bluff community is very friendly and it's great to see people meeting in the lobby and catching up. It's fun to be a part of the community," he adds.
The movie theater business got hit extra hard during the COVID-19 pandemic and Prime Cinemas was no exception but Young says there's definitely a light at the end of the tunnel. "We're far from back to normal. I'm hoping the industry gets back to a more normal kind of pace and level of business. It seems like we're trending in the right direction with more vaccinations and more movies coming out. Hopefully the stars are aligning."
Once things do get back on solid footing, Young says he is eager to resume the Prime Cinemas practice of showing free movies on Saturday mornings. Prior to the COVID-related shutdown, a couple hundred people would attend the free screenings each Saturday. Offering the popular freebies was "just one example of us not being part of a big chain," Young says.
Prime Cinemas shows first-run movies on its six screens and the movies are selected by a film buyer Young contracts with. "We have a pretty good track record of what kind of movies our community likes. We go hard for the big action blockbusters but we know we have others who are into horror films, and anything Western related tend to be very popular.
"We'll try almost anything," Young says. "There have been some pleasant surprises over time. We consider ourselves kind of like the library with something for everyone."
For more, visit www.primeredbluff.com
Redding Trail Alliance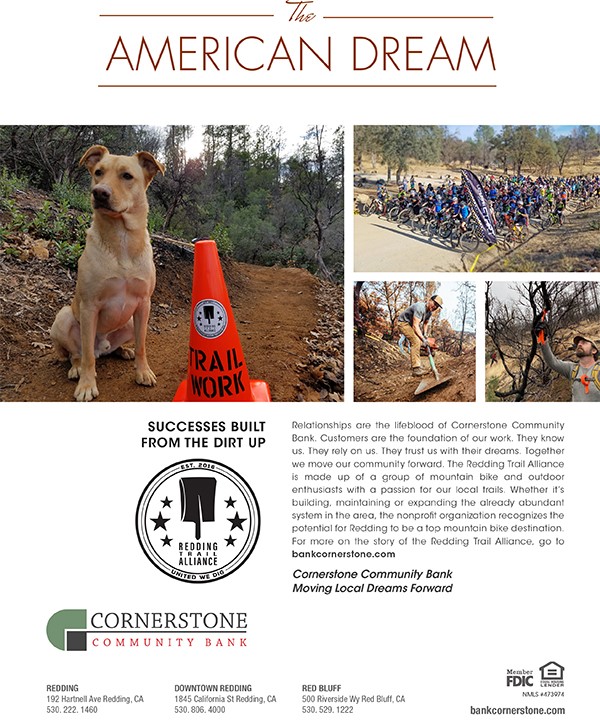 Redding was already on the map as a favorite for mountain bike riders when the Redding Trail Alliance was formed in 2016.
These days, it's a mecca.
"We love our home and we love riding here," says Nathan Knudsen, the Alliance's executive director, "but we saw the potential for more progressive trails." Back then, advanced-level riders seeking top-flight thrills would travel to other areas. Now those riders are flocking to Redding.
The draw? New trails in the Swasey Recreation Area like The Enticer, a 1-mile collection of banked curves and jumps that allows riders the chance to increase their skills and test their limits. "We named it that because we felt it would entice people to come out and check out our trails. It's been a huge success. People from out of the area have stopped by after hearing about that particular trail," Nathan says.
The Snail Trail, a 1.6-mile "flow" trail that incorporates berms, rollers, jumps and other features to provide a blend of speed and rhythm has proven to be a big draw as well. "It's probably more popular than the Enticer but both are heavily used," Nathan says.
Nathan and a group of mountain bike enthusiasts were inspired to form the Redding Trail Alliance in 2016 after spending a season with Brian Sindt, an industrious member of the McConnell Foundation staff who has been working on North State trails for the past 17 years.
That experience showed how partnering with the Bureau of Land Management and mixing in support from the McConnell Foundation and enthusiasm from Alliance volunteers can add significantly to the trail scene.
A recent example of the Alliance's handiwork is the Caldwell Junior Bike Park, a popular attraction for pint-sized pedalers just south of the soccer field at Caldwell Park. "It's been so successful that the city has worked with us in securing a $1.5 million grant for designing and constructing a full-size bike park," Nathan says, adding that construction on that park is expected to begin next summer adjacent to the Sacramento River Trail on the east side of North Market Street.
Also in the near future: a pump track in Palo Cedro, 10 miles of new trail in the Weaver Basin system in Weaverville and nine more miles of trail in the Swasey Recreation Area.
"Redding is happening. It's awesome. We're stoked to be a small part of it," Nathan says. "The reason we are so successful is because land managers with the BLM and the Forest Service have been so wonderful in embracing our vision. And the enormous support from the McConnell Foundation — and now we're getting wonderful support from the community, including Cornerstone Community Bank."
For more on the Redding Trail Alliance, visit www.reddingtrailalliance.org
Red Bluff Kiwanis Club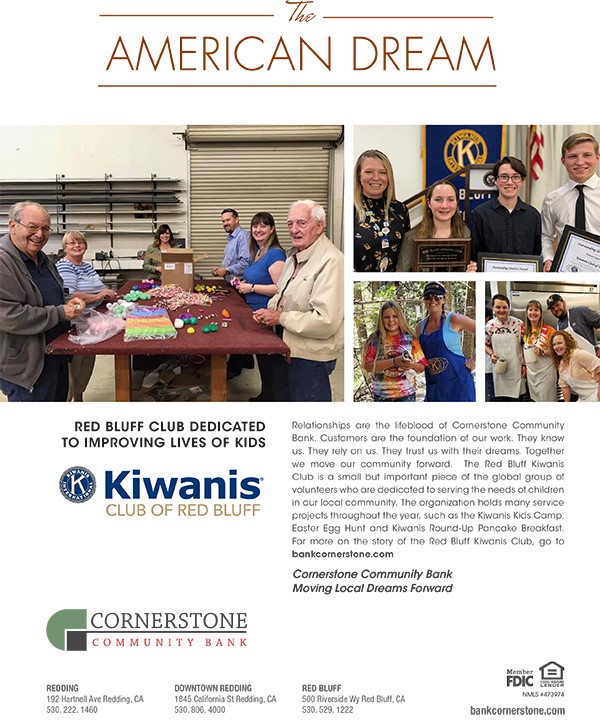 The Red Bluff Kiwanis Club is part of a global group of volunteers dedicated to changing the world, one child at a time.
"The goal of our club is to bring like-minded individuals together who have a vested interest in improving Red Bluff and our surrounding area," says Red Bluff Kiwanis Club Past President Tony Carbonell. "We concentrate on our youth and use fun, fellowship and the hard work of our many members to achieve the success that will last today and for many generations to come."
The club holds many service projects throughout the year. Perhaps the most highly anticipated activity is the Kiwanis Kids Camp, which has been a tradition for more than a half-century. Held at Camp Tehama near Mineral, the camp provides a fun, challenging outdoor experience to about 100 Red Bluff-area students. Through this adventurous camp, fourth- through sixth-graders learn about the environment and local history while fine-tuning their leadership skills through teambuilding activities.
Fishing, tubing, water balloon volleyball, woodworking, tie-dye, GPS navigation and archery and more are among the many activities offered during camp. A hike at Lassen Volcanic National Park is always a highlight. Meals, lodging and transportation are provided, and local high school students volunteer as camp counselors. Red Bluff Kiwanis raises funds for this beloved camp through its Round-Up Pancake Breakfast and other fundraisers.
"Many of the kids attending Kiwanis Camp would never have the opportunity to experience camping and some have never been away from home for a night," says Past President and Trustee Lisa Hansen. "We love seeing kids return year after year and watch as they come out of their shell. When they come back as camp counselors, it's amazing to see how their leadership skills have developed."
Adds Carbonell: "This camp gives kids the opportunity to broaden their horizons and try things outside their comfort zone. They learn confidence and leadership skills while creating lifelong friendships in the process."
Kiwanis also hosts the annual Easter Egg Hunt at Jackson Heights School, a children's carnival and Telephone Santa, where youngsters can call and speak to the jolly old elf himself at Christmastime.
They also honor local students for their academic efforts through their Student of the Quarter program, and they support the Red Bluff High School Key Club, which is an organization for high school students sponsored by Kiwanis to teach leadership and citizenship through service to others.
"The Kids Camp is our club's legacy," Hansen says. "We hope we can continue to provide these great experiences for the kids in Tehama County for the next 50 plus years."
Roots Juice Bar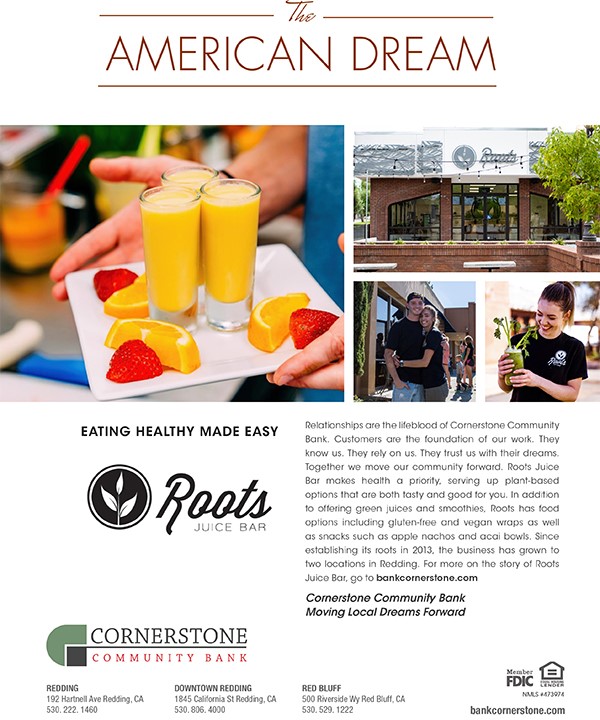 They call it "the Roots experience."
The moment you walk into Roots Juice Bar, Ricky Rothmann and Mariiah Zoll want you to know you're somewhere special. The first thing you'll notice is the fresh, clean aroma of ginger, lemon and healthy greens. Loud, fun music surrounds you. You'll see a colorful array of fresh fruits and veggies, and ultra-friendly, youthful staff is working away, all smiles and full of energy. "You're greeted with a conversation rather than a transaction," Zoll says. "You'll place your order and see the crew and the hustle that's behind what we're serving."
You'll get your order quickly – "we really value people's time," Zoll adds – and you can watch the staff craft your order from start to finish in the wide-open kitchen. "Our kitchen is very clean and we want to show it off," Rothmann says. Then you'll get your order, exactly the way you asked for it, with a cheerful "thank you" and a rewards card.
Rothmann, a Foothill High grad, and Zoll, a Shasta High grad, opened their first shop when they were 21. The idea grew wings – or roots, if you will – after they'd spent some time dazzling their friends, family and coworkers with their fresh juice creations. They then joined Redding's local farmers market, and after six months, buoyed by the support of their loyal customers, Ricky and Mariiah mustered the courage to make the leap to a permanent location. Today, Roots has two busy shops – one at 1360 Churn Creek Road, Suite B, and the other at 1950 Pine St. "We are like a lemonade stand turned entrepreneurs," Rothmann says with a laugh.
Their menu is packed with fresh, made-to-order items, and you can order online. If you want something to sip, choose from juice, smoothies, shots or kombucha. The acai bowls and wraps make a healthy, satisfying meal. If you're looking for an afternoon pick-me-up, check out the apple nachos. And while it's never fun to try to operate a business during a pandemic, this team has made it happen.
"It's really awesome that we've been able to say open," Zoll says, as COVID-19 restricted indoor dining for a good portion of the past year. "Our main goal has been to provide healthy food to our community during a time where health is really important."
They're also attentive to the earth's health, and have decreased the amount of plastic they're using, shifting to eco-friendly cups, lids and straws.
Of course, none of their success would be possible without a stellar team, and they're deeply grateful for their staff. "We don't lead the crew from the top down," Rothmann says. "We're all on the same level and we're there for each other. Nobody works for themselves at Roots. We work for each other. We're always listening and we're aware of what's going on in our teams' lives."
Zoll echoes those sentiments. "Respect from our team is something we try to earn," she says. "You show up for me and I'll show up for you. We have each other's backs. As we've grown, we've stepped into more of a CEO role, and we can't talk to every customer at both stores. We've entrusted that to our team."
They're thrilled that the North State has embraced them, they're honored to be providing customers with delicious, healthy, top-quality products, and they strive to bring their best to their customers every day. "We're making healthy easy and accessible," Rothmann says.
And it's about much more than juice.
"Yes, we have amazing products that are fresh and made to order, but what keeps people coming back is the relationships," Zoll says. "Juice is just a byproduct of what we do."
Deserving Pets Rescue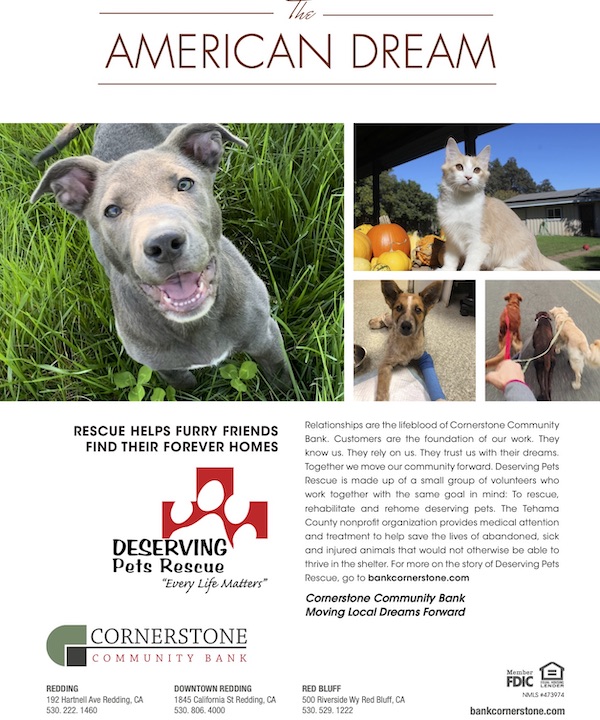 Everybody deserves a forever home, and when Deserving Pets rescues an animal, that's their promise – they won't ever end up back in a shelter.
The nonprofit organization's mission is to save the lives of the abandoned, injured and ill pets of Tehama County that wouldn't thrive in a shelter. Volunteers provide medical attention, treatment and TLC until the animals are rehabilitated, and then help them find their forever homes.
"Volunteering for this great organization is fulfilling for us because most of these animals were loved at one time in their lives and due to no fault of their own end up in a situation where they need medical intervention and time," said Cheryl Bush, a board member and occasional foster mom for Deserving Pets. "The shelter cannot always supply that. That is where we step in and invite them into our homes to recover from surgery or rehabilitate them to find a new, loving forever home. It feels wonderful to find that match and know they will be loved and cared for."
Bush is joined by a small but mighty crew that keeps the mission moving forward: Melanie Baumgartner, founder and foster mom; Jennifer Williams, foster mom; and Ana Rodriguez, board member and foster mom.
In 2020, Deserving Pets cared for 54 animals. Some need extensive medical attention, including surgery, and volunteers ensure that their four-legged friends get whatever it takes to get back on their paws again. And while most of their clients are dogs or cats, they've had their share of unique guests – take Snuggles, for example. She's a special-needs guinea pig who was taken in as a stray, and despite her limited mobility, some good nutrition and a whole lot of love brought out her sweet personality so she was adopted right away and now lives in Paradise.
Goodbye is the goal for foster pets, and 44 animals were matched with their forever homes in 2020. And when things don't work out quite right, they help get to the root of the problem, to help them stay in their forever homes.
This endeavor depends on support from the community. Their annual calendar fundraiser helps pay the bills, and calendars are available for $10 at Aquarium & Pets, Reynolds Feed and Valley Veterinary Clinic, all in Red Bluff. Visit www.deservingpetsrescue.com to learn more about how you can support their mission.
"Community support enables us to accomplish saving lives in the time of need and continue working toward being able to jump into action immediately to save lives," Bush said. "Community support truly does make the difference for us, and we are extremely grateful!"
Papa's Cheesesteaks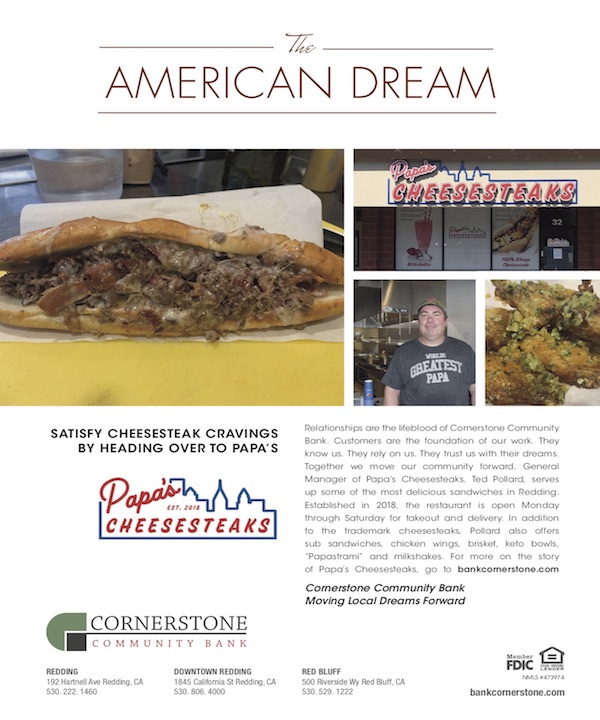 You don't have to travel to Philly to find yourself an authentic cheesesteak. When you visit Papa's Cheesesteaks, you won't find the average submarine sandwich with a couple of slices of lunchmeat hidden inside a roll. These are stuff-your-belly, change-your-life creations.
Established in 2018, the family-owned Papa's Cheesesteaks in the Cobblestone Shopping Center on Hartnell Avenue in Redding has developed a faithful following over the past few years.
Why do people love Papa's? "Because Redding has one of the best cheesesteaks around and you can make it your way, from our ribeye steaks to our own pastrami cured and smoked right here, and our brisket that is slow roasted for a juicy, melt-in-your-mouth experience," said Ted Pollard, general manager of Papa's Cheesesteaks. "And don't forget our Italian Sub. People also love the great customer service."
Papa's brings its A-game to customers every day. The heavy hitters are the cheesesteaks and "Papastrami," and selections include 100 percent U.S.D.A. Select ribeye, homemade pastrami, smoked chicken wings, quarter-pound hot dogs and Keto bowls, among many other items. People line up for the slow-cooked brisket, and their homemade onion rings are a new invention that has earned solid reviews. Pro tip: Check out the cheesesteak fries, which is made like a cheesesteak but with fries instead of a roll, topped with roasted garlic, fried onions and cheese.
"You don't get more authentic having a general manager who is from the Philadelphia Metro area and was slinging cheesesteaks as a young man on the Boardwalk," Pollard said. "The quality of the food and East Coast feel make visiting Papa's Cheesesteaks a unique and enjoyable experience. Remember, it's not a Philly Cheesesteak, it's a Redding Cheesesteak, made right here in the North State."
To satisfy your sweet tooth, Papa's Cheesesteaks also offers handcrafted milkshakes made with homemade ice cream, including dairy-free options.
Pollard enjoys doing business in the North State because of the people and the natural beauty.
"First off, the people are the best," Pollard said. "Without them we wouldn't have survived these tough times. With respect to the beauty of Shasta County, fuhgeddaboudit! Sunshine, mountains, fruit trees, the Sacramento River, and so much more make the North State a great place to live and do business. Opening Papa's Cheesesteaks in Redding is my American Dream come true."
Takeout and delivery are available through their website, papascheesesteaks.com, or you can order through the app by texting PAPASC to 33733.
North Valley Services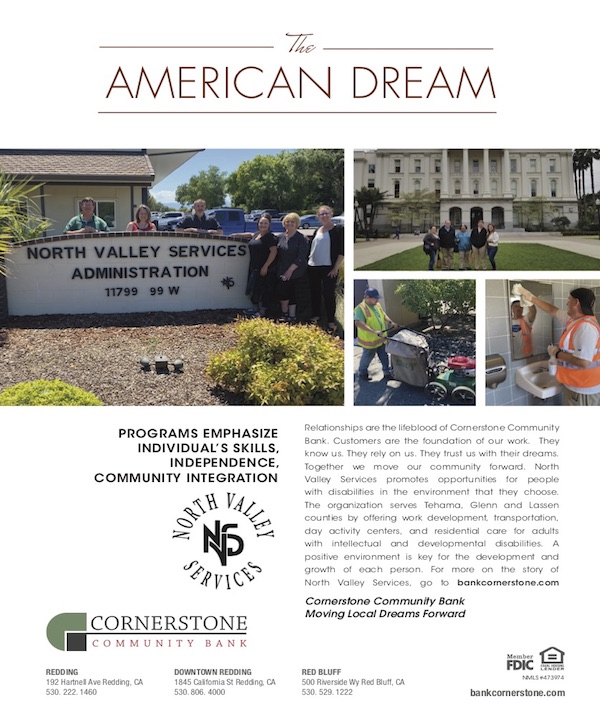 Promoting opportunities for people with disabilities in the environment they choose is the mission of North Valley Services (NVS).
The nonprofit, which was formed in 1967, serves Tehama, Glenn, and Lassen counties by offering Employment Services, Day Services, Residential Services, and Transportation Services for adults with intellectual and developmental disabilities. A positive environment is key for each person's growth and development.
"Learning occurs more effectively when people feel comfortable and accepted, build relationships with others, and truly believe they can succeed. We facilitate this process by inspiring participants to choose their own path and celebrating each success with them," said Kevin Jones, North Valley Services' Chief Executive Officer.
NVS has grown significantly in both people served and physical locations of its facilities. Participants can select from a variety of programs that align with their goals. All programs emphasize a person-centered approach, independence, integration into the community, and development of functional skills. They choose daily activities that promote self-advocacy, functional education, vocational skills, social skills, recreation, leisure skills, personal care, and any other training requested.
Highly trained, supportive staff maintain a positive environment that is responsive to the needs of each person as they learn. In-house Day Services activities include academics, sign language, self-help, culinary and household skills, to name just a few. Community-based activities occur daily and include, but are not limited to, volunteer work, shopping, attending local community events, patronizing local establishments, visiting museums and historical places of interest, attending a fitness club and joining a community recreation league.
"Participants really enjoy the variety, flexibility, interaction, and community access available at all Day Services sites. They also appreciate the opportunity to become active and contributing members of their community," Jones said.
NVS' Community Employment Services provides training and assistance to participants who wish to obtain competitive employment. NVS partners with local businesses to create supported employment opportunities to teach necessary job skills. The organization also provides full- and part-time employment to approximately 175 people with disabilities. These positions occur through various federal, state, and local contracts. Some of the positions include rest area attendant, janitorial worker, grounds maintenance, landscaping, and visitor center, host.
North Valley Services' Residential Homes provide 24-hour services within a safe and caring environment. Residents receive the opportunity to learn behavioral self-management as well as skills necessary to live independently within the home and the local community.
North Valley Services is governed by a dedicated Board of Directors consisting of Tehama and Glenn County residents who volunteer their time to ensure the mission is achieved.
"It is important to the people we serve to achieve their hopes and dreams. Therefore, our goal, from the Board of Directors to every employee in NVS, is to empower participants to achieve the highest degree of personal growth and success," Jones said.
Tehama Together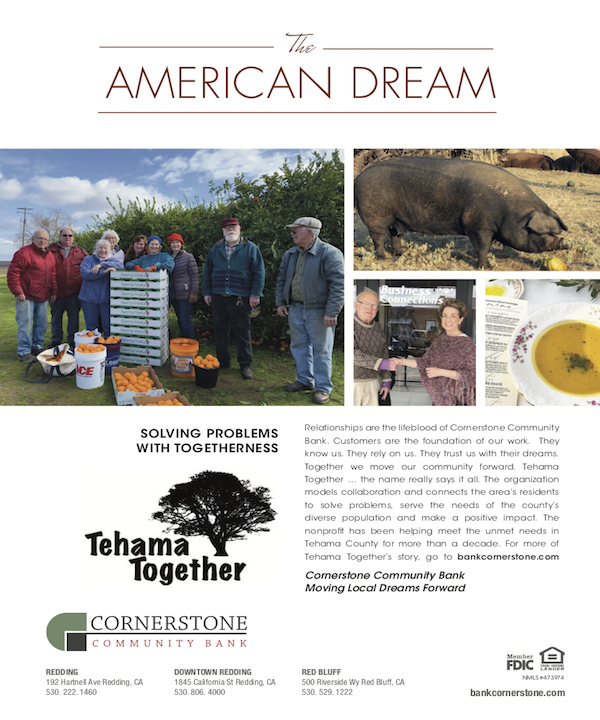 Some problems just seem insurmountable, even for the most dedicated person. But if you hand those problems to a whole group of those dedicated people, you're likely to find some real solutions. That's the focus of Tehama Together, where people come together to solve problems and build solutions.
"Participating in Tehama Together provides a place where volunteers can use their passion, interests, and skills to make a positive change in the community with the compensation being a sense of accomplishment and satisfaction," says founder and volunteer executive director Orle Jackson.
Among their many projects:
The Community Food Alliance works to improve nutrition and food availability in Tehama County. This collaboration of agriculture, food pantries, nutrition programs, farmer's markets, education, health, retail, and restaurant businesses helps build a healthy food system.
Tehama Farm Table Dinners promote local farms and their products build community by uniting farmers with consumers, and share stories of Tehama County farm families while raising money to support Tehama Together's activities.
Tehama Together provides leadership to Food Share, a collaboration of the many Tehama County organizations that provide food assistance to residents.
2-1-1 Tehama, a 24/7 helpline, was established and is maintained by Tehama Together with the support of United Way of Northern California.
Listos - Preparing for Emergencies, a program of the State Office of Emergency Preparedness is also a program of Tehama Together.
Tehama Together was founded on Jan. 19, 2009, the National Day of Community Service, to build a collaborative umbrella to address the county's unmet needs. Many of the 25 initial participants are still active in the group more than a decade later.
And these board members aren't simply figureheads – because the organization doesn't have employees, the board carries out all of the tasks associated with its various projects. Most members are retired professionals. Tehama Together counts on individual, family, and corporate sponsorships to fund its mission.
"Making services available to the community not only helps those in need but greatly contributes to the health, happiness, and welfare of our entire community," says Board President Patricia Phillips.
Shasta Land Trust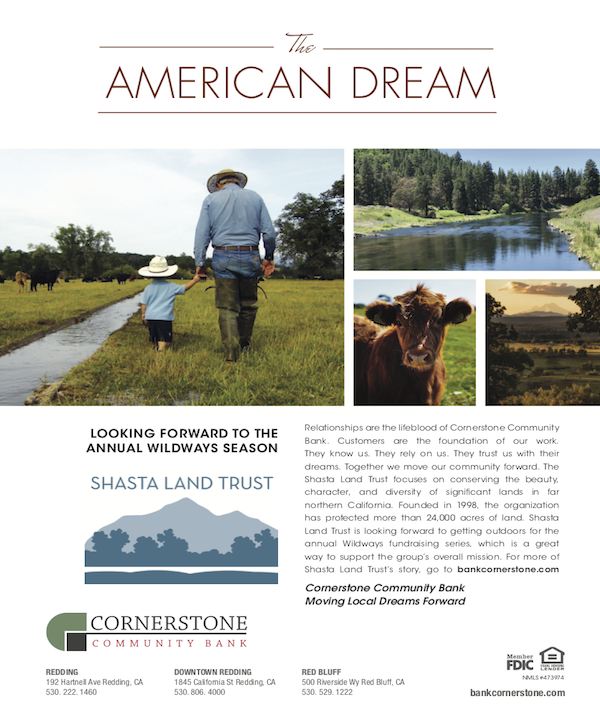 Ask any North State resident what they appreciate most about the place they call home, and nine times out of 10, you'll hear: "The natural beauty."
That doesn't happen by accident. Since 1998, Shasta Land Trust has identified and conserved significant lands in the North State for uses that include open space, wildlife habitat, scenic views, recreation and agriculture. They've preserved more than 24,000 acres on 17 properties. The organization's mission is to conserve the beauty, character and diversity of significant lands in far Northern California, and it's governed by an all-volunteer board of directors.
"I grew up in Shasta County and find no greater purpose than in doing everything possible to make sure it remains protected for future generations," says Paul Vienneau, executive director of the Shasta Land Trust.
Among the organization's goals:
Restore local natural resources through creek cleanups and other stewardship activities
Educate the next generation about the natural world and the importance of acting locally
Uphold the public's trust and ensure the properties they protect stay protected forever
Permanently protect land with natural, recreational, scenic, agricultural, historic or productive value
Collaborate with landowners, agencies and other non-profits to achieve shared conservation goals
Work locally to protect working lands, natural resources and special places important to our community
Inspire local conservation initiatives and lead events that connect people to the places that make this area unique
Open space is essential to the health and vibrancy of families and the community as a whole. One of the many projects the Shasta Land Trust has completed is the 80-mile Great Shasta Rail Trail. Also, more recently, the organization helped protect a unique 39-acre property in the heart of Fall River Mills that will be turned into a community park, including walking trails, educational kiosks and gathering spots. It's owned by the Fall River Valley Community Services District and Shasta Land Trust holds the conservation easement on the property. "It's an amazing opportunity for Fall River Mills," Vienneau says. "This park wouldn't be possible if not for an amazing local partnership and vision towards providing a special place for all to enjoy forever."
Work being done today will be enjoyed by many generations to come. "You don't have to travel far before you are amongst the most amazing open spaces in Northern California, from beautiful mountain views, grazing cattle and meandering waterways," says Vienneau. "This is a special place, and together with amazing donors and volunteers, the Shasta Land Trust is doing its part to protect it."
Gumm's Optical Shoppe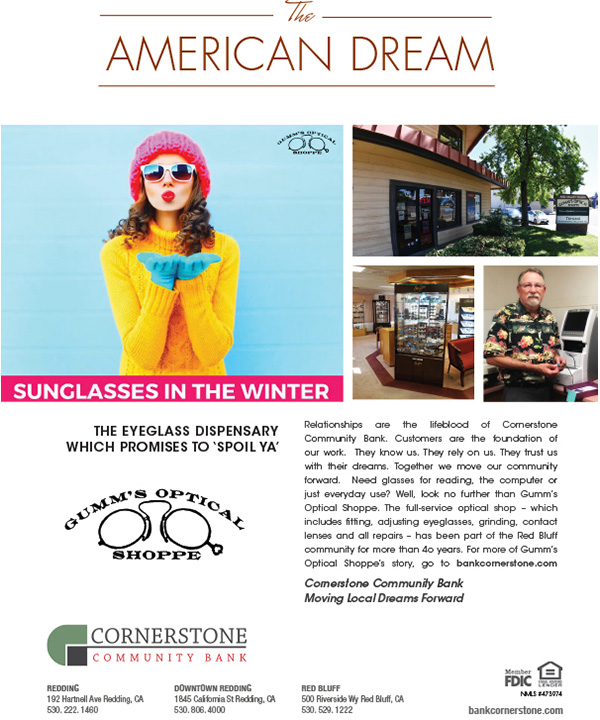 Life is beautiful, and the folks at Gumm's Optical want to make sure you don't miss a single moment.
Established in 1977 by optician John Gumm, this full-service optical shop sits on the corner of Main and Hickory Street in historic Red Bluff. He and fellow opticians Cory Rhodes and Rhonda Rogowski specialize in fitting, adjusting eyeglasses, contact lenses and repairs. All are certified by the American Board of Opticians.
John knows that small businesses are the backbone of a community. "I love Red Bluff and have dedicated my 42 years in business to help our community prosper through community service and by giving our customers superior service," he says.
Gumm's Optical fabricates top-quality frames and lenses in their own lab. They also offer eyeglass adjustments and professional cleaning. And, it's not just prescription eyewear that is their focus – they have a large selection of sunglasses and reading glasses to suit a wide variety of needs.
A man of adventure himself, John enjoys helping folks find the perfect glasses in which to enjoy the activities they love most. John grew up on a cattle ranch riding horses in Redding, but despite living hours away from the ocean, he was a high-seas sailor. He sailed the entire West Coast, and considers his biggest open-sea adventure to be a trek from Tahiti to Hawaii in a 47-foot sailboat.
Additionally, John enjoyed being President of the Red Bluff Rotary, the Red Bluff Tehama County Chamber of Commerce, the Downtown Red Bluff Business Association and Wilcox Oaks Golf Club. He also had the honor of being a founding member of the Cone and Kimball Committee along with a great group of members that rebuilt the "Heart of Red Bluff." John is also active in numerous community service organizations, and is a member of Vesper #84 Masonic Lodge and the current treasurer of the Tehama County Shrine Club.
After more than 42 years in business, Gumm's Optical is proud to have served multiple generations of customers who appreciate their stellar customer service. Along with adjustments and cleaning, the staff can also repair frames on site that very few place can do – so if you step on your bifocals or your child's glasses are the victim of a playground activity gone wrong, don't toss them out until you let Gumm's take a peek.
"We look forward to helping you with all your eyeglass needs," John says. "Let us spoil you!"
Call 530.527.2510 or visit www.gummsoptical.com for more on Gumm's Optical Shoppe.
Bright's Engraving and Trophy / Escape Redding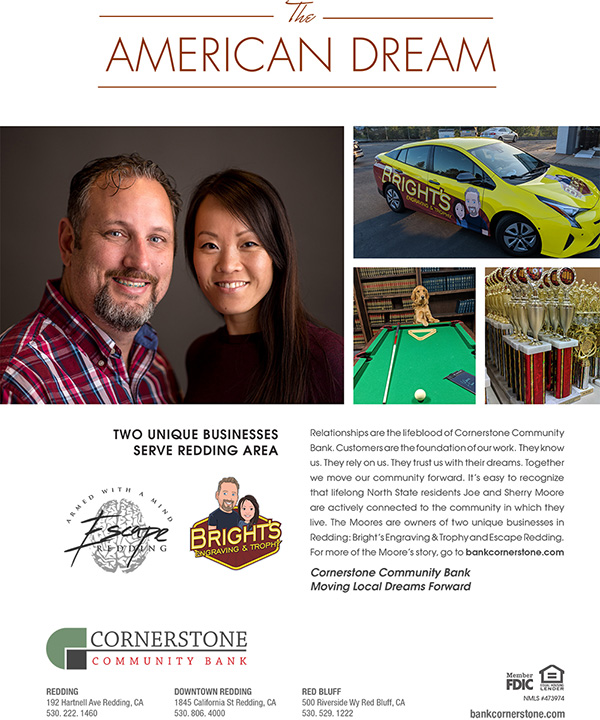 Need a trophy or a personalized award? Or perhaps you're looking for an exhilarating way to challenge a creative crew? Joe and Sherry Moore have you covered with their two unique businesses: Bright's Engraving and Trophy, and Escape Redding.
The Moores bought Bright's Engraving and Trophy early last year from founder Randy Bright, and they have set out to grow the business while maintaining the stellar reputation for customer service that Randy launched more than 20 years ago.
Bright's Engraving and Trophy at 3170 Bechelli Lane specializes in building trophies, engraving awards, creating name tags and much more. Sherry brings years of retail experience to the table as manager of store operations. Joe is a Navy veteran who has spent the last five years in the technology sector.
"As consumers, we know how important customer service is to others," says Joe. "As community members, it's important that we represent ourselves, our store and the Bright's Legacy with utmost attention to customer service."
Their other venture is Escape Redding at 2144 Hilltop Drive, which has become a go-to destination for parties and team-building opportunities. Escape rooms are soaring in popularity across the country, and here, guests are challenged to solve the hidden mysteries within themed game rooms. Escape Redding features the Gentlemen's Den and Prison Break challenges, with The King's Ransom coming very soon.
Each game is designed to last an hour, and team members solve puzzles, untangle riddles and piece together clues to make their escape.
"You know, they were closing just about a week after we bought it," says Joe. "We have two children, one being a teenager. In addition, we both grew up here, so we felt Redding needed to maintain as many entertainment options as possible. We bought Escape Redding because we wanted to provide that entertainment. It really is a great industry, and we're only seeing the beginning of the growth."
The Moores have lived in the North State for five years this time around, but Joe moved to Redding as a child, and Sherry was raised in Anderson. In their free time, they enjoy spending time with their two children, their extended family and their friends. And as much as time allows between the businesses, they enjoy exploring the North State.
"It really is about community," says Joe. "We love giving back, we love meeting new people and we love the other businesspeople we get to spend time with and learn from. But mostly, it's about the community."
Dolling Insurance Agency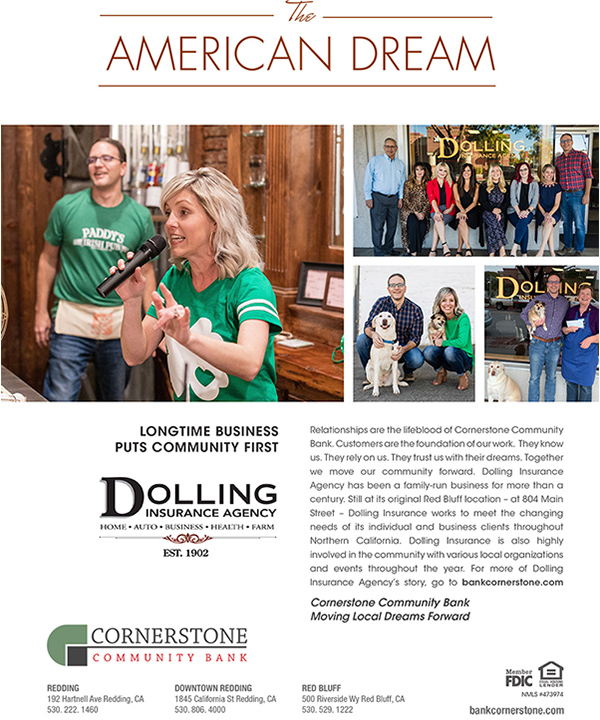 For more than a century, four generations of Dollings have been protecting North State residents from life's mishaps with the same level of caring and responsibility that they give their own family.
Dolling Insurance Agency was established in Red Bluff in 1889 as the M.R. Hook Agency and has operated under the Dolling name since the early 1940s. It's still at its original location at 804 Main Street, and it provides home, auto, business, health and farm insurance to clients all over Northern California. They also insure RVs, ATVs, motorcycles, boats and more. On the commercial side, they cover business owners, churches, truckers, restaurants - you name it.
Dolling Insurance prides itself on providing the best coverage at the best possible price. As an independent agency, they check on available policies with multiple companies, saving clients time and money.
"It's all about highly personalized service," shared fourth-generation owner Travis Dolling.
The company enjoys a rich family history. Herman Dolling's father-in-law began the legacy before Herman stepped in to run the agency prior to enlisting in World War II. When he was in Europe, his wife, Eleanor Champlin Dolling, kept the business going. Their son, Tod Dolling, became owner of the company in the early 1970s and held that post for 40 years before handing over the reins to his son, Travis. Tod Dolling remained the company's Medicare insurance expert and was a champion of the Red Bluff community until his passing in December 2019.
"My father was a staple in the office and our community," said Travis. "We will follow in his footsteps by servicing our family legacy with a strong focus on community."
Travis, a graduate of Red Bluff High School and the University of Oregon, has maintained his family's standard of community service. He's part of the Downtown Red Bluff Business Association Board of Directors, is an active Elk and Rotary member and assists with numerous local events.
"Dolling Insurance is so much more than a business office," offered Travis. "We strive to be a positive reflection of the community that we love."
Tehama County CattleWomen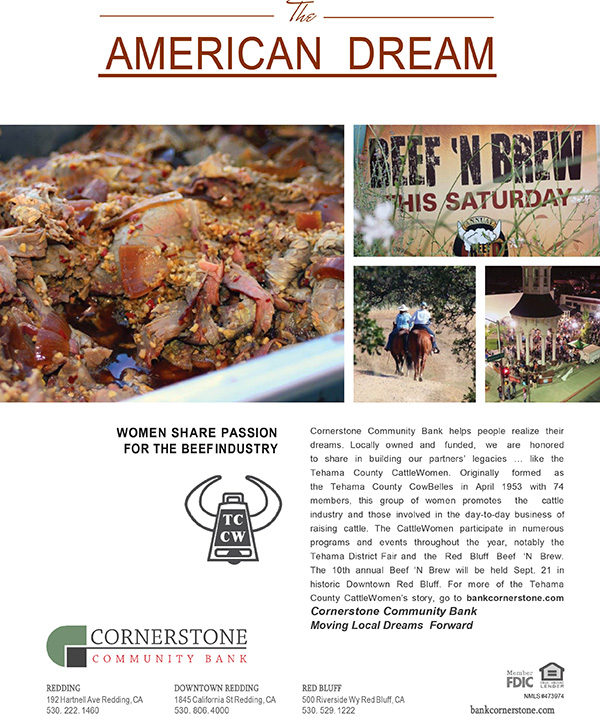 The cattle industry plays a vital role in the North State, and it's the Tehama County CattleWomen's honor to support it, promote it and share the enthusiasm with the next generation.
Originally formed as the Tehama County CowBelles in April 1953 with 74 members, Tehama County CattleWomen promotes youth in agriculture, agriculture education, safety and beef promotion. The CattleWomen participate in numerous programs and events throughout the year, notably the Winter Dinner Scholarship Fundraiser in conjunction with the Tehama County Cattlemen, the annual fashion show and the upcoming Red Bluff Beef 'N Brew.
The CattleWomen are affiliated with the Tehama County Cattlemen's Association and they sponsor the Beef Ambassador Program, where young agriculture leaders in high school participate in teaching youth about the journey of beef in the classroom, along with food safety and nutritional value. The Beef Ambassadors also travel and educate consumers about the value of beef, and stress the importance of good stewardship of the land.
Activities include Ag Education Day, fashion shows, fair booths, legislation advocacy, farm days and much more. The funds they raise pay for six scholarships per year, beef promotion and the Beef Ambassador program.
"Investing in our youth with scholarships that provide them with an education in agriculture is very important to our businesses," says Tehama County CattleWomen Spokesperson Cathy Tobin. "The six scholarships that we give out each year enable the cattle producers to have advocates that will take on the tasks of providing beef and informing future generations of the importance of cattle in our world today. Each year we are able to give out $10,000 to $12,000 in scholarships because of the generosity of Tehama County and all of those who attend the Winter Dinner Scholarship Fundraiser and Red Bluff's Annual Beef 'N Brew."
At the forefront of the CattleWomen's minds right now is the 10 th Annual Red Bluff Beef 'N Brew, slated for Sept. 21 from 5-10 p.m. in downtown Red Bluff. This event is a partnership between Tehama County CattleWomen and the Downtown Red Bluff Business Association, and it's designed to promote downtown businesses and the local beef industry. Attendees can stroll through historic downtown, sampling craft beers and beef appetizers. Downtown businesses showcase what they have to offer, and the Tehama County CattleWomen work with businesses, caterers and restaurants to provide about a ton of beef to be sampled that evening.
The evening ends with a tri-tip wrap by Vic Woolery and crew, a craft brew from Sierra Nevada Brewing Co. and music by local bands from 7 to 10 p.m. in Cone-Kimball Plaza.
"Red Bluff's annual Beef 'N Brew has turned out to be one of the most popular events to be held in Tehama County," Tobin says. "We hear every year from attendees that they saw someone they haven't seen in years and got to catch up with the goings on with each other. Others plan class reunions, parts of their honeymoons or family get togethers around our event. The event brings people from all over California and even out of state to Red Bluff."
For more information, visit www.tehamacountycattlewomen.org.
Theory Collaborative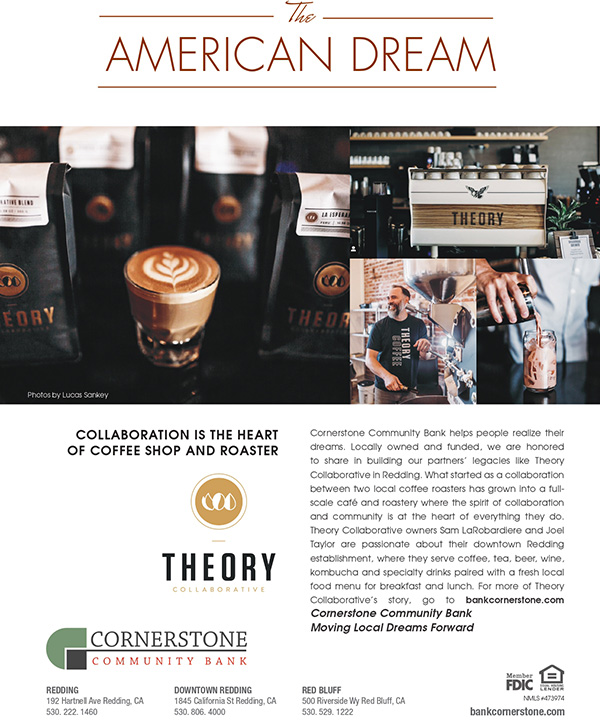 Collaboration and community are at the heart of Theory Collaborative, which started as a pop-up shop and has evolved into a full-scale café and roastery.
Located in a historic two-story brick building on California Street in downtown Redding, Theory Collaborative is more than just a coffee shop. They also offer food, craft beer and wine in a modern industrial atmosphere. An enclosed patio in back is a lovely place to sip a carefully crafted beverage on a warm day. Visitors can even watch coffee beans being roasted — and these are no ordinary beans. Theory won a gold medal for its Ethiopia Keramo at the 2018 Golden Bean North America Coffee Roasting competition, hailed as the North America's largest roasting competition.
Theory serves coffee, tea, beer, wine, kombucha and specialty drinks, which easily pair with a fresh, local food menu for breakfast and lunch.
"Our goal is to offer you an elevated coffee experience," says owner Sam LaRobardiere. "We do that by sourcing only the very best coffees in the world and roasting them to perfection. Our baristas go the extra mile to make sure that your drinks are crafted with excellence and cheerfully delivered to you."
Every step in the coffee-crafting process builds relationships, the proprietor explains.
"Business is all about relationships," LaRobardiere says. "We have intentionally been building relationships in Redding since moving here seven years ago. I think that is one of the reasons that Theory is working so well. When you come to Theory for the first time, it is not uncommon to feel a sense of belonging in our cafe. That is very intentional. We want you to feel like you're at home or with family while you are in our care."
Originally from Michigan, LaRobardiere moved to Redding and began roasting Scout Coffee on a very small scale, selling coffee at the farmers' market and to a few other local businesses, including Enjoy the Store. Shortly thereafter, Sam and former business partner Jason Miller partnered with Joel Taylor to open Theory Collaborative. The cafe got off to a successful start largely due to the community that had been built during the pop-up days.
"I love doing business in Redding. The people of Redding are supportive, which is super helpful when taking the risk to open a brick and mortar," LaRobardiere says. "I call Redding the largest small town that I've ever lived in. For a town of almost 100,000 people, it still functions off of the classic principles of a small town. Community, trust, quality and consistency. If you can keep all of those plates spinning at once, you can likely operate a successful business in Redding."
Theory also offers their conference room to others who want to mind-meld. Because it's all about community — and community is better when it's enjoyed over a perfectly brewed cup of coffee.
To find out more about Theory Collaborative, visit their website at www.theorycollaborative.com or find them on Instagram or Facebook @theorycollaborative.
Crown Cleaners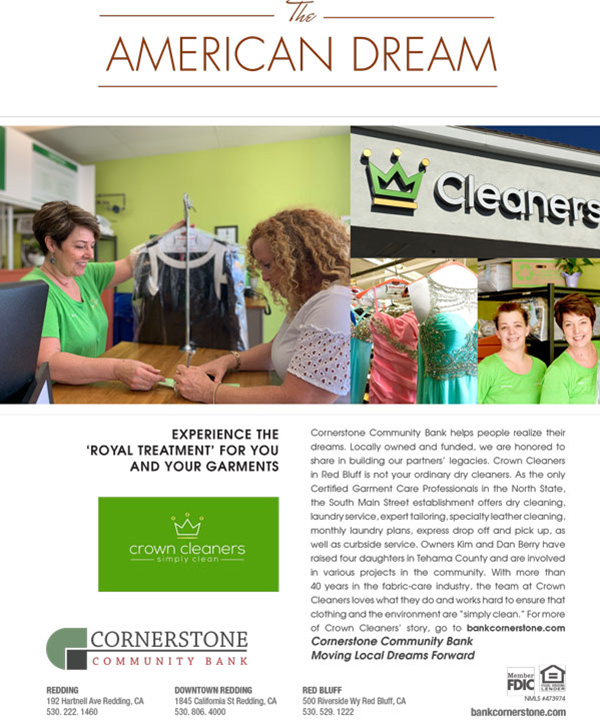 Your clothes deserve the royal treatment, and Crown Cleaners stands ready to treat them to exactly that.
The Red Bluff business boasts the extensive training and experience needed to care for everything from your wedding gown to your treasured family quilts.
"We're not your ordinary dry cleaner. Every garment, every piece that comes through our shop receives what we call the Royal Treatment," says Crown Cleaners Owner Kim Berry. "We want every piece to be as perfect as possible. It's really important to us."
Kim is a Certified Garment Care Professional and graduate of the Advanced School of Dry-Cleaning Technology, and she has nearly 30 years of experience in the fabric-care industry. She's a certified dry cleaner, a certified wet-cleaner and a certified environmental cleaner – and the nearest cleaner with this level of certification is in Napa, she says.
Kim owns the business with her husband, Dan. Their daughter, Annette, is also a certified dry cleaner with 18 years in the industry, who works in the shop and is known for her customer service and passion to get things perfectly clean.
The Berrys have invested in a state-of-the-art dry cleaning machine that produces crystal-clear solvent for every load of clothes cleaned. That means that whites always turn out white, and colors turn out bright. "The biggest complaint you hear about dry cleaners is the 'every shade of gray' problem," Kim says. "This is caused by solvent that has not been purified correctly. We do not have that issue, ever."
She is also an expert silk presser, specializing in wedding dresses and fine fabrics, and she has an extensive understanding of fabric construction and characteristics.
Tired of that never-ending mountain of laundry? Crown Cleaners also offers a monthly laundry service — it's almost like having a laundry fairy.
Kim started out working at the counter in 1990 and she learned how to do everything in the shop. "One of my favorite things is customer service," she says. "I love educating our customers and providing the highest quality experience possible. And our prices are very reasonable — you don't have to break the bank to have quality dry cleaning."
The best part of her job?
"It has to be the personal interaction with our customers," Kim says. "In the dry-cleaning industry, we have the opportunity to share some of life's most exciting and important events like weddings, birthdays, job interviews, vacations to other countries and so much more. There's no greater joy than restoring a family heirloom to its original glory or seeing the joy on a customer's face when we got the stain out of their favorite dress that can't be replaced."
Crown Cleaners is open from 7:30 a.m. to 6 p.m. Monday through Friday. Find them at 945 Main St. in Red Bluff and at www.crowncleanersrb.com.
Jindra's Auto Service
Is a birthday really a birthday if it's not celebrated on "The Sign"? This iconic eye-catcher in front of Jindra's Auto Service has shared personal messages, announcements and thought-provoking sayings since 1980.
The real magic, however, happens when you drive into Jindra's. The auto repair center and gas station on the corner of Bechelli Lane and Cypress Avenue in Redding is known for its impeccable customer service. You won't pump your own gas here - their staff zips out to fill you up, clean your windshield and send you off with a smile.
"It goes back to day one, when my father was still around. He was the driving force in what started the whole thing," says owner Rick Jindra."He was old school, a World War II vet, and he worked in the corporate world for many years. It's a culture of days gone by that we're keeping alive."
If you need more than a fill-up, Jindra's certified technicians do general repair, lube and smog testing for foreign and domestic cars and trucks. Their high-tech diagnostic equipment ensures their customers' vehicles are serviced correctly the first time, and their work is guaranteed.
"The core of our philosophy for our service and repairs is that we want to keep vehicles safe, and to make their lives last as long as possible so people get the best value out of them," Jindra says.
Other specialty services Jindra's provides include:
Smog inspection/certification
Air conditioning service and repair
Uber safety inspection
30/60/90K maintenance services
Brake service
Timing belt service
Today, they're serving a third generation of customers. 'Just today, one of the children of a long-time customer came in, and he's a 40-year-old man now," Jindra says. 'Redding still has that small-town atmosphere, even though when we started, the population was less than half of what it is now. We've raised our four boys here, and we've taken pride in being part of the Redding community."
Latino Outreach of Tehama County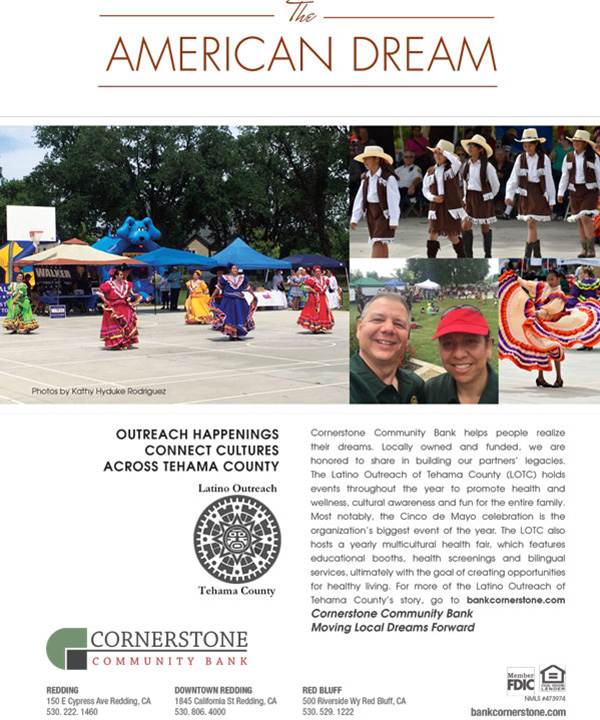 Ensuring that Latino residents are healthy, safe, connected and engaged is the focus of Latino Outreach of Tehama County.
This organization collaborates and connects the Latino community, community service agencies, public welfare, law enforcement, educational systems and others to improve quality of services to the Latino community. Projects and services include:
Quarterly membership meetings to discuss needs and outreach opportunities for agencies and businesses.
Promotion of health education and referring clients to services in English and Spanish.
Sponsoring two fairs each year — the first Saturday in May (Cinco de Mayo) and the fourth Saturday in October (Multi-Cultural Health Fair).
Promoting physical activity and education.
Fundraising for, and providing, scholarships to high school seniors.
The organization began in 1996 as the Hispanic Outreach of Tehama County, and changed its name to Latino Outreach of Tehama County when it became an official nonprofit in 2001. It's run entirely by volunteers.
The Cinco de Mayo event on May 4 at Corning Community Skate Park includes dancing, singing, music and food. It's a free, family-friendly event that also features a mobile health clinic, a healthy cooking demonstration and plenty of information about available resources. The October health fair also offers connections to all sorts of resources, including employment help, voter registration, educational information, immigration information and health screenings.
"We're proud to provide these very important links to our community to help ensure that all people have access to the resources they need to be healthy," says President Jess Elshere.
The organization is also looking forward to hosting a backpacking trip in July for teenagers between ages 13-16. The all-expenses-paid excursion includes a 15-mile trek into Lassen Volcanic National Park's wilderness area.
"Many of these teens have never been backpacking before, and some haven't even been to a national park," Elshere says. "We can't wait to watch them enjoy this fantastic experience in our beautiful outdoors."
Riverfront Playhouse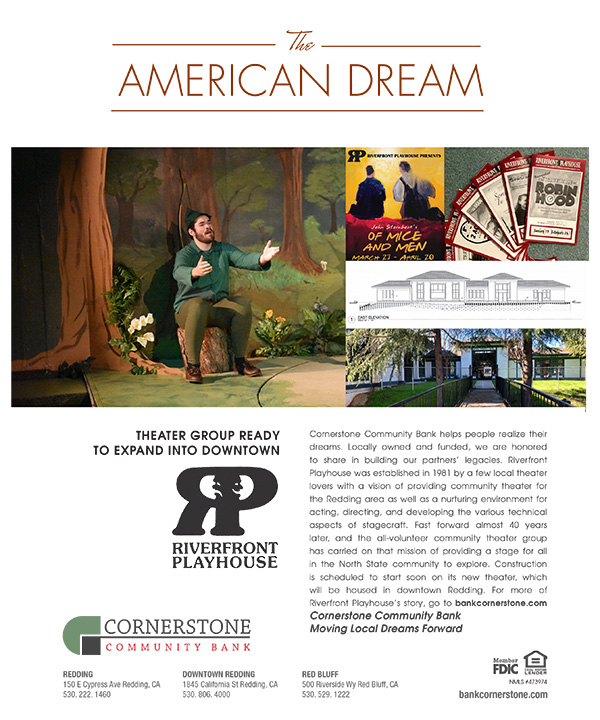 Generations of actors have developed their acting chops on the humble Riverfront Playhouse stage. Today, the volunteers behind this nonprofit are thrilled to finally have the go-ahead to expand the facility for many generations to come.
Cornerstone Community Bank has provided a $1 million loan so the playhouse can renovate its downtown Redding property into a bigger, more modern theater. The site at 1950 California St. will be home to a 152-seat venue, including a main theater, art gallery exhibit space, a green room, an events room, a concession stand and an area for set construction. A small black-box theater will provide opportunities for open mic nights, poetry readings and other productions.
"Live theatre allows the audience to experience the presentation of story-telling up close and personal," said Darryll Alvey, president of Riverfront's board of directors. "From the most seasoned actor to the costumer, from the set builders to the ticket-takers, from sound and lighting technicians to concession-stand attendants – they are dedicated to bringing a meaningful and entertaining story to the stage."
Riverfront, a nonprofit organization, bought the downtown building three years ago, and has been raising funds for a new theater for much longer than that. Now that the loan has been secured, renovation of the 11,500-square-foot building should begin this spring. Local contractor Don Ajamian Construction will do the work, using plans by Redding's Trilogy Architecture.
The venue will be available for rent when Riverfront isn't using the space. The nonprofit will continue its capital campaign, which includes donor-naming opportunities, a buy-a-brick project and seat sponsorships.
Riverfront was created by a troupe of local theater lovers in 1981, and it's operated out of its current facility at 1620 E. Cypress Ave. since then. They're the region's longest continually operating, all-volunteer community theater, and many volunteers have been involved since the very beginning. Every facet of the operation is run by volunteers, from the board of director to the set-building crews to the actors.
"The family of more than 200 volunteers at Riverfront share their love of theatre with you every time the lights go up, the curtain rises and actors speak," Alvey said. "The applause and expression of gratitude is their reward. It is intoxicating and addicting after a job well done. I'm extremely proud to be part of this organization."
John Steinberg's "Of Mice And Men" is featured now at the playhouse, with "The Complete Works of Shakespeare" opening in May.
Furniture Depot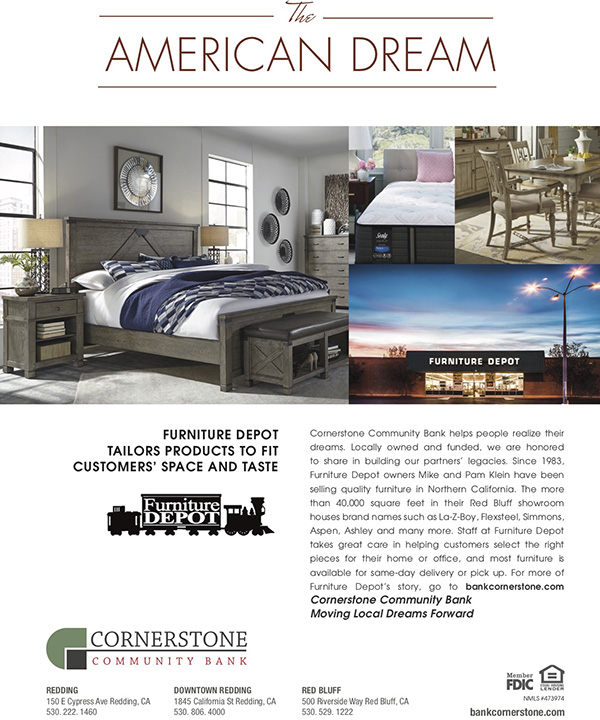 Furniture isn't just furniture. Your recliner is a sanctuary where your children scramble into your lap to hear their favorite story. Your dining table is the central gathering spot for family meals, homework sessions and board games with friends. Your bed is that comfortable nest where the worries of the world melt away as another day comes to an end.
Mike and Pam Klein, the owners of Furniture Depot at 235 S. Main St. in Red Bluff, have spent nearly 40 years ensuring that their customers find the perfect furnishings for their homes and businesses. They carry numerous quality brands, including La-Z-Boy, Flexsteel, Simmons, Sealy, Tempur-Pedic, Aspen, Ashley and more.
The Kleins buy in bulk whenever possible and pass the savings on to customers. Their experienced salespeople take the time to help folks find exactly what they're looking for in the 40,000-square-foot shop, and the friendly delivery crew makes sure everything arrives safely in the customer's home. Financing is available.
The family-owned furniture store also offers a blog on its website, www.thefurnituredepot.net, which includes tips on decorating, how to measure for furniture and much more.
ShiningCare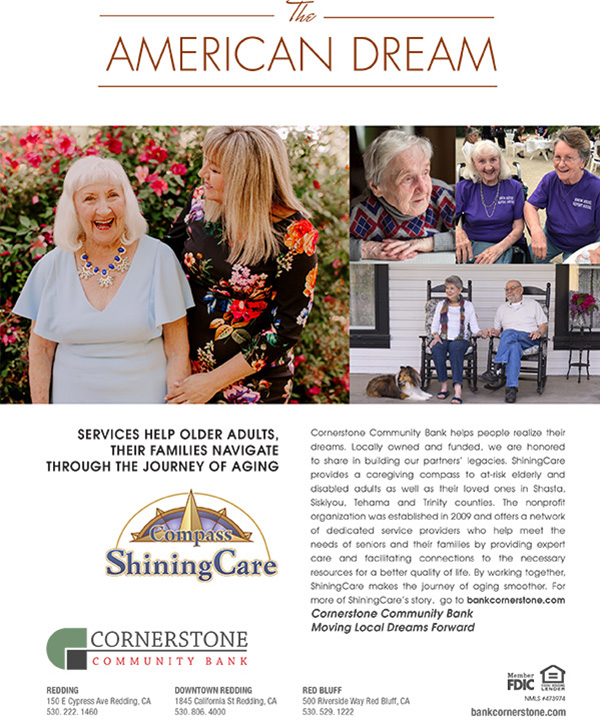 Aging can be a complicated phase of the family journey. It becomes even trickier when the aging person's family members live far away, when relationships are strained or when they simply don't know how to help.
That's where ShiningCare comes in. This nonprofit aims to ease stress, giving compassionate direction and assistance to the entire family, allowing loved ones to keep their main focus on the relationship and the time they have together.
ShiningCare was established in 2009 with a mission to meet the unmet needs of at-risk elderly, disabled adults and their loved ones. These trusted professionals extend compassion and hope, providing expert advice and connection to needed resources for safety, health and improved quality of life.
"This work is so important, because every family will eventually experience the stress of trying to figure out how best to keep their loved ones safe and happy as changes of condition happen and risks multiply," says Joanne McCarley, founder and executive director of ShiningCare. "Due to increasing numbers of people aging, coupled with inadequate and decreasing resources for our elderly population, there is a rapidly growing need for support and care for these individuals who are lost, lonely, hurting and at risk. Our programs and services prevent neglect, elder abuse, loss of health and independence, premature institutionalization, unnecessary hospital admissions and re-admissions, homelessness and more."
ShiningCare's Gatekeeper Program was developed in 2011 to address these issues and has proven to be successful in preventing these critical situations and keeping elders safe. The program does this by partnering and training public agencies, organizations, health care providers and caring community individuals. The free training provides skills that enable them to recognize and refer older adults who may be in need of assistance. Once identified, the Gatekeeper connects the elder to ShiningCare who provides a free risk assessment to determine what support and services are needed for safety and wellness.
McCarley has a degree in social work and more than 25 years of experience working with seniors and disabled adults in both medical and community settings. She is ShiningCare's programs director and lead care manager, and her goal is to guide and advocate for clients as they navigate the complex systems and uncertainties of what to do.
"Love for our community is at the core of our mission," McCarley says. "We are dedicated to helping individuals and families cope, and even thrive, as they deal with the challenges of what is often a difficult season of life."
ShiningCare offers resources and services that help build relationships and prevent isolation, loneliness and depression. The organization's Aging Life Care Professionals work with aging adults wherever they live to help them age well while supporting quality of life for family members. They apply their skills in eight key areas to create a care plan tailored to each family's individual needs and strengths: health and disability, finances, housing, family, local resources, advocacy, legal and crisis intervention.
"I hope our clients experience peace of mind, restoration of security and well-being," McCarley says.
Walker Printing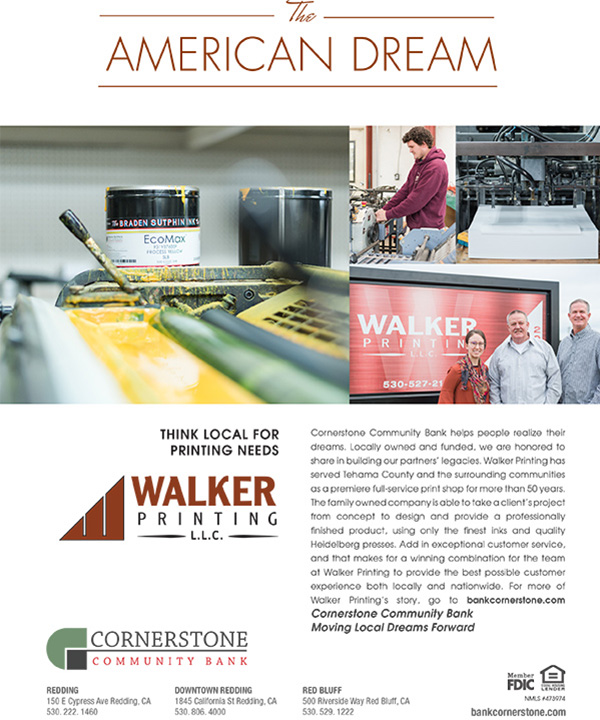 Whether you need a simple flier or a newsletter to send to thousands of clients, Walker Printing is up to the task.
Since 1960, Walker Printing has served the North State with a high caliber of customer service and quality printing. Using only the finest of inks and quality Heidelberg presses, they aim to bring out the best in printing.
"We love helping other businesses. And we do this by providing them with quality printing that makes their business look good. When they look good, we look good," said Walker Printing co-owner Chris Gagliano.
Their expert staff's focus is making their clients' companies shine. If a concept hasn't gotten further than a person's imagination, Walker Printing's on-staff graphic designers can help bring those ideas to life, helping to ensure that the materials are professional and unique.
Walker Printing also provides direct mailing services, where clients can purchase a targeted list with specific demographics to ensure they're reaching the right audience.
In addition, Walker works with a worldwide network of suppliers to provide an assortment of promotional items, from pens and mugs to flash drives and mouse pads.
"We work with Walker Printing because they provide a consistent blend of high-quality, excellent service and ultra-efficiency in all they do," said Miki'ala Catalfano, Creative Services Officer at Turtle Bay Exploration Park. "Their attitudes are always positive and professional, and they are also a group of very friendly people. We consider them part of our working family, and we always recommend them to others. We're so happy to have such a stellar company on our team!"
And the feeling is mutual.
"We are proud to be able to empower our clients with the tools they need in order to be successful," said Walker Printing Business Executive Jen Peterson. "My favorite quote is, 'One customer well taken care of, could be more valuable than $10,000 worth of advertising' by Jim Rohn. And that is what we strive to do."
Wilcox Oaks Golf Club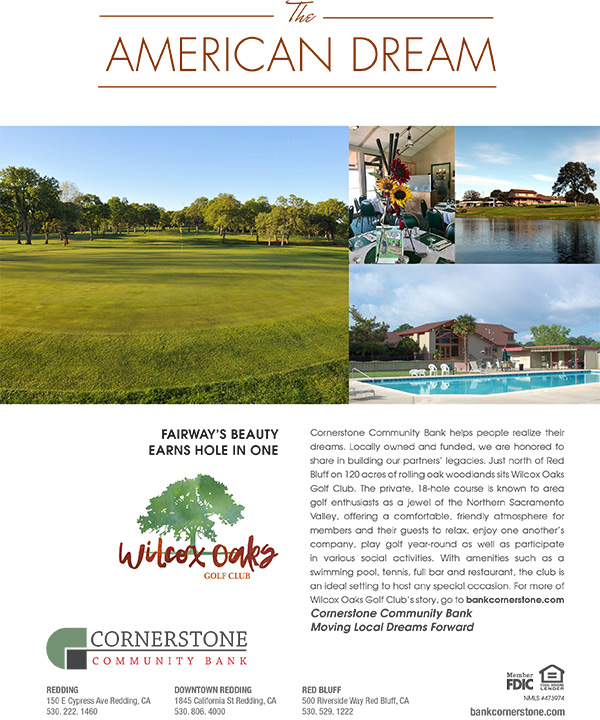 There's no need to travel a great distance to spend a beautiful day on the links. Just north of Red Bluff on 120 acres of gently rolling oak woodlands, Wilcox Oaks Golf Club is one of the jewels of the Northern Sacramento Valley, offering a challenge to golfers and a welcome respite from daily life.
Back in the early 1920s, Grant Wilcox and other golf enthusiasts began playing on un-watered fairways and sand greens on a course referred to as "the sticker patch." The land was generously gifted to the club after Wilcox's death in 1957, the first well was dug, and irrigation for the first nine holes followed. Wilcox Oaks Golf Club was incorporated in 1958, and the full 18-hole layout was completed 20 years later. Improvements continue to this day, but the goal of the club has never changed — to be one of the best golfing and recreational values in the Shasta Cascade Wonderland.
"We serve the golfers of Tehama County, their guests as well as visitors passing through with the best golfing experience we can give them," says interim General Manager Kevin Brunnemer. "We have a membership level to fit most everyone's budget: single, family, corporate, 90-day trial memberships and 'member for a day' plan."
The private club enjoys a diverse membership and it's a place where golfers can relax, enjoy each other's company, play a few rounds and participate in various social activities. Year-round play includes everything from casual couples' scrambles to a Pro Am tournament each spring. Events are available for people of all ages, and the pro shop stands ready to equip golfers with any equipment or attire they might need.
Wilcox Oaks has also become a popular venue for special occasions, including weddings, reunions and holiday parties. They have a pool, tennis courts, full bar and restaurant (The Oaks Bar and Grill) that seats 120.
"We also have a full list of social events scheduled for the coming year — Thursday night football, a raffle extravaganza, a crab feed, murder mystery dinner, bingo and Monte Carlo night, to name but a few," Brunnemer says. "If you're not at Wilcox, you're missing out!"
Hokema's Appliance, Sewing and Vacuum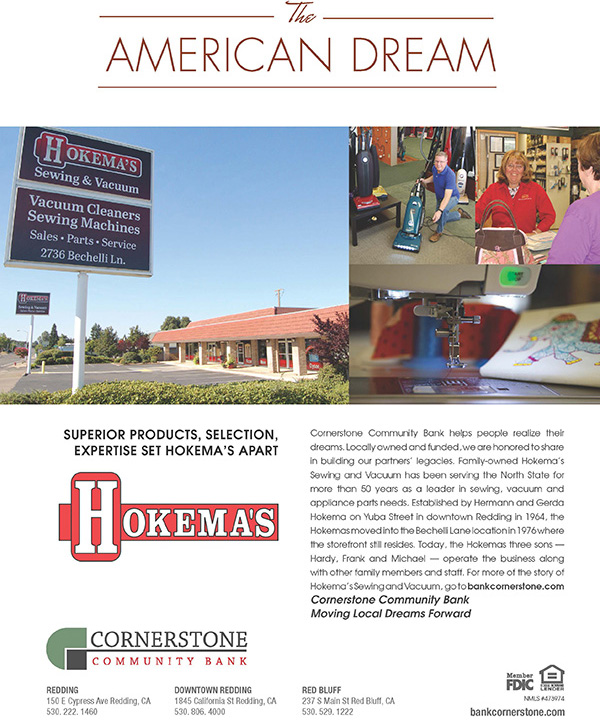 Legend had it that if Hermann Hokema couldn't fix something, it couldn't be fixed. For more than 50 years, that knowledge and commitment to customer satisfaction has made Hokema's Appliance, Sewing and Vacuum the local industry leader.
In the past half-century, Hokema's staff have set themselves apart as friendly, trustworthy and knowledgeable. They don't just sell you a product — they help you learn how to use it. And if something goes wrong, they'll make it right.
The shop's technicians are factory trained, and they go to trainings several times a year when new innovations come out. "You can buy a vacuum or sewing machine anywhere online, but we have the know-how of how to work it and what it does," explains Michael Hokema, one of the Hokemas' three sons. "Most sewing machines have a plastic frame on the inside, but ours have metal frames. Our vacuums have metal brush rolls, not plastic. We sell quality products — value counts."
The Hokemas found themselves in the North State mostly by chance. The late Hermann was drafted to the German army during the war, and then moved to Canada on a work visa. "When his visa expired, he made it to British Columbia and found another German fella who had some work going on," Michael said. "He said, 'If you can get yourself working on electricity and appliances, I have a job for you.' So Dad went to correspondence school and became an electrician, and his friend said, 'Come on down — I have a lead on a job in this place called Redding, California.'"
Meanwhile, Hermann was introduced to Gerda, who had come to America to work as a nanny in Grand Rapids, Mich. They quickly fell in love and were married in 1961 at First Baptist Church on Eureka Way. After a few years of doing mobile repair and putting more wear and tear on his vehicle than he liked, the Hokemas decided to open a storefront. They set up shop in 1964 on Yuba Street in downtown Redding, and moved to their current location on Bechelli Lane in 1976, remodeling a few times before taking over the whole building in 2002.
As the Hokemas' sons Hardy, Frank and Michael grew older, their parents reminded them, "Your last name is associated with this store, so you will behave." And the rule still holds true, as all three sons run the store today. Every day, a customer comes into the store and says their mother or grandmother has shopped there. Customers have moved out of town — even out of the country — and call Hokema's to order parts. "I've sold pieces to people in Canada, the East Coast, Ecuador," Michael says.
A family business is special — the owners live, work and play in this community. "We've got pretty deep roots here," Michael says. "Former mayors have lived across the street from us. We've gone to school with the sheriff's son. Everybody knows each other."
Providing customers with exceptional service is one of the ways they give back. Hokema's also offers numerous classes to improve people's skills and allow them to showcase their creativity. An array of children's classes, creative classes and mastery classes are offered, as well as "new owner" classes, so people can learn their new machines with confidence.
"We're proud to have the opportunity to be a part of this great community," Michael says.
Cornerstone Community Bank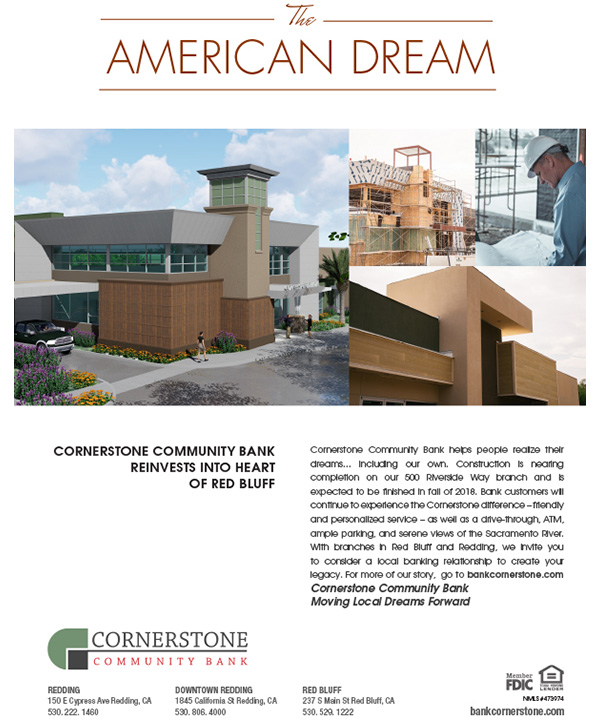 Cornerstone Community Bank's first actual cornerstone was set in Red Bluff, so it's only natural that its founders are committed to reinvesting into the heart of the town. This fall, a beautifully crafted building will become Cornerstone's newest home.
"Red Bluff holds a big piece of our hearts," President and CEO Jeff Finck says. "We wanted to do something that would truly benefit the town all the way around. Whether you're coming north, east, west or south into town … we'll be right there in the middle."
The new location at 500 Riverside Way will be a full-service branch, including a drive-through window, an ATM, plenty of parking and a nicely appointed board room complete with views of the Sacramento River. One thing won't change, however, is Team Cornerstone's focus on customer service, affectionately referred to within bank branches as inviting North State residents to come experience the Cornerstone difference.
"If you want a super-charged banking experience, use a community bank. We go the extra mile to meet our customers' needs," Finck says.
The first Cornerstone Community Bank opened in Red Bluff in the mid-2000s, and while the economic downturn temporarily tapped the brakes on the founders' plans for expansion, they've added two branches in Redding since then, including one downtown on California Street. The Bank plans to relocate the Cypress Avenue Branch to the former Kragen Auto Parts building on the corner of Hartnell and Parkview in 2019.
Construction on the 15,000-square-foot building in Red Bluff (most recently the Riverside Bar and Grill) will be completed this fall. Half will be used by the Bank, and the other half will be leased out. The Bank's relocation from leased space into its own building further strengthens its anchor in the community.
"Instead of seeing a dilapidated building when you cross the river into town, this will be one of the first architectural buildings you'll see," Finck says. "It's an excellent way to showcase the town."
Indeed, Cornerstone Community Bank helps people move their local dreams forward — including their own.
Acorn Construction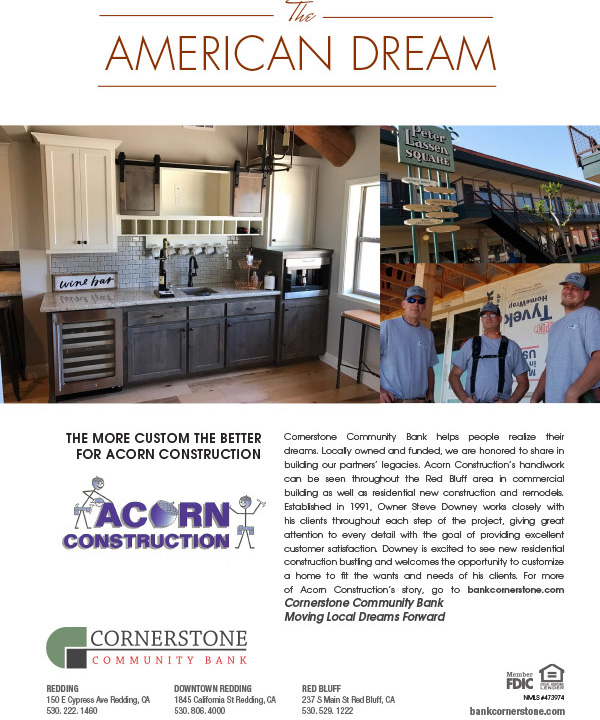 From an acorn grows a mighty oak, and Acorn Construction has spread strong roots throughout the North State. Acorn's handiwork can be seen throughout the Red Bluff area, in commercial buildings as well as residential new construction and remodels.
Established in 1991 by Steve Downey (a founding member of Cornerstone Community Bank), Acorn Construction works closely with clients through every step of their building project, with the goal of providing excellent customer satisfaction. Acorn's commercial jobs have included the original Cornerstone Community Bank in Red Bluff, Peter Lassen Square, Amundson Physical Therapy, and several small projects at St. Elizabeth Community Hospital and Coyne Center.
Downey works closely with each client throughout the project, giving attention to even the smallest details. He's energized to see an increase in new home construction and is proud to play a part in helping customers realize their American dreams of building custom homes that fit them perfectly.
Guiton's Pool Center, Inc.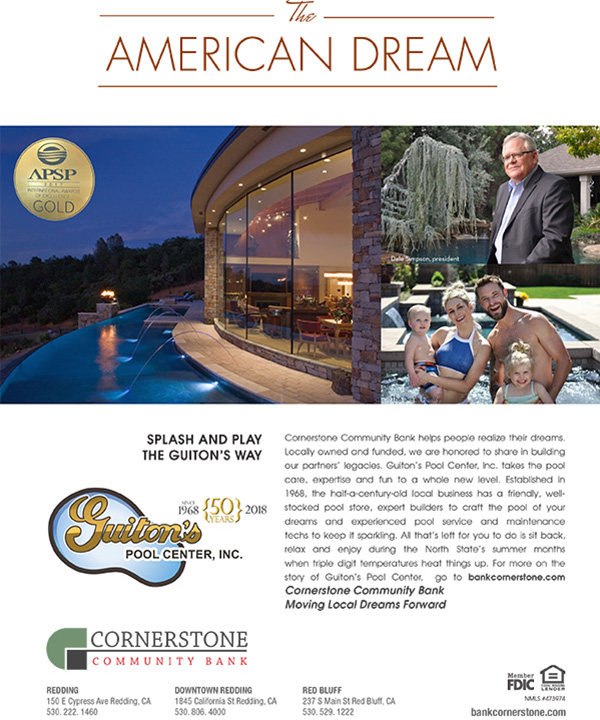 Imagine floating in crystal-blue water on what seems like the edge of the earth, gazing out at a panoramic landscape featuring snow-capped mountains, meandering rivers and lush forests.
While this could be a scene from a posh European bed-and-breakfast, it can also be a 30-second walk from your own back door.
Guiton's Pool Center has been bringing people's dreams to life for a half-century with their imaginative pool construction, service and maintenance. Their expert builders have a knack for helping people craft perfect, personalized pools that fit their wishes, needs and budgets.
Dale Simpson, president and CEO of Guiton's, began his career in 1975 under the mentorship of company founder Richard Guiton. He rose through the ranks to become sales manager, business manager and partner before buying the company in 2008. Under his leadership, Guiton's has been named "Best Pool Company in the North State" by the Record Searchlight for many years.
Says Simpson, "Pools can bring so much fun and relaxation into your life — at Guiton's, we want to make the whole process of building and owning a pool simple, fun and chock full of great family memories."
Simpson is the son-in-law of the late Richard Guiton, who was a pool decking and concrete contractor in Southern California before moving to Redding in 1967. Guiton installed a few pools a year until hiring a salesperson in 1972, when that number jumped to 50 or 60 pools annually. Years later, he opened a retail location, then added a service department.
Today, thousands of pools in the North State carry the Guiton's seal, and many more are carefully cleaned and maintained by the Guiton's crew, so customers needn't do anything besides retreat to their backyards and enjoy their own personal oasis.
Though Richard Guiton passed away in 2015, his legacy of generosity, customer service and caring for his employees lives on.
"We've been a family business for 50 years — some of our customers have been with us for that whole time," Simpson explains. "That's what we want — for people to experience caring, personalized service and enjoy their pool and enjoy interacting with everyone here. We make a commitment to everyone who comes through our doors: You're going to get the best. The best educated pool care advice; the best personalized service; the best pool we can build you. It's a promise we make — from our family, to yours."
Lariat Bowl & Bowling Greens Miniature Golf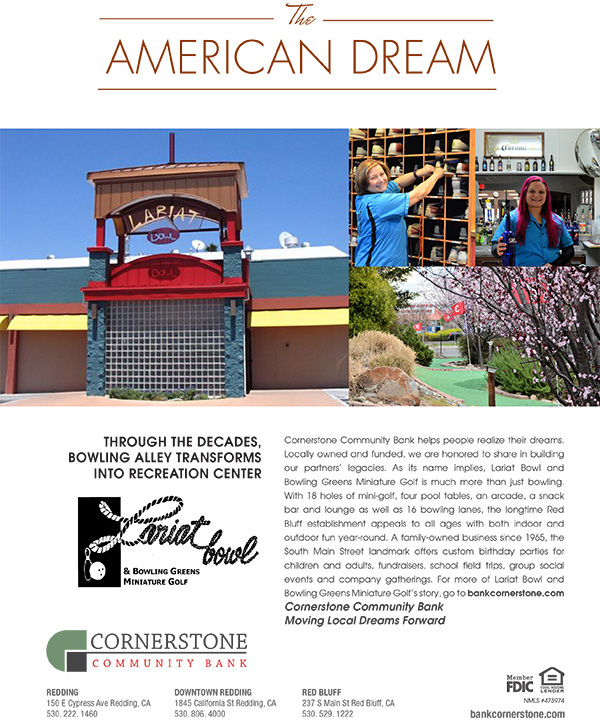 There are few places where grandparents, parents, teenagers and toddlers can enjoy fun, clean recreation together. Fortunately for the North State, Lariat Bowl, established in 1958, is one of those places.
Lariat Bowl at 365 S. Main St. in Red Bluff offers bowling, miniature golf, pool, laser light shows, an arcade and more. "We have 2-year-olds and we have 92-year-olds and everything in between," says Lariat Bowl owner Susan McFadyen. "It's a lot of fun - it's a place for the whole family to go."
Leagues and tournaments keep the bowling alley hopping, but there is plenty of room for those who just want to come in and play a few games. The Family Value Doubles Bowling Club is offered on Sunday nights, where an adult and child can bowl together. "With other sports, unless the parent is a coach, they are up in the stands. But everyone gets to bowl," McFadyen says. "No child sits on the bench."
Groups of developmentally disabled adults come and bowl every week, and the elementary and high schools bring their adaptive physical education classes to Lariat Bowl several times a year. School groups, church groups, local businesses and sports teams come in for parties and team-building events.
"Folks have said, 'We go to a restaurant and all we do is sit around and talk.' With bowling, you have some competition and some fun," McFadyen says. And afterwards, the adults can enjoy a cold adult beverage in the bar while kids spend a handful of quarters in the arcade.
The venue hosts and donates to an assortment of community events, including the Antelope-Berrendos School mother-son bowling event. It also sponsors benefits for groups like Providing Essentials for Tehama Shelter (PETS), giving a portion of proceeds back to the organization.
Tehama County is a wonderful place to live, work and play, McFadyen says. "There's always something going on, and there's always something in the community to get involved with," she says. "People go out of their way to help each other out."
Gene Penne, McFadyen's father, purchased Lariat Bowl in the 1960s and was involved in the community through schools, churches, businesses, civic organizations and local government. As Lariat Bowl comes into its 60th year in business, the tradition continues with a refreshed, clean facility providing "year-round family fun!"
Frozen Gourmet, Inc.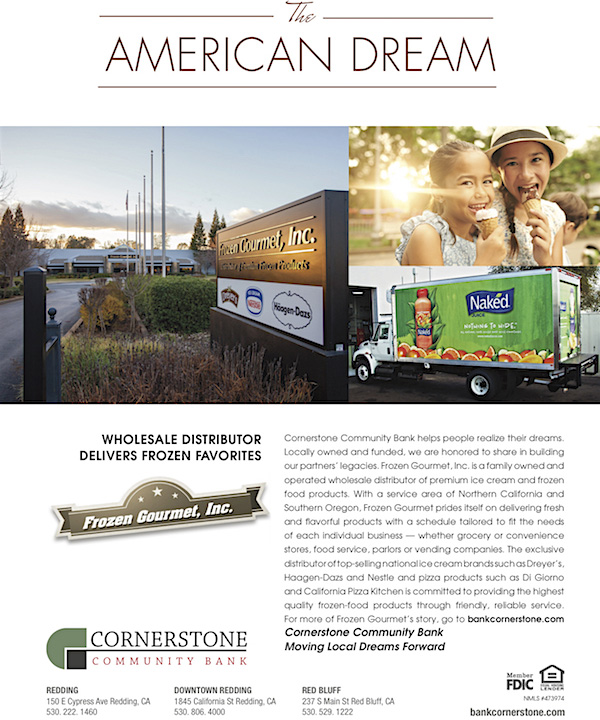 You probably never realized it, but if you love ice cream and pizza, you probably owe Frozen Gourmet a debt of thanks. They're the ones who make sure your grocery store, your favorite convenience store and vending machines always have the treats that you crave.
The family-owned and -operated wholesale distributor of premium ice cream, frozen food and healthy drinks was founded by a Redding family who prides itself on providing friendly, reliable service from Southern Oregon all the way down to Yuba City.
Bill and Daphne Kohn founded Frozen Gourmet in 1979 when they moved from the Bay Area back to Bill's hometown of Redding. They worked out of their house, rented a freezer in Red Bluff, had one truck and did everything themselves, from sales and delivery to bookkeeping. Over the years, Frozen Gourmet grew steadily, adding employees, leasing space on Airport Road and installing their own freezer.
Today, they're the exclusive supplier for top-selling national ice cream brands, including Dreyer's, Haagen-Dazs and Nestle, along with pizza products such as Di Giorno and California Pizza Kitchen. Their new line of healthy drinks include Naked Juice, Kevita and Chameleon Cold Brew. The Redding warehouse uses 12 trucks to deliver to stores and restaurants from Yuba City to the Oregon border. That's where the Medford warehouse picks up, and its 10 trucks service Southern Oregon.
And it's still a family business in every sense of the word. Nikki Rayl was a baby who was usually perched on her mom's hip when her parents founded the company, and today she runs the administrative side of the business. Her brother, Rob, leads the company's operations. Frozen Gourmet now has about 60 full-time and 40 part-time employees, all of whom are dedicated to providing the best service possible.
Meme's on Main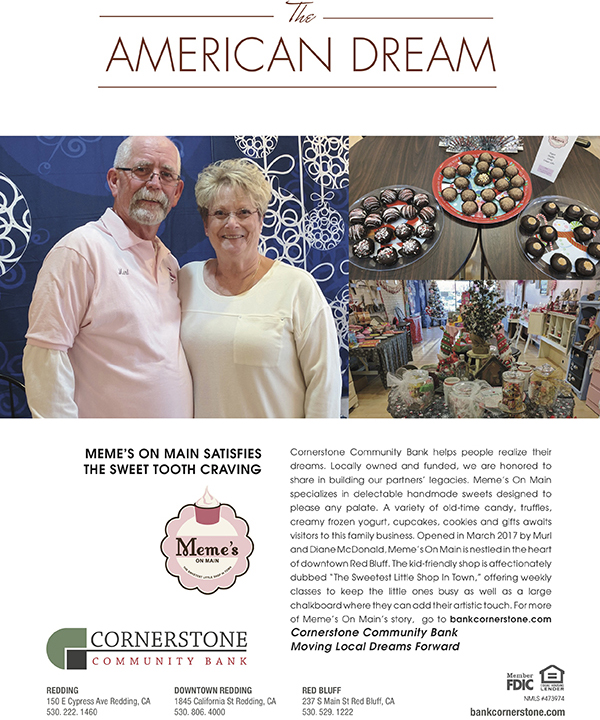 Every child who envied the fresh-baked cookies in Diane McDonald's children's lunchboxes back in the day is in luck. Today, you can buy as many as you'd like at Meme's on Main Street in the heart of historic downtown Red Bluff.
Diane and Murl McDonald opened Meme's in March 2017, and the family business specializes in catering to your sweet tooth. "We'd always kicked around having a cupcake and cookie shop, and I've always loved to bake," explains Diane, who baked cookies daily while her children were growing up. "Then one opened on North Main, and I thought, 'Oh no, there goes my idea.' Then that one closed, and there was an empty building right on Main Street, and I thought, maybe this is a sign. We came and talked to them, and within a week everything was rolling."
Meme's features cupcakes and cookies, as well as truffles, fudge and rocky road — decadent treats for the chocoholic. Frozen yogurt in an array of flavors helps cool you off on hot summer days. Special order cupcakes and cookies are a fun indulgence for a special occasion.
Diane does all the baking. "We made pies for Christmas and Thanksgiving — apple and pumpkin — and the cookies and the cupcakes go crazy. There's no other place in town that does homemade," she says.
She also makes the fudge and rocky road — but not the truffles. "I do not have the patience to do that," she says with a laugh.
In the beginning, the shop didn't offer cupcakes — just yogurt, truffles and old-fashioned candy. "I had a girl come and paint on my windows. She painted a yogurt cup, and I had so many people come and say, 'You have cupcakes? There's a cupcake on your window!' I told them that it was a yogurt cup — but we went ahead and bit the bullet and bought the oven, and it's just taken off from there."
A new sitting area is a lovely refuge for sipping tea with a friend. Meme's serves artisan teas including lemon ginger, cranberry blood orange, English breakfast, chai spice, chamomile lavender mint and hibiscus ginger orange. The dainty space is appointed with flowers and ceramic tea pots.
The shop also offers children's classes every month or so, where youngsters can try their hand at selected art projects. They'll be decorating Valentine's Day cookies during the next class on Feb. 10. A chalkboard on the wall attracts the creativity of kids and kids at heart.
"I love when people come in here and are satisfied and pleased with what I've done," says Diane, a retired office manager who has lived in Tehama County for more than 60 years. "I really enjoy the people."
Meme's is located at 643 Main St., and is open from 10 a.m. to 5 p.m. Tuesday through Saturday. Call 727-9800 for more information.
Nouvant Homes Inc.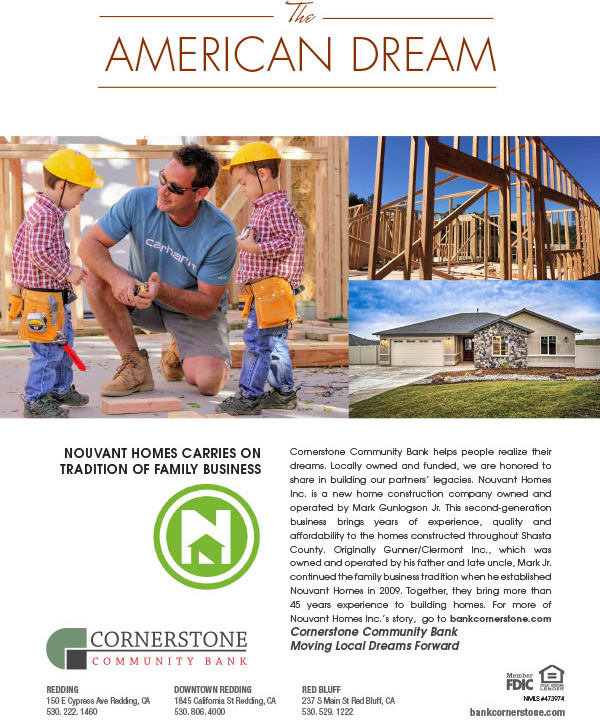 It was the first day of summer vacation for 13-year-old Mark Gunlogson Jr. when his contractor father "invited" him to work with him.
"We were working on some apartments on Magnolia, and it looked like a lumber bomb went off up there," Gunlogson Jr. recalls. "He said, 'You need to put all that trash away.'" He spent that summer working alongside Mark Gunlogson Sr. at his company, Gunner, Inc., learning about the trade that would also become the younger Gunlogson's lifelong career.
The following summer, he worked with his uncle Richard on his painting crew. "My dad would start the houses and Uncle Richard would finish them," Gunlogson Jr. says. He worked with his uncle until he was about 18, and then began working directly for his father again.
At his father's insistence, Gunlogson Jr. went to college after graduating from Enterprise High School. "When I was 18, I told him that I wanted him to teach me the trade — how to build a complete house. He said, 'No way,'" Gunlogson Jr. recalls.
The elder Gunlogson wanted to ensure that homebuilding was truly what his son wanted to do. "I actually had to go to college, get an engineering degree and work as an engineer for about three years," Gunlogson Jr. says, adding that he worked for his dad during school breaks to put himself through school. "Then I was like, 'I'm not doing what I want to do.' So I came back to Redding and started building."
He established Nouvant Homes Inc. in 2009, and it remains a father-son team, with wife Renee handling marketing duties. They pride themselves on building quality, affordable homes throughout the North State. Though his father is "basically" retired, he built two houses this year and still comes to the office daily, Gunlogson Jr. says.
What does he enjoy most about his work?
"Everything," he says without hesitation. "The client satisfaction. I see a lot of clients who are older and have never owned a house, so to be able to get them into a starter house at a low price is satisfying. I'm always happy for them."
Poor And The Homeless Tehama County Coalition (PATH)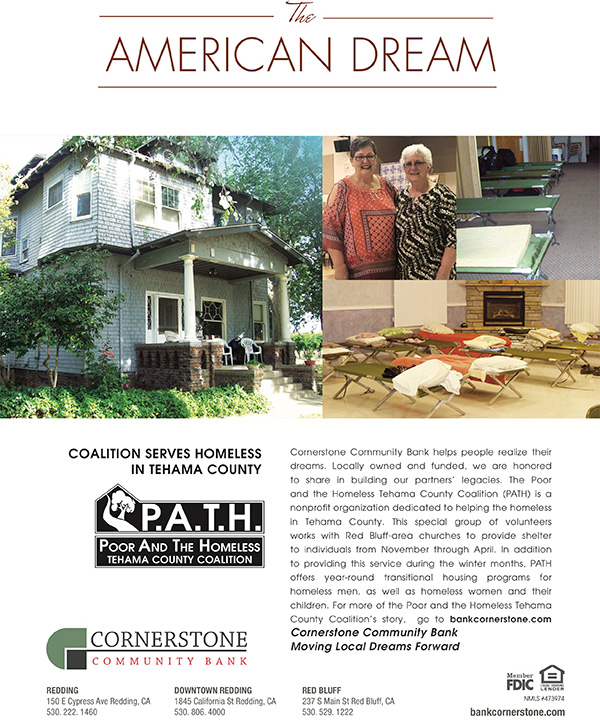 A single candle flickers in the darkness. From this tiny flame, many more candles can be lit, yet the life of that single candle is never shortened.
Ordinary people are doing extraordinary work through the Poor and the Homeless (PATH), a nonprofit that provides shelter and nourishment (both physical and spiritual) to those who need it most in Tehama County.
Like most world-changing work, PATH started with the simplest of actions. In 1999, Allene Dering joined a prayer group at a Red Bluff church. One Sunday, the pastor announced that a meeting would be held after the service to explore what could be done to help the homeless. Dering felt called to attend the meeting.
"We were praying for guidance for God's will for us individually and God's will for the church," she explains. "When I lived in Napa, they wanted to do something about the homeless, and I was the loudest one against it. I didn't know homeless people at the time. All I thought was, 'I've got to go to that meeting.' It was God's will for me to do that. God changed my heart."
She's been PATH's leader ever since.
PATH's initial mission was to shelter the homeless. Three pastors were part of the original group – Tim Soule, Wallace Anderson and Susan Plucker — and several churches allowed PATH to use their facilities. They formed a grassroots group called The Homeless Coalition and became a nonprofit in 2000.
Today, PATH is governed by a 12-member board of directors, representing the faith community, business community, local government and the target group. It operates the only winter emergency homeless shelter in Red Bluff, which is open Nov. 1 through April 30 each year and rotates through local churches. Dinner is provided to those who spend the night. Use of alcohol and illegal drugs is prohibited.
In addition, PATH also operates the Sale House, a sober living transitional home for homeless women and their children. The two-year program is designed to help women become self-sufficient and secure permanent housing. A case manager helps clients set and achieve their goals.
Homeless men can participate in Pathways, which is also a two-year sober transitional living program with a case manager who helps participants achieve self-sufficiency. The men are available to volunteer at community events.
PATH also has a new grant-funded Housing First program, where they house people regardless of their circumstances, then work intensively with them for six to eight months to help them change the behavior that has been keeping them out of permanent housing.
"We're getting people off the streets and getting them into housing," Dering says. "Twenty percent of people who have come to the shelter have been able to get into housing before their time in the shelter is over."
Most homeless people have income, Dering says, but it's such a small amount that they can't live on it and save money at the same time. People can stay at the shelter for up to six months, which gives them the opportunity to build up enough savings for their first month's rent and a deposit.
"Homeless people are people just like anybody else," Dering says. "I've met some really wonderful people among the homeless. It's like any other prejudice — one person of a different color treats you badly, so you think they're all that way. Just because one homeless person did something you thought was horrible doesn't mean they're all that way."
The community can support PATH in many ways, including joining the tax-deductible "dollar a month club," donating toiletries or food, volunteering to teach a life-skills class, helping in the emergency shelter, or donating stock or memorial funds to PATH's endowment fund. For more information, visit www.redbluffpath.org.
8th Annual RABA Salute to Veterans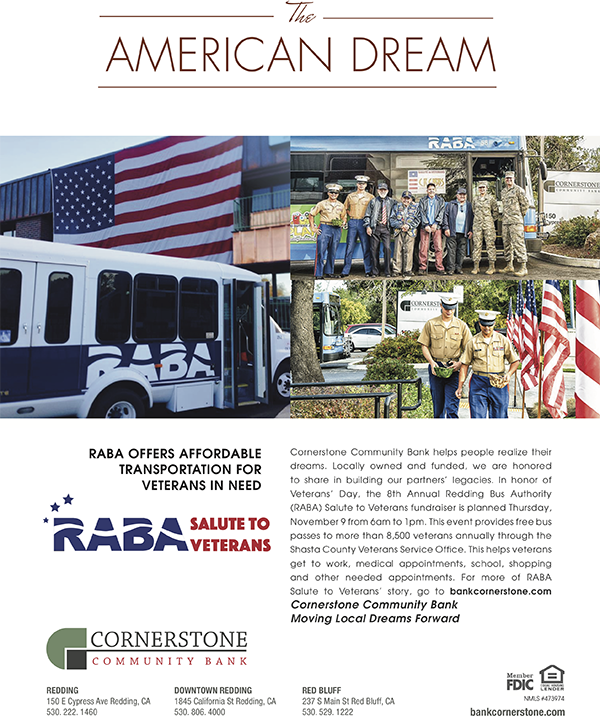 Shasta County is home to more than 17,000 veterans — people who were willing to make the ultimate sacrifice to protect America's freedom. Sadly, an increasing number of our veterans are homeless, elderly and at risk, and need help getting where they need to go.
Fortunately, the community has an opportunity to give back to them.
In honor of Veterans' Day, the 8 th Annual Redding Area Bus Authority (RABA) Salute to Veterans event is planned Thursday, November 9 from 6 a.m. to 1 p.m. at Cornerstone Community Bank, 150 E. Cypress Ave. in Redding. This event provides free bus passes to more than 8,500 veterans annually through the Shasta County Veterans Service Office (VSO). This helps veterans get to work, medical appointments, school, shopping and other needed appointments.
"We have a lot of seniors and veterans on fixed incomes who need public transportation to get around," explains Melissa Estrada, Transportation Planner for the City of Redding.
Donations from the fundraiser directly benefit the Shasta County VSO, which is the first step for assisting veterans across Shasta County and serves more than 8,500 people annually. The VSO distributes $10 RABA punch cards from its main office and other local veteran organizations, which can be used on RABA routes in Redding, Shasta Lake City, and Anderson.
RABA provides a 50 percent match to all donations received, so for every $100 donated, $150 in transit rides are provided to veterans.
People can donate money online with a credit card or deliver cash or a check to the event. Cash can also be donated any time from 9 a.m. to 5 p.m. weekdays at Cornerstone Community Bank.
"It's really fun," Estrada says. "The Veterans Service Office, Enterprise Lions Club, and Cornerstone Community Bank all participate. The Lions Club displays their two large flags on the building and 24 along the sidewalk outside. There's so much honor on display at the event — from the flags to the community members who show up to support our veterans."
The Shasta County VSO offers comprehensive counseling to veterans and their families on benefits granted by federal, state, and local laws. These benefits can include disability, pensions, college fee waivers, vocational rehabilitation, life insurance, medical care, home loan programs, homeless housing assistance and much more. The VSO helps develop claims and ensures the required documents are submitted. For more information about these services, call 225-5616 or visit the office at 1855 Shasta St. in Redding.
5th Annual CASA Superhero Run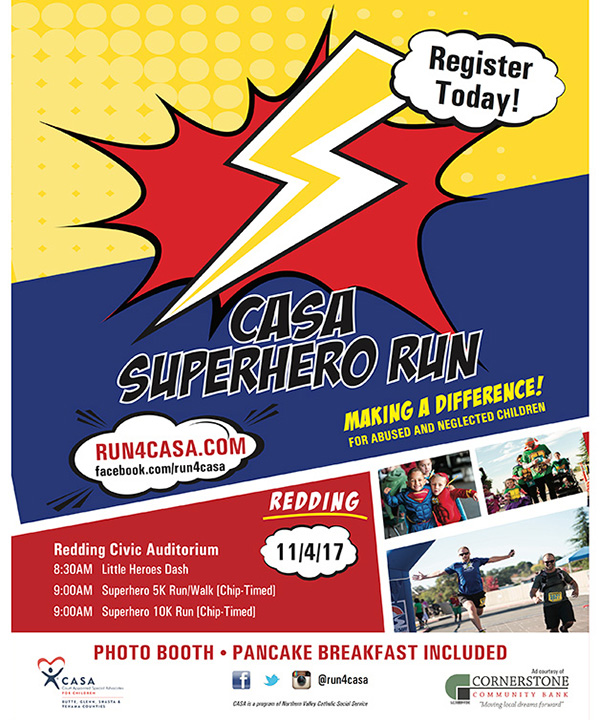 Real superheroes don't always wear capes.
Take, for instance, Court Appointed Special Advocates (CASA). These volunteers serve as the voices for children in the foster care and judicial systems, advocating for their needs with the goal of placing every abused or neglected child in a healthy, safe permanent home.
Northern Valley Catholic Social Service operates this program in Butte, Glenn, Shasta and Tehama counties, and since the program began in Butte County in 2001, it has trained 362 advocates who have served 728 children.
While this number is certainly impressive, the current number of advocates are only able to serve about 8 percent of children who could benefit from these services.
So who makes a great CASA volunteer? Perhaps you would! Advocates come from all walks of life, and are citizens in our community who want to make a difference in the world. They are 21 years or older, and they go through a 40-hour training class before they're sworn in as officers of the court.
Upon being assigned to a case, they are asked to meet with their child once a week for at least an hour. They represent that child's interests and thoughts through a court report that is filed before each court hearing (about every six months). Their job includes researching and gathering information, monitoring and advocating for progress on the child's case plan, submitting written reports to the court and advocating for the child in court and in meetings. Volunteers are well supported by NVCSS staff and fellow CASA volunteers.
"I wanted to show my own two girls that they have a mother who does something about a problem and doesn't just talk about it," said Corrie Miller, a CASA volunteer since 2014. "I can't help all the children, but I can make a difference one child at a time. The ripple effect from that is more than I can imagine."
Those who are unable to serve as volunteers can still lend a hand to this noble effort. The CASA Superhero Run is Nov. 4 at the Redding Civic Auditorium, and all proceeds benefit the CASA program. Little Heroes Dash for ages 10 and under starts at 8:30 a.m. (a cape is included), and the chip-timed 5K Run/Walk and 10K begin at 9 a.m. A pancake breakfast is included for each registered participant. Learn more at www.run4casa.com.
To learn more about the CASA program, visit www.nvcss.org/casa or call 844-25-4CASA.
Tehama District Junior Livestock Committee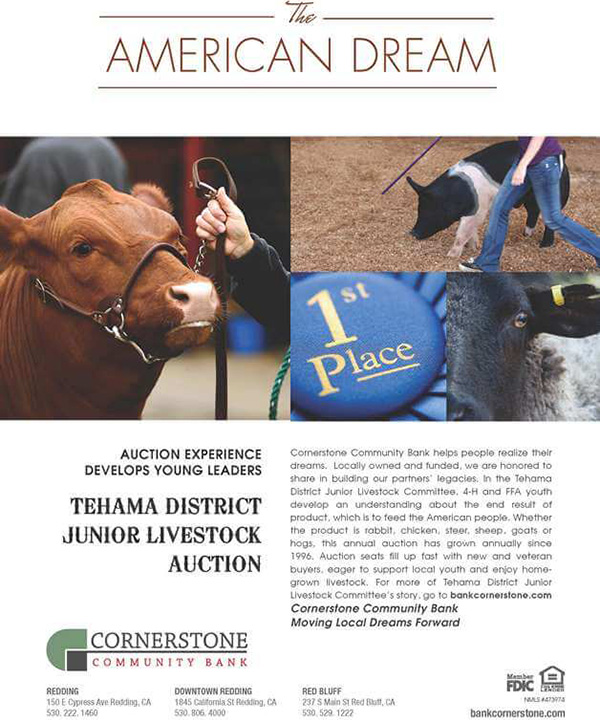 Give kids a purpose, and you might be surprised at what they can achieve.
That's one of the driving forces behind the Tehama District Junior Livestock Committee. Through this nonprofit organization, 4-H and Future Farmers of America youth develop an understanding about the end result of livestock, which is to feed the American people. Since 1996, hundreds of youth have raised rabbits, chickens, steer, sheep, goats, hogs and more. Auction seats always fill up fast with new and veteran buyers who are eager to support youth in our community and enjoy homegrown livestock.
"4-H and FFA are just amazing," says Mike Collins, the committee's president. "They build character."
Raising livestock requires a significant commitment of time and energy, Collins says. When you're raising an animal, you're not sleeping in late on lazy summer mornings or taking long vacations away — you're committed to the creature in your care, whatever challenges may arise. "They're responsible for it," he says. "Most parents say, 'This is your animal — get it ready for fair."'
Marketing is also a huge piece of the puzzle. "They have to get someone to purchase the animal," Collins explains. This involves writing letters and having confident, intelligent conversations with potential buyers to ensure top dollar for their animal. "It really brings kids out of their shell."
Some animals require a relatively short time commitment — small animals like rabbits need to be in the child's care at least 30 days before the fair, and hogs and goats are with the youth for at least 60 days. Beef has to be in the child's care for at least 120 days, though most young farmers are buying their steers now for the 2018 fair. And it's a competitive field — the Tehama District Fair featured 380 livestock this year alone.
Collins and his wife, Teri, have been involved with the livestock committee since about 1982, when their daughter was 6. "Now we're on our third generation," says Collins, who has been on the committee since 1992.
And in their view, the investment — while exhausting at times — is well worth the reward.
"If you keep these kids busy, odds are, they're going to turn out pretty good," Collins says.
Caliber Office Furniture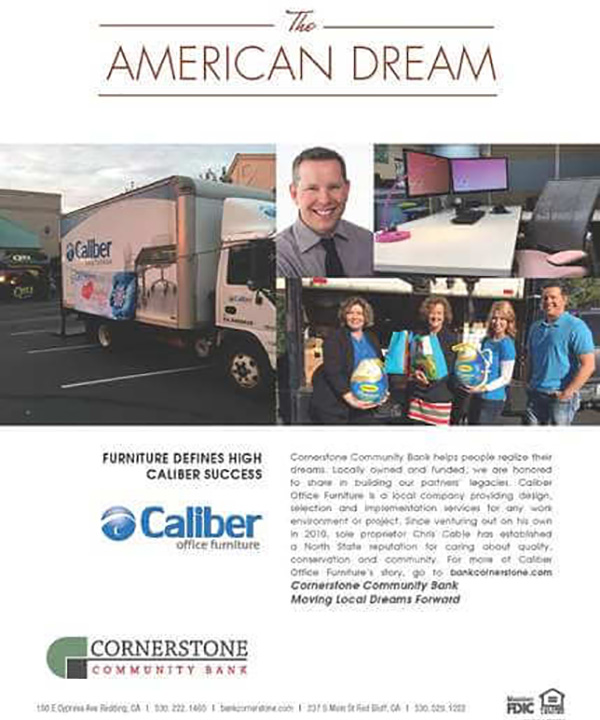 Caliber — it's defined as a degree of moral quality, or a degree of excellence or importance. For Chris Cable, the name he selected for his business sets the tone for the level of customer service he delivers to his customers.
The owner of Caliber Office Furniture has accumulated more than 20 years of experience in the office furniture industry, and he and his team are experts at helping people find the perfect, affordable solutions to their office needs.
Cable attended high school in San Diego County and moved to Redding in 1992 to attend Simpson University. He began working as a furniture installer in 1995 and went to school at night, earning a bachelor's degree in business administration. He moved up the ladder to sales, project management and lead installer, becoming a well-rounded expert in every facet of the industry. Unfortunately, in 2010, the company where he was working downsized. Cable seized this opportunity to take a leap of faith and branch out on his own, and he launched Caliber Office Furniture in April 2010.
"I created it from the ground up," Cable said. "All I had was a desk – I was renting a corner office in a construction company's office. My warehouse was a 10x10-foot storage unit. We've grown by leaps and bounds. We truly are a little success story."
Caliber focuses intently on customer service, environmental consciousness and a sense of community. In his free time, he enjoys geocaching, kayaking and tending to the five-acre farm where he lives with his wife, Cassie, and their two children.
"We treat people above and beyond with our customer service," Cable said. "Honestly, when we show with brand-new office furniture, they get the feeling like its Christmas Day, and we love it. I stop by to check on them later, which is a little bit of a personal touch. That's the service they expect by buying local, rather than ordering furniture online and having it just end up on doorstep."
Children First Foster Family Agency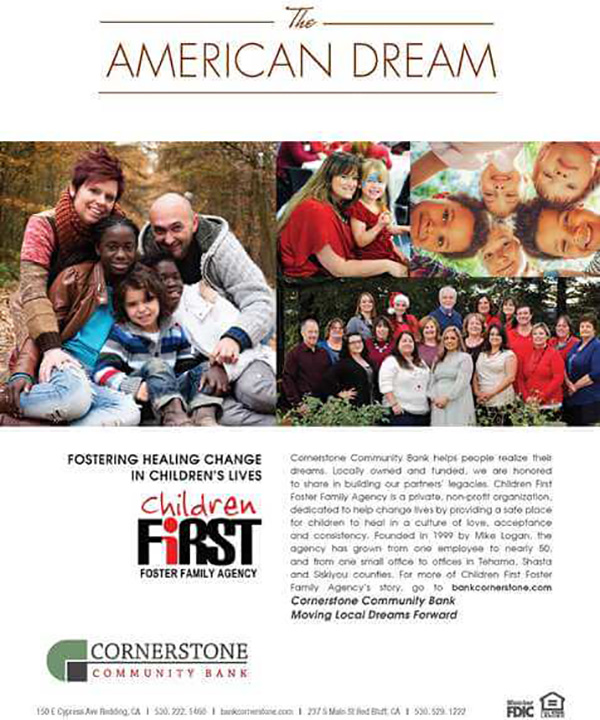 All children deserve love and acceptance — and with the help of some devoted adults, Children First Foster Family Agency provides exactly that to our community's most vulnerable youngsters.
Children First is a private, nonprofit agency committed to helping individuals of all ages realize their full potential and achieve their personal goals. The agency is dedicated to providing a safe, supportive environment that nurtures and inspires the children, adults and families they work with daily. Founded in 1999 by Mike Logan, the agency has grown from one employee to nearly 50, and from one small office to offices in Tehama, Shasta and Siskiyou counties. Programs include foster care, counseling and programs that give children a chance to excel.
"There is nothing more rewarding than to know that we have provided something to someone who may not have received it if we were not here," Logan says.
People are often surprised to learn that they have exactly what it takes to be a foster parent, even if they don't look like a traditional "family." To get started, potential foster parents just need to be 21 or older and have a stable, loving home, a sustainable income, reliable transportation, citizenship or permanent legal residency, and enough time to devote to the success of their foster children.
Logan moved from Colorado to Yuba City when he was 11 and joined the military at 18. His career took him to the Pentagon, factories, mines and lumber mills before he took on the challenge of establishing and running the area's first medical model alcohol and drug treatment center at a Redding hospital. He was also the founding administrator for the first Christian treatment center for alcohol and drug addiction in Northern California, where the first immediate care facility for the developmentally disabled was developed.
"As my wife and I were busy building our lives and our future, we realized that there was something missing and we wanted to have children in our lives," Logan says. "This is when we first considered becoming foster parents."
Their adventure began with twin 7-year-old boys in 1995, and the Logans wrapped them up in healing, love and support. Today, both boys are married and have given the Logans six grandchildren.
"We have always thought of these children as our own, from the first morning we brought them home," Logan says. "It was from this experience that the idea of creating a foster family agency came about."
Logan is also the founder of Children First Counseling Center and Lassen Counseling Services, an agency that was started as a response to the growing need for counseling services in rural Northern California and the desire to change lives by helping people through difficult times.
"I am passionate about protecting children because most often they cannot protect themselves," says one Children First social worker. "I believe that every child deserves a loving, safe home in order to develop into the best person that they can be. If a child cannot stay with their biological family, then I am passionate to try and help them receive the best treatment and experience in their foster home environment."
Anyone who would like to learn more about Children First Foster Family Agency can find more information at www.childrenfirstffa.com.
Shasta County Grand Jurors' Association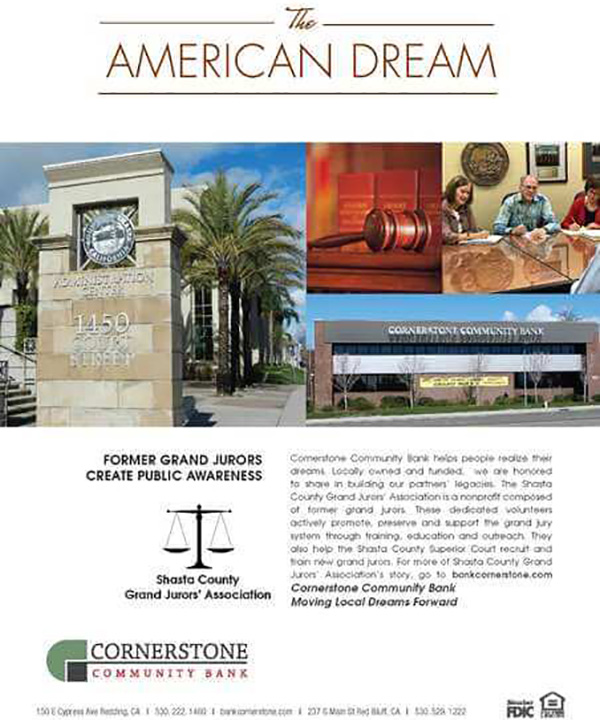 Holding governments accountable is a daunting task, but every year, 19 selfless souls step up to the plate and take on the title of grand juror — and a group of seasoned veterans is there to help guide the way.
Established in 2002, the nonprofit Shasta County Grand Jurors' Association is made up of former grand jurors who promote, preserve and support the grand jury system through training, education and outreach.
When Larry Johnson retired after more than 35 years as an attorney, he was looking for something to keep himself busy. His wife saw a banner soliciting grand jury members, which piqued his interest. He served on the 2012-13 grand jury, and then joined the Shasta County Grand Jurors' Association. He's now the chairman of their recruitment committee.
"We actually serve three functions," Johnson explains. "First, we assist the Superior Court in recruiting qualified applicants for grand jury service. Second, we assist the Shasta County Grand Jury in providing training to grand jurors on interview techniques, investigative techniques, things of that nature. Third, we've developed something of a social aspect to the grand jury."
Grand juries have 19 members. Up to 10 people can be reappointed to a second term, and the remaining members are selected by a random drawing after their applications are reviewed by Shasta County Superior Court judges. "The type of people who want to devote a whole year to this kind of work are usually people who have been leaders in whatever capacity, or they just want to do something for the community," Johnson says.
The time commitment varies widely, but typically averages 10-20 hours a week. It ramps up toward the end of the term, as members are wrapping up investigations, determining their findings and writing reports.
"People sometimes misunderstand the role of the grand jury," Johnson says. "You hear about grand juries and you probably think about criminal grand juries and indictments – that's a very, very rare function of grand juries nowadays. Ninety-nine percent of the time, what we do is civil grand jury work, where we are a watchdog over local government. We have the authority to look into our city governments, all departments of the county government and all special districts."
Special districts include water, cemetery and conservation districts, and the grand jury ensures that they are acting within the rules and regulations that govern them.
Each grand jury is free to decide what issues it will look into each year, and its reports on those investigations include a detailed factual statement about the issue or organization, as well as conclusions and recommendations.
"These are average citizens who devote their time to this," Johnson says. "It's exciting. I don't know many citizens who have the opportunity other than through a means like this to call before them the members of the government. If you want to talk to the Board of Supervisors, they're going to make time for you. So will the members of our city councils and the heads of special districts. They respect the grand jury, and it's a two-way street."
Though the grand jury can't make changes itself, they shine a light on problems or areas that need improvement, and heightening the public's awareness often leads to changes. Their work has led to some big improvements, including creation of the Redding Library and increases in per diem payments for volunteer firefighters, which helped entice more volunteers to take on this challenging job to protect public safety.
"Most of the time agencies are doing a really good job with what they've got," Johnson concludes. "Sometimes the public has a need to know that their elected officials are doing a really good job with the resources they have available."
Anyone who would like to learn more about serving on the grand jury can find more information and an application at: shastacountygrandjury.org. The new grand jury session begins June 26.
Red Bluff Gold Exchange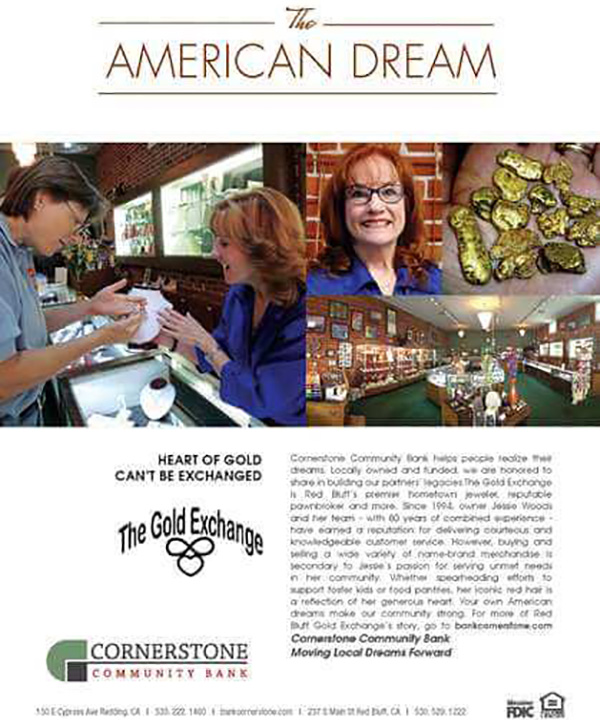 If your watch has stopped ticking, you're in need of a small loan or you just need a reminder that there's truly goodness in this world, Jessie Woods has you covered.
The Gold Exchange has been Red Bluff's premier jeweler, reputable pawnbroker and more since 1994. Woods and her team, who have nearly 80 years of combined experience, have earned a reputation for delivering courteous and knowledgeable customer service.
At the Gold Exchange on Walnut Street, Woods' staff loves helping people search for that perfect gift for a loved one. Their inventory includes a distinctive selection of diamond jewelry, a variety of chains, colored stone jewelry for every birth month, Citizen watches and fun sterling silver. The Gold Exchange also buys and sells an array of tools, games, movies, electronics, musical equipment, sporting goods, coins and more through its pawn shop.
In 2005, Jessie added a spiritual boutique called Angels Among Us, which offers a variety of metaphysical products from sage to drums and crystals. Master goldsmith Cary Freeman refurbishes the shop's estate jewelry and creates her own line of jewelry for the soul. Her signature piece is the bold, fun, liquid gold waterfall that many consider to be wearable art.
One of the most exciting parts of Woods' job is working with couples to select bridal jewelry. And once that ring is on her finger, Jessie – an ordained minister — can even perform the wedding ceremony.
However, buying and selling a wide variety of merchandise is secondary to Woods' passion for serving unmet needs in her community. Her iconic red hair reflects her generous heart — she's known for spearheading all sorts of philanthropic efforts, from supporting foster kids to seeking donations for food pantries.
Woods' motto in life is, "Together we can accomplish great things. By holding hands, we create miracles." This is reflective in her business and her love for her community.
One SAFE Place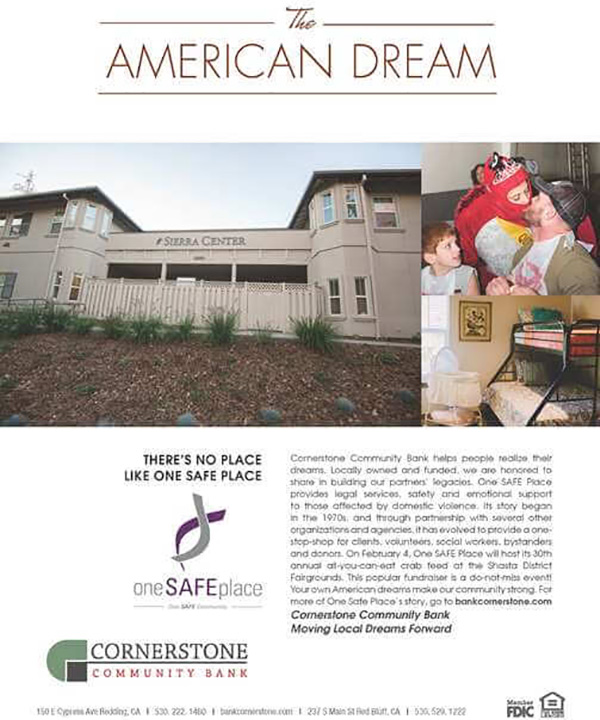 Building the Sierra Center became a mission for the staff at One SAFE Place after the tragic murders of Sandy Miller and her two small children, Shelby and Shasta. Sandy and her daughters had come to One SAFE Place seeking help for a domestic violence situation, but left because of the shelter's crowded dormitory style setting (26 people in 3 bedrooms), noise and lack of privacy. Shortly afterward they were found and murdered by her husband. A new facility became the priority, with a residence shelter, co-located client services, and on-site partner agencies.
Plans were drawn up and a capital campaign was launched. Jean King, executive director at the time, turned to a local bank to seek the funding One SAFE Place needed to build. "The overwhelming support of Cornerstone Community Bank and its belief in One SAFE Place and our vision for the Sierra Center helped allow us to make our dream a reality," said Interim Executive Director Angela Jones. "We are so grateful to Cornerstone's support of those who have been victims of domestic and sexual abuse."
The Sierra Center Residence consists of 13 rooms, with a capacity for up to 52 residents. Individual rooms include a double bed, twin bed and a private bathroom. Clients and their children who have been traumatized by domestic violence or sexual abuse are given the chance to heal and rebuild their lives, with the safety and privacy provided by individual rooms that lock. They also participate in groups where they have the community support of others who have suffered from similar circumstances.
In the residence, the community kitchen allows for three cooking stations. There are six washers and dryers. The living room is a place for families to relax, and it's also where counseling groups and activities take place. An important part of the facility is the emphasis on children's programs — counseling, curriculum and case management.
The increase in the length of stay in residence has grown from an average of 11 days last year to an average of 35 days this year. Many families now have stayed up to 90 days, giving them the time they need to get safe, to heal, to feel supported, to find jobs and to locate housing.
"Our most exciting new development is that One SAFE Place recently was able to place its first client family into transitional housing," Jones said.
There are numerous ways to support One SAFE Place, but one of the most fun is its crab feed. The 30th annual event is set for Saturday, Feb. 4, at the Shasta District Fairgrounds in Anderson. Cocktails and auction item viewing begins at 4 p.m., and dining room doors open at 4 p.m. Cost is $50 per person, which includes all-you-can-eat Dungeness crab, clam chowder, salad, French bread, dessert and coffee. No-host beer, wine soda and margaritas are also available. To become a sponsor or volunteer, call Kristi at 244-0118 or visit their website: www.ospshasta.org.
Shasta Regional Community Foundation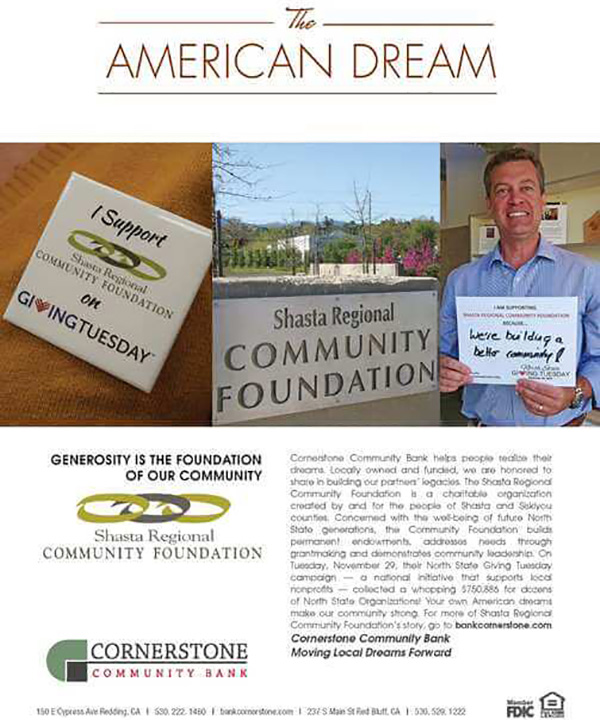 The North State is home to scores of nonprofit organizations that pour their hearts into making this community a better place to live, work and play. That power is magnified exponentially by the Shasta Regional Community Foundation.
Concerned with the well-being of future generations in Shasta and Siskiyou counties, the Shasta Regional Community Foundation builds permanent endowments, addresses needs through grantmaking and demonstrates community leadership.
And the Community Foundation is currently celebrating the success of its annual North State Giving Tuesday campaign, which shattered last year's record, collecting more than $750,000 for 96 nonprofits in Shasta and Siskiyou counties — a 77 percent increase over year. More people participated, as well — the 4,504 gifts were a 64 percent boost from last year, and the average gift of $130 was up by $5.
"With the success we saw the first year, we knew this next year was going to be significant, but we had no idea just how significantly successful it would turn out to be," says Kerry Caranci, CEO of the Shasta Regional Community Foundation. "With the increase in nonprofits and the generosity of our community, we really shouldn't have been surprised. We live in such a caring and generous place."
Giving Tuesday is a national initiative that local organizations make their own, encouraging people to "give where you live." Donations were collected on Nov. 29, the Tuesday after Thanksgiving, on the heels of Black Friday and Cyber Monday to kick off the charitable giving season. This year's dollars went even further thanks to incentives of more than $80,000 provided by Shasta Regional Community Foundation's Knodel Family Endowment Fund. Outreach and business partners were hourly sponsors and active ambassadors during the drive, encouraging others to do their year-end giving online to benefit organizations they hold dear to their hearts.
The one-day event, with 96 nonprofits and their supporters spreading the word, made for an exciting day fueled by a sense of urgency. "To be able to refresh the webpage and see those dollars going up by hundreds and thousands — people want to be participating in that," Caranci says.
The Shasta Regional Community Foundation's services include gift planning, options for family philanthropy, administrative support to simplify giving and more. The Community Foundation continuously monitors the community to understand the nature of need, the forces of change, available resources and the capacity for growth.
"We always say, you don't have to be a millionaire to be a philanthropist. We can help anybody achieve their charitable goals," Caranci explains. "We are really able to do all of the work for our donors. We're more efficient and time effective than creating a foundation, so more dollars can go to the grant opportunities you wish to see rather than administrative costs.
The Shasta Regional Community Foundation's grant programs include the Animal Welfare Endowment Fund, Burney Regional Community Fund, Community Arts Endowment Fund, Community Disaster Relief Fund, McConnell Fund, Redding Rancheria Community Fund and The Women's Fund.
"We bring the expertise in administering funds, and convening grant panels to review the applications and work with the organizations to ensure the dollars are spent wisely and most effectively," Caranci says.
Laam Custom Motorcycle Seats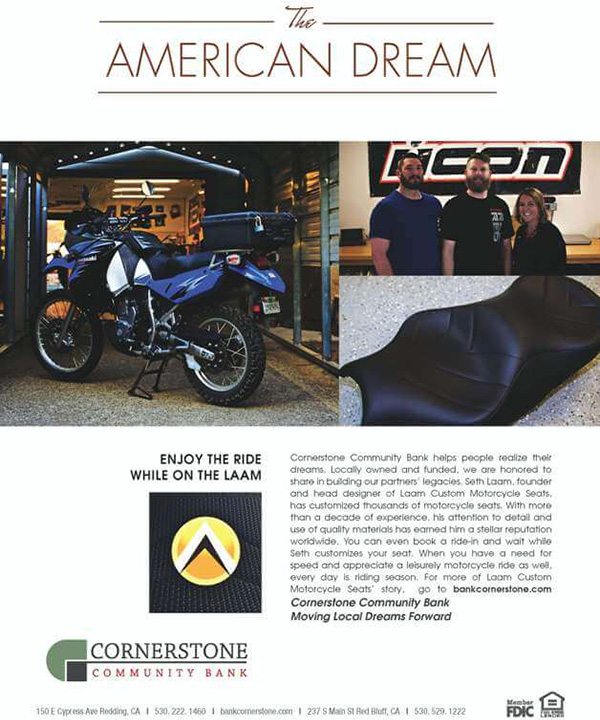 With a powerful engine beneath you and nothing but open road ahead, there's no feeling quite like revving up a motorcycle and leaving the world behind.
Until the next morning, when the adrenaline rush has worn off and every single one of your muscles reminds you that every thrill comes with a price.
Fortunately, Seth Laam has a solution for that. The founder and head designer of Laam Custom Motorcycle Seats, he's made a career out of keeping riders comfortable on their bikes.
"I hand-tailor seats to the person's height, weight and inseam," Laam explains. "Working with motorcycles is my passion."
Combining old-fashioned quality with the latest in technology, Laam pays keen attention to detail and has earned a stellar reputation worldwide. "I'm shipping a seat to England this week," he said.
Laam has customized thousands of motorcycle seats over the years, hand-sculpting each one for a one-of-a-kind fit that gets the rider perfectly balanced to ensure the most comfortable ride possible. Customers can also take advantage of the "Ride-In" option, where they drive their bike to the shop and Laam constructs the seat while they relax.
The self-taught artist has loved motorcycles since he was a child, and his passion was fueled by the thrill of speed and the joy of getting away from it all. "They're dangerous, but fun," Laam says. "It's about living life on the wild side — being adventurous."
And the North State is a great place to take on that adventure. "Highway 36 is world known," Laam says. "The roads around here are just awesome."
A&R Custom Butchering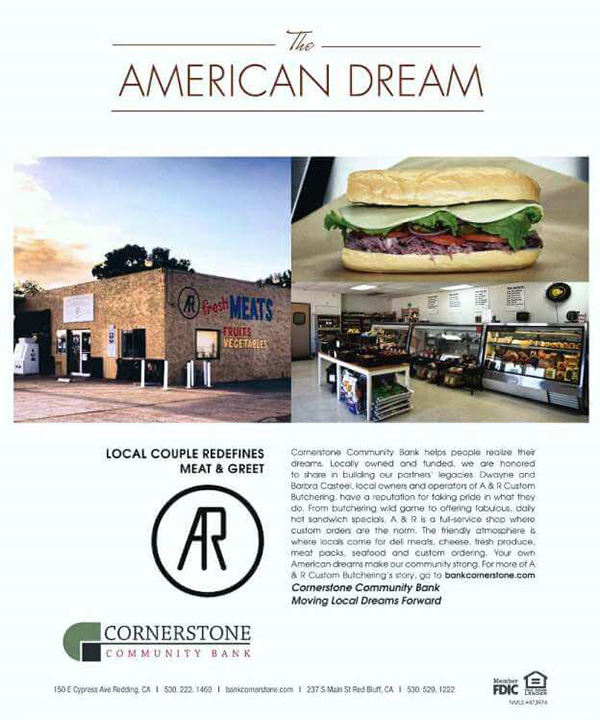 Do big-box retailers have you longing for a more personal touch when you're buying the foods that you feed your family? Red Bluff is home to a shop that serves up premium quality meats, produce and more, topping off the experience with a laser-sharp focus on customer service.
Dwayne and Barbra Casteel own and operate A&R Custom Butchering, and they've dedicated themselves to its success. Their reputation for taking pride in what they do has helped them build a loyal following of local customers.
"We live in a small community, and you can make or break your business' reputation in a very short time," Barbra says. "It only takes one bad customer service experience."
And the secret of their spectacular service is out: A&R Custom Butchering was recently named Tehama County Business of the Quarter by the Red Bluff-Tehama County Chamber of Commerce and the Red Bluff Daily News.
A&R offers custom butchering and mobile slaughtering, specializing in domestic and wild game, which is a service appreciated by hunters, ranchers, fair buyers and more. "You tell us specifically how you want it cut up and we get it done," Barbra says.
The shop has a full retail meat counter, produce, seafood, meat packs, deli meats and cheeses — including specialty items that are tough to find elsewhere, like alligator and frog legs.
Custom orders are welcome. "We have customers that want to buy several of one item, but have it wrapped, say, two to a package. We do that. We want the customer to be happy they came here from the moment they walk in to the moment they walk out," Barbra says.
In January, they began making deli sandwiches six days a week, including hot pulled pork and hot tri-tip sandwiches on certain days. "I tell our staff that we need to be fast, personable and know our customers," Barbra says. "We remember their names and we remember what they like. We have to make it where people want to drive out to us — not just to bring them in, but to keep them."
Dwayne and Barbra were in the same kindergarten class at Antelope School; their sons, Cole, 14, and Shane, 12, also attended Antelope. "We really feel connected to the town," Barbra says.
Dwayne started learning to cut meat at age 15 while working as a "clean-up kid" in a butcher shop in Cottonwood, where he learned from a man who was born in a meat packing house. "You can't go to school and learn that," Dwayne says. "If I wouldn't have started there, I wouldn't know that side of the business."
Dwayne managed Raley's and Safeway stores before coming to work for Adam and Russ at A&R Custom Butchering, which was then a tiny meat counter in Dairyville. He became a partner eight years ago, and he and his wife became the sole owners of the company last year.
The Casteels have been married for 15 years, and their sons help with the business during the summer and school breaks. "Our customers absolutely love them," Barbra says. "It's nice to have a family-oriented company."
And they appreciate the privilege of being able to run a business in a community where their roots run deep.
"When you're passionate about your job and you get to come to work every day to a job you love, it's pretty rare," Barbra says.